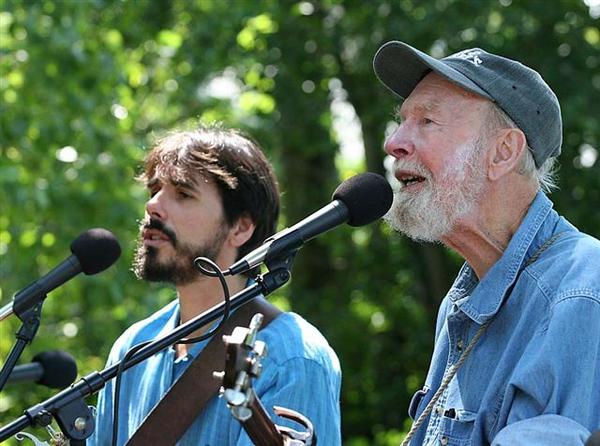 This free concert brings award-winning folk performer Spook Handy to Scott County, in a celebration of music legend Pete Seeger, who died in 2014.
Handy and his band present "Keep the Flame Alive – Remembering Pete Seeger" World Tour" September 9 at 2 p.m. in the library Community Room.
Below is a story from Handy's website about meeting Seeger, after Pete sent him a letter asking Spook permission to record his song, Vote.
Thrilled by Seeger's request, a few weeks later Pete invited Spook to join him in a performance in New York.
"When I saw him there, I extended my hand and said, 'Hi, I'm Spook Handy. I expected him to shake my hand and say, 'Hi, I'm Pete Seeger.' Instead,
he put his hands in his pockets, stooped down two inches to my level and with his own bright blue eyes,
aflame with wisdom, compassion, and fierce determination, he looked into mine deeply,
as if searching for something -sizing me up. After a few seconds, he spoke.
"Do you know what Founder's Disease is? I said, 'You tell me, Pete.' He said, 'Founder's Disease is when the same people who founded
an organization thirty years ago are still running it today.' With that said, Pete turned and walked away."
Seeger, an original member of the folk group, the Weavers, learned his craft alongside Lee Hays, Woody Guthrie and Bess Lomax in New York. The Weavers' hits include
Michael Row the Boat Ashore and Good Night, Irene. Seeger's career derailed after he refused to testify before the House Un-American Activities Committee in the 1950s.
Despite the turmoil, he continued to record and perform children's songs and folk music for audiences across the country.
His popularity and positive civic influence peaked as a musical advocate for civil rights and peace in Vietnam during the 1960s.
Spook Handy's music blossomed after he walked away from a traditional 9-5 career path, and chose life as a singer song-writer, instead.
After Spook's song led to his friendship with Seeger, they performed together over 50 times over a decade.
Handy and his band will perform some of the old folk classics, "…and newer songs Pete wrote late in his life, old songs with new verses I have written;
and my own songs written myself or revised under Pete's tutelage. You'll also hear some of the stories behind the songs as they were taught to me by Pete."
While Handy has a good idea of how he will open September's concert, his play list will be shaped by the bond he and his band form with each new audience. Their passion and energy will connect you to the American folk tradition and Seeger's enduring legacy – a legacy that celebrates the American spirit in good times and bad.
Spook Handy Concert, Free Admission, September 9 at 2 p.m. in the library community room.