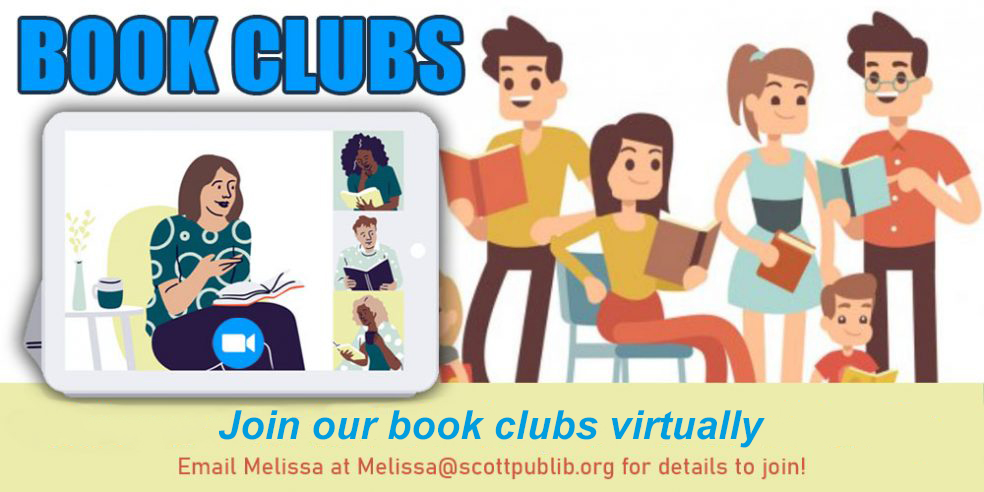 The Scott County Public Library offers an array of casual book discussions and recommendations to help patrons stay connected with the books they love! Patrons of all ages can meet for monthly virtual meetings using Zoom. They can also discover new books, audio books, and e-books available for check out with our staff recommendations.
Join us to re-read a favorite book, discover a new title to share with a friend, or find a book club this January that is perfect for you!
Teen Book Bites (Ages 12-18) – Join Teen Librarian, Lauren for Teen book recommendations on Facebook! She will share some of her favorite new teen books.
Bookends (Ages 18+) – Tune in for "Bookends" where staff present their favorite books on Facebook! This is a great way to get new ideas and discover a new genre or author.
A Novel Idea Book Discussion (Ages 18+) – This casual book discussion meets every first Tuesday of every month. Learn about this month's book selection here.
Book Talk (Ages 18+) – A virtual book discussion for adults where we talk about fiction and non-fiction works.
Read for fun, for school, or to be inspired! Books are available to check out in a physical copy or digitally with Hoopla or Overdrive.