Lens, Lines & Linage
Works from Ed Boden, Margie Rigney and Jawanna Herd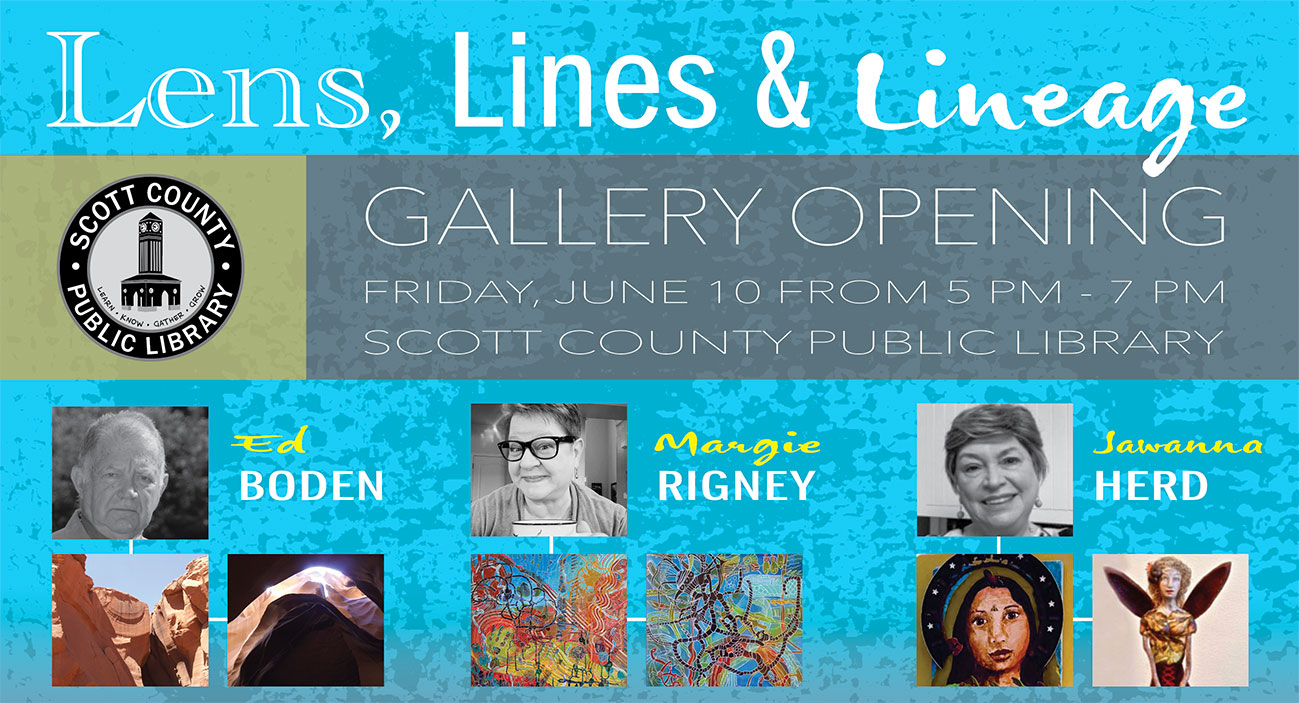 Ed Boden
A portrait and wedding photographer, he never hesitates to make an image if the scene interests  him. This show, "HARD ROCK" is a result of a trip to a Slot Canyon in Utah. Over the miliew water has carved the sandstone into canyons, like Grand Canyon, only not on as grand scale. Antelope Canyon was given to the native People because it was considered worthless by the Whites. For centuries the tribe's have worshiped here and only allow tourists on certain days. There's a feeling akin to the feeling one gets while standing in the great cathedrals in Europe. Take whatever camera you might be able to lay your hands on and go "shoot". You have no excuses!
Margie Rigney
Local Artist, Kentucky native and active member of the Anderson County Arts Council, Margie M. Rigney currently resides in Scott County, Kentucky. A former Newspaper columnist and gallery owner, Margie has been painting professionally for many years. Her work varies from charcoal portraits and livestock work to era-specific Sepia's and plein air Oil landscapes. India ink is often added to finished work and large-scale abstracts are also products of her color rich palette. "A marriage of Emotion to Motion, and Color and Line in a love affair with Lyrics. Influenced by songs that have carried me through times of awkward Adolescence, Grief, Joy, Love and an incredible appreciation for simply being Alive on this big blue marble. My hopes are that you will find somewhere in the tangle of color, line and form, a little bit of discovery and wonder. "Take a little tour in technicolor."
Jawanna Herd
Making art for me is a kind of play in which I lose a sense of time. Being present in the moment releases my self-conscious concerns, allowing the Creative Spirit to flow through, carrying me beyond ego and my insecure inner critic, creating delight and sometimes, good art. Art is also a way of following my curiosity about what lies beneath the surface of nature, people, objects and ideas. Through art I express my faith and questions, gratitude and fear, joy and pain, humor and memories. Art challenges me to practice new techniques, opening my mind and heart to new directions. Art teaches me that every mistake is redeemable in some way. The only real failure is not using every experience to grow or not sharing freely what you have been given.
This artist has been teaching people about the natural world in the classroom and in the field for over fifty years. She has taught at every level from pre-school through graduate school to Adult Elderhostel. The naturalist's eye, the artist's eye and the writer's eye have much in common. She began pursuing art and writing in a more deliberate way after she retired from full time teaching.  She is still a field naturalist and nature interpreter with school, scout and church groups. She is grateful for the Spirit's leading, for all of her art teachers and fellow artists, online tutorials, for the Coming of Age and Word Women writers groups, for family and friends who donate "junk" and also inspire and encourage her. Jawanna's late husband, Don Herd, is greatly missed as her steadfast supporter and main technical support. She lives in Georgetown, KY.