The Scott County Public Library is requiring masks for all visitors over the age of 2.
Visit
Mon -- Thurs: 9 am-8 pm
Fri & Sat: 9 am-7 pm
Sunday: 1 pm-7 pm
---
Visit
Mon -- Thurs: 9 am-8 pm
Fri & Sat: 9 am-7 pm
Sunday: 1 pm-7 pm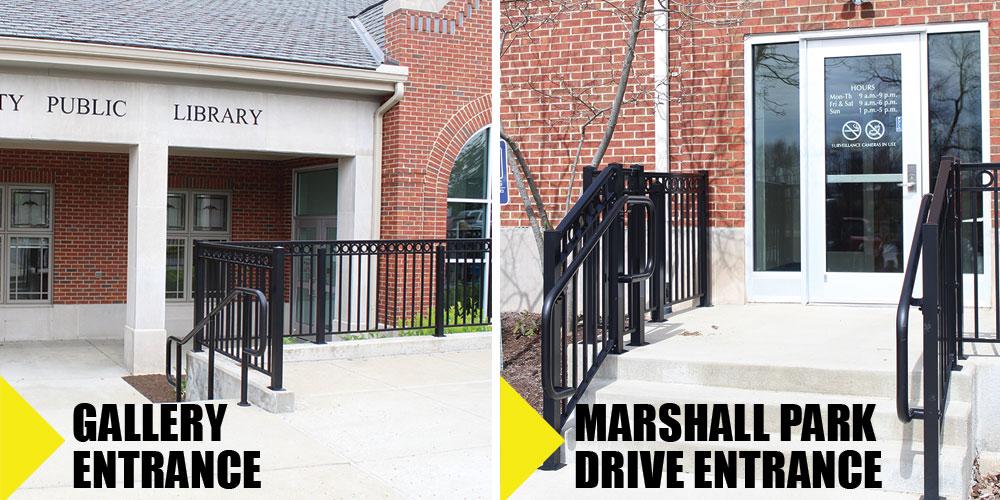 Library's Entrance During Construction
During construction, please use the Gallery entrance adjacent to the front parking lot, or the Back entrance from the parking lot that is accessed from Marshall Park Drive. We apologize for the temporary inconvenience this causes.  Click here to view the area map.
Tree Week: A Special Storytime Reading with Mayor Prather
Celebrate TREES!  Yes, trees give us oxygen, shade, and a place to rest or hang a swing.  Watch this video as the Mayor of Georgetown, Tom Prather, talks about the tree week initiative and then reads a special book about trees.  In the following days, we will have special posts on our social media pages for fun activities, educational videos, and more!
Discover! Take & Make Halloween
Join Julia and Yolanda as they explore this spooky time of year.  Participants will be making a mason jar jack o' lantern, complete with electric tea light.  Bags with most of the materials will be available at the Information Desk at the Scott County Public Library. Discover! programs are designed with adults with intellectual and developmental disabilities in mind.
Monday, 10/18 @ 2 pm (Virtual)
Beginners Bedtime Yoga
Grab your yoga gear and head to the Scott County Public Library for a revitalizing practice on the mat.  This yoga flow centers on gentle stretching and restorative poses, perfect to wind down for your evening. Slots fill up fast, so please remember to register.
Monday, 10/18 @ 5 pm (Community Room)
Please Register
Jason Reynolds Watch Party at the Library
Join us to social distance in the Community Room to watch the Jason Reynolds talk from KY Book Festival! Jason is the Young People's Literature Ambassador for a third term! First 35 to register can join.  LIMITED SPACE! 

Free BOOK RAFFLE

for those who join. Schools who want a copy of the book, first come... email Roseann@scottpublib.org. Students and teachers invited for Nov 1st. MUST Wear Mask and Social Distance!
Monday, 11/1 @ 7 pm (Community Room)
Please Register
Electronic Resources
---
Access over 3,500 training videos on the latest software and management skills.(formerly known as Lynda.com)
Creativebug has thousands of award-winning art & craft video classes taught by design experts and artists.
Mango prepares learners for realistic conversations and communication in over 70 world languages.
View All E-Resources
Contactless Services to Keep You Safe
---
See how your library is working hard to keep you safe!
Patrons who are unable to visit the library can have library materials delivered.

Sign up for a free craft project offered on a monthly basis.  Call 502-863-3566 to register for a bag.
---
---
Important Books to Read to Young Children
Even as adults, many of us remember books of our childhood that had some sort of influence on us. For centuries, stories have been a way for parents to instill important lessons in their children. Tales used to be passed down by word-of-mouth, but these days we have some wonderful picture books! Click below to learn more.
Discover More
---
---
---
---