Beginners Energizing Yoga
Grab your yoga gear and head to the Scott County Public Library for an energizing practice on the mat. This yoga practice is aimed for beginners, but those familiar with yoga are welcome to attend as well. Please Register.
Tuesday, 6/6 @ 4 pm (Room F)
A Novel Idea Book Discussion
A Novel Idea Book Discussion. Join us the first Wednesday of every month at 5:00 p.m. for this casual book discussion where we read a mixture of everything and talk about the books we love. Today we will be discussing The Death of Mrs. Westaway by Ruth Ware.
Wednesday, 6/7 @ 5 pm (Room J)

---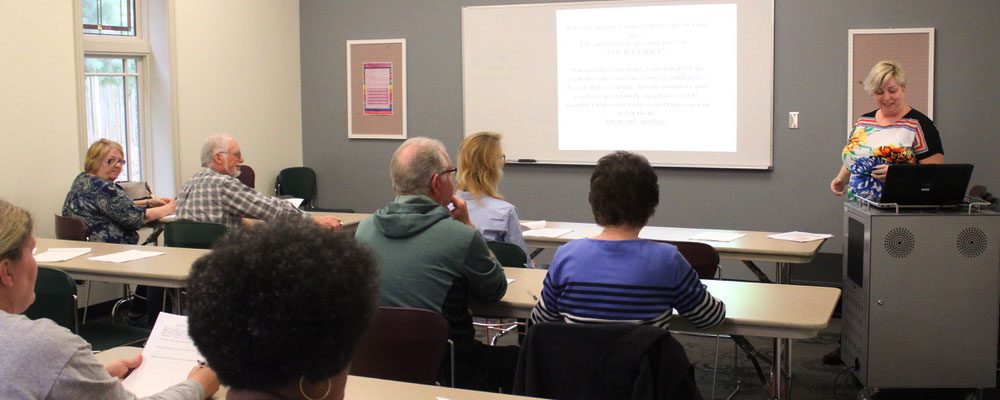 For every chapter of your life the Scott County Public Library is here for you; to teach you a new skill, to entertain you with books, movies and music, to bring live musical performances to your ears and informative programming to your mind. Come explore our space and see how we can be a part of your life. If you have questions about the Adult Services, please email the Adult Services Manager.

Summer Reading is for all ages! Every June – August, we celebrate summer with books, programs, crafts, and great prizes. The theme for 2023 is "All Together Now," Pickup your Reading Logs at the Info Service Desk. See below for some sample of Adult Summer Programs.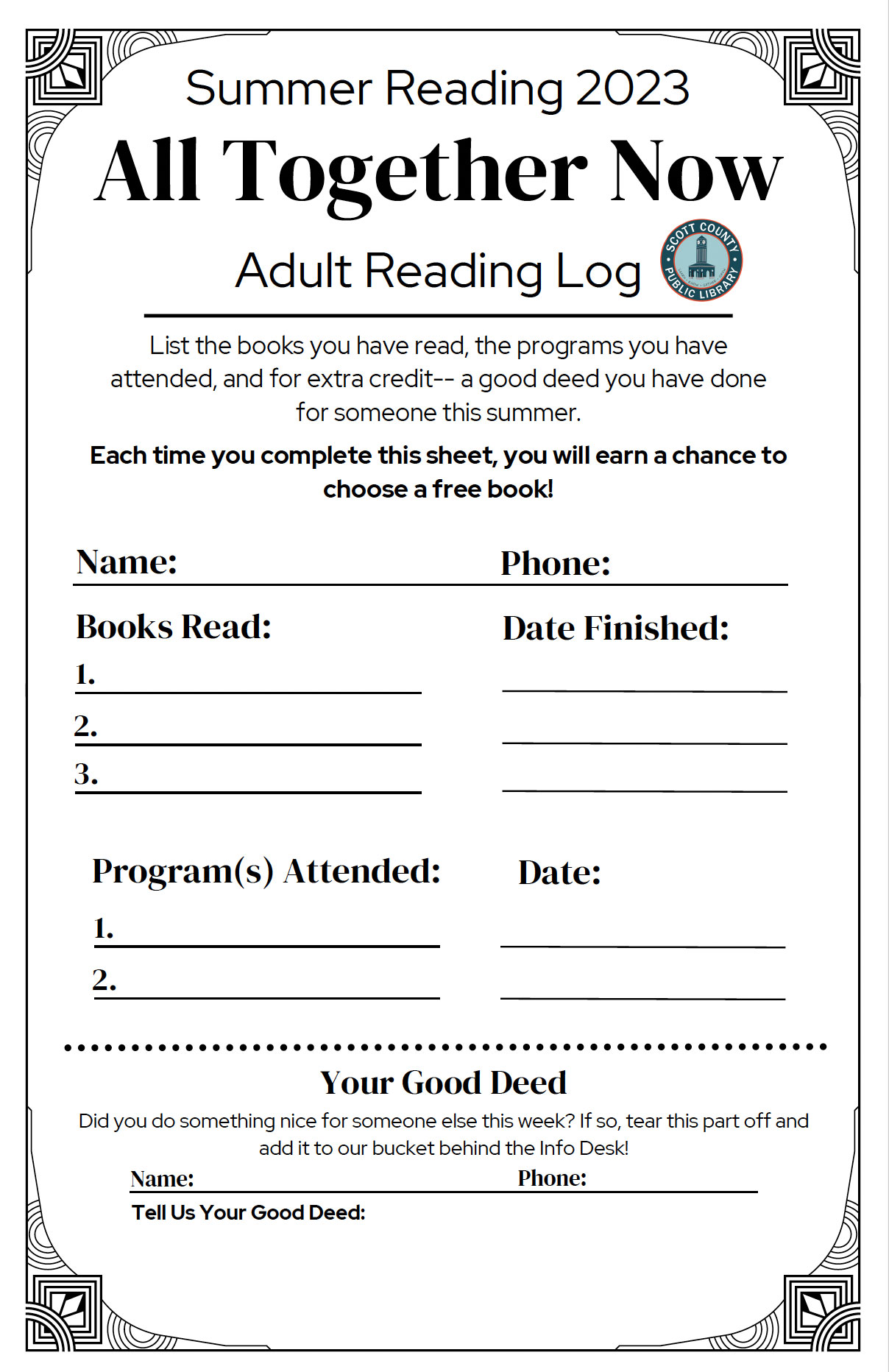 >>> Click here to download your Reading Log!
---
Summer Reading Kick-Off
2023 Summer Reading Program Kick-off Program for all ages. Face painting; passive crafts; scavenger hunt; Pick up reading logs today!
Let's All Learn Papercutting Techniques for Craft Projects.  Join this fun workshop where you will learn all the different kinds of cutting tools and techniques for cutting paper for cards, decorations or any other craft project. Please Register.
Nero's Fiddle is a group of musicians that came together during the pandemic to encourage one another and blend their talents.  Focusing on old tunes, newly inspired pieces and folk melodies, this group of dulcimer players, banjo pickers, and guitarists will set you toes to tapping.  Travis picker Dean Phelps has recently joined the ensemble to add a Merle Travis finger-picking sound.
A Voice for the Forest: A Chautauqua Event.  In the first two decades of the 20th century an industrial juggernaut invaded Eastern Kentucky, as timber, coal, and railroad companies forced overnight change on a culture that had been stable for a century. Lilley Cornett, born on Linefork Creek in Letcher County, set about to defend the forests and protect his region from outside forces.
Ann Bolton Bevins, local historian, author, and news-columnist, has made an enduring mark on Scott County.  Author of several local history works, her latest four-volume set, Real Country, delves into the history of the county through its architecture. Learn more about what drew Bevins to study and write about local history in this upcoming talk by this esteemed local author.  Books will be available for sale.
Kentucky native Blair Thomas Hess is the author of four travel books about Kentucky's history, its people and its natural wonders.  This presentation will highlight fun and educational destinations to help Kentuckians of all ages explore the amazing and irreplaceable things that make the state one of a kind.
Let's All Learn Metal Die Cutting for Crafts.  Metal dye cutting is a unique crafting tool for making cards and other paper project and there are so many ways to make a project unique using this tool.  Learn all about it in this workshop!  This class will be repeated July 5 from 1:00 - 2:00 p.m. and July 12 from 7:00 - 8:00 p.m.  For ages 16 and up.  Please register for only one.
Join us as Katarina Midelford and Chris Rhodes, show us how they make maple syrup on their Scott County farm. Information about maple trees, sap collection, filtering and more will be presented. Find out how maple syrup can be used to make other products, beyond that topping that goes on your pancakes!
Dr. Jill Abney, senior faculty instructional consultant with the Center for the Enhancement of Learning and Teaching at the University of Kentucky will conduct two sessions for home school parents and teachers on the subject of the Holocaust.  Tonight she will share the guidelines for teaching the Holocaust and general strategies for designing lessons.  This is an interactive workshop, with time for conversations and resource creation.  If you have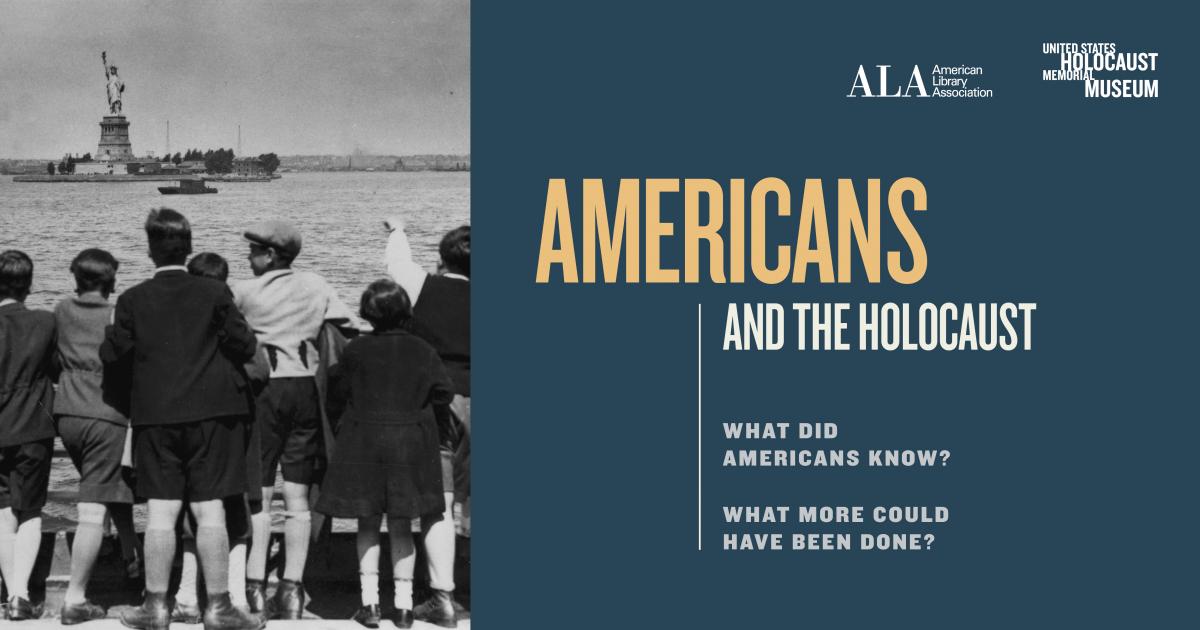 students grades 6 - 12, are tackling this difficult subject soon, or plan to visit our traveling exhibit "Americans and the Holocaust" with your students later this fall, you should take advantage of this opportunity. Part 2 will be on Monday, 7/24 @ 2 pm. Please Register.
This program is part of the supporting programming for "Americans and the Holocaust," a traveling exhibit from the United States Holocaust Memorial Museum in conjunction with the American Library Association coming to SCPL November 9, 2023 - January 4, 2024.

Summer Reading is over but the Pool Party is here!Get your SRP23 Pool Party TICKET at the youth desk of the Library by 7pm today!Ticketed entry only. FREE. No registration. All Summer Reading Participants are eligible for a ticket.
***Rain date the next night, Sat 7:30-9:30pm- See our SCPL Website & SCPL Facebook page for weather updates if the event is cancelled. Do not call the pool or park, please.
Let's come together as a community to share our art and craft supplies! Are your stash-busting projects just not cutting it, or do you have a box of new craft supplies you never learned to use? Bring your extras to the Community Art Swap, and pick up something new-to-you that you do need. The idea is this: anyone can bring in new or gently used supplies that they already have, up to 1 box of material, and leave it for others to take; and anyone can come in and select from the donated items.
Please visit our event calendar to see the complete list of Adult Summer Programs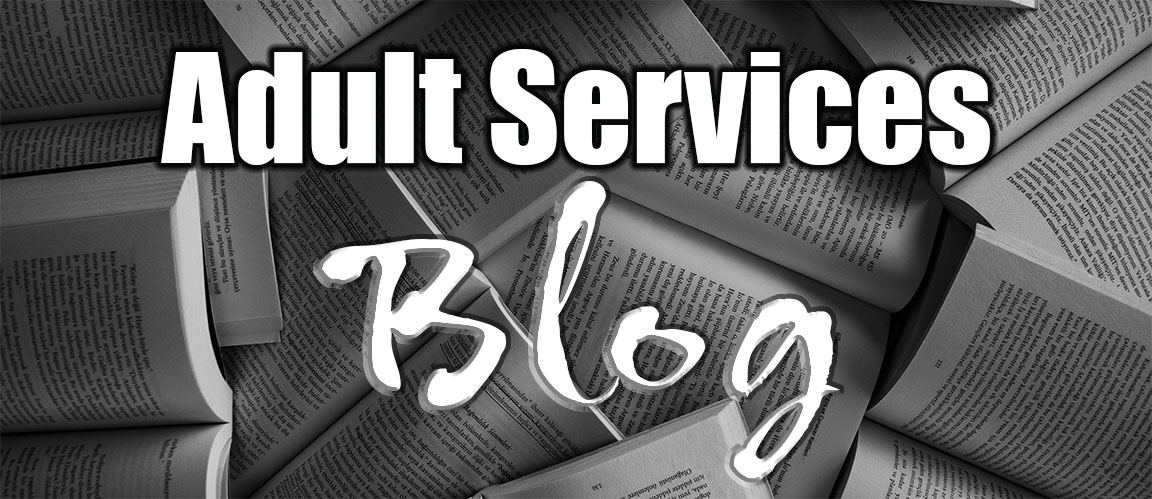 We'll highlight topics of interest and share ideas that matter to you. Have a story to share? Send me an email at Melissa@scottpublib.org.
---
Capturing the Shot!
June is a wonderful summer month, filled with adventures. June 15 is Nature Photography Day and June 29th is National Camera Day. So I am inspired to go out into nature and capture those beautiful moments nature gives us! If you need a bit of help, as I do, check out these books we have on hand at Scott County Public Library. They will help you elevate your photography game!
100 Ways to Take Better Nature and Wildlife Photographs by Guy Edwardes
Photographing wildlife is always a challenge, especially if you aim to shoot creative, dynamic and illustrative images rather than simple record shots. Capturing images of elusive and often uncooperative animals and birds can be very frustrating and requires tremendous dedication, patience and perseverance.  However, when all the hard work pays off there can surely be no other subject that provides so much satisfaction for the photographer. This book is a comprehensive and inspirational guide to shooting a whole world of subjects, capturing everything from large mammals and birds, to the smallest insects and wild flowers. You will find practical, easy-to-follow tips and techniques, over 100 inspirational nature and wildlife photographs, and invaluable post-production advice!
How to Photograph Close-ups in Nature by Nancy Rotenberg & Michael Lustbader
Close-up photography introduces us to world within worlds--rainbows on a butterfly wing, a dewdrop clinging to a blade of grass, ice formations on a pool of a water, the folds of a blossoming rose-mysterious countries ripe for exploration. Master photographers and veteran teachers of close-up photography Nancy Rotenberg and Michael Lustbader discuss in detail the equipment, techniques, and esthetic principles you need to know to create your own masterpieces. Using macro lenses and extension tubes, close-up flash techniques, lighting, exposure, composition-all are explained in lucid text and illustrated with dazzling color images.
Outdoor Photography Masterclass by Niall Benvie
Find out how to create your own breathtaking outdoor shots. Based on a three-day workshop, Outdoor Photography Masterclass is packed with information, tips, color photographs and practical exercises, designed to take the reader right through from beginner to master photographer. Start each day learning the fundamental aspects of outdoor photography, then take these new-found skills into the field, before working through design and production skill, and finally reading up on the history and forerunners of photography. Niall Benvie's approachable writing style and numerous examples of his own work make this book easy to follow and a joy to read.
Simple practical exercises
Numerous color photographs
Design and editing techniques
Jargon-busting definitions
Tips for us in the field and on screen
How to Photograph Pets by Nick Ridley
This unique and inspirational guide shows how even the amateur photographer can achieve a stunning portrait and lasting memento of a treasured pet. It is not necessarily top-grade equipment that makes a good photograph, but more the ability to "see" a good picture and Nick Ridley's easy-to-follow text and striking photographs reveal the tricks of the trade. No prior knowledge is assumed, just a conventional or digital camera- and a pet.
Nick Ridley is both an Inspector with a national animal charity-where he has worked for nine years-and a professional photographer. His great enthusiasm is infectious, and his in-depth knowledge of pet behavior and wide photographic experience combine to make this a most compelling and invaluable book.
How to Photograph Absolutely Everything by TomAng
It is essential to learn the basic techniques of photography, but that it is like learning basic cooking techniques such as chopping stir-frying, boiling. You have nothing edible until you add the ingredients. And to make a tasty meal you have to follow a recipe which works with and responds to the character of the ingredients to make the best use of them. This is a photographic recipe book. It shows how to create pictures by working with the basic ingredients of color, light, and space-then "cooking" them up using techniques such as exposure, framing, and focus. By following the step-by-step recipes, you will steadily gain the ability to photograph absolutely everything. At the same time, the book brings together numerous tricks and tips that you may apply to a vast range of photographic challenges, empowering you to make the most of every photographic opportunity.
So pick out your subject, grab your camera, and head out to enjoy and preserve the world…through photography!
Michael~michaels@scottpublib.org
---
Parenting 911
It's been said that being a parent is the most important job anyone can do. But it can never be said it is without struggle. Today's children are faced with many questions and sometimes, as a parent, we struggle to find the right thing to say or the right way to handle issues.  We have many resources here at Scott County Public Library that can help you feel more equipped to handle these situations.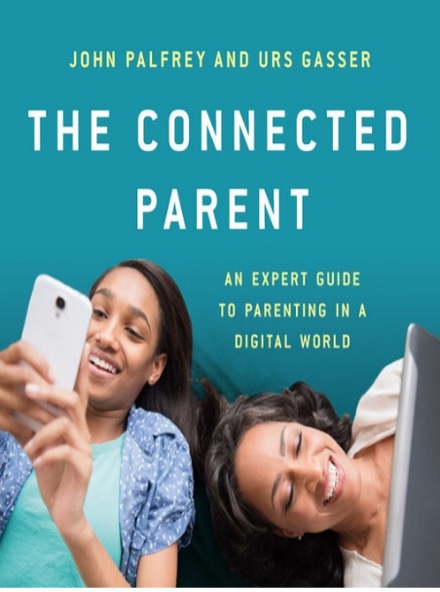 The Connected Parent: An Expert Guide to Parenting in a Digital World By John Palfrey and Urs Gasser
Today's teenagers spend an average of nine hours per day with their noses immersed in the glow of screens. Tweens are not far behind at six hours per day. Parents of this new ultra-connected generation struggle with decisions completely new to parenting:  Should they limit a child's screen time? Should an eight-year-old be allowed to go on social media? How can parents help their children gain the most from the best aspects of the digital age?  How can we keep them safe from digital harm?  In The Connected Parent, acclaimed youth and digital media experts John Palfrey and Urs Gasser address parents' most pressing concerns in the digital age, from screen time to online privacy.  The authors distill findings from over a decade of their own groundbreaking research to offer parents informed, accessible, and empowering advice.  The Connected Parent is required reading for any parent trying to help their kids navigate our fast-changing hyper-connected world.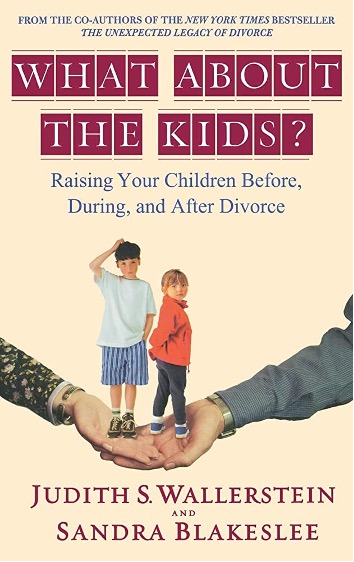 What About the Kids? Raising your Children Before, During, and After Divorce By Judith S. Wallerstein and Sandra Blakeslee
In the tradition of the best parenting guidebooks comes a new work by renowned child psychologist Judith S. Wallerstein on a subject that vexes millions of American moms and dads: How can you genuinely protect your children during and after divorce? Wallerstein answers this important question with knowledge gathered from thirty years of in-depth interviews with children of divorce and their parents. You'll learn what you should say and do for children at any age and stage of development. You'll discover the many ways that divorce will change your family in the years ahead. You'll understand the challenges of how to be an effective parent outside of marriage, how to choose the custody plan that is best for your child, what you need to know to create a healthy remarriage, and what to say to your children when they reach adulthood. With compassion and wisdom, Wallerstein shows how to create a new kind of family. Her experience has educated her in the ways that work and in the ways that don't.  For the first time, she shares her deep understanding of raising children after divorce, and how you and they can make use of the second chance that divorce can provide.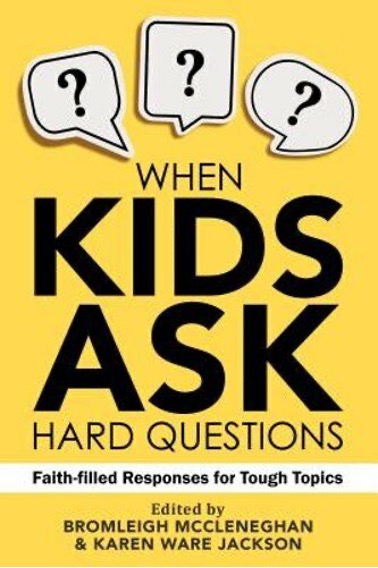 When Kids Ask Hard Questions: Faith-filled Responses for Tough Topics Edited by Bromleigh McCleneghan and Karen Ware Jackson
Suicide, sexuality, gun violence, divorce…the range and complexity of issues kids grapple with today can be overwhelming. How will you respond?  In 30 essays from a diverse group of young parents, pastors, and experts, learn how to craft faithful conversations and tackle the tough topics with the kids in your care.  Children have big questions. But nobody is answering them… With grace, honesty, and wisdom, this book helps us engage in the most important conversations we can have with our children. This is your new go-to for timely wisdom on topics ranging from racism, bullying, grief, money, technology and more.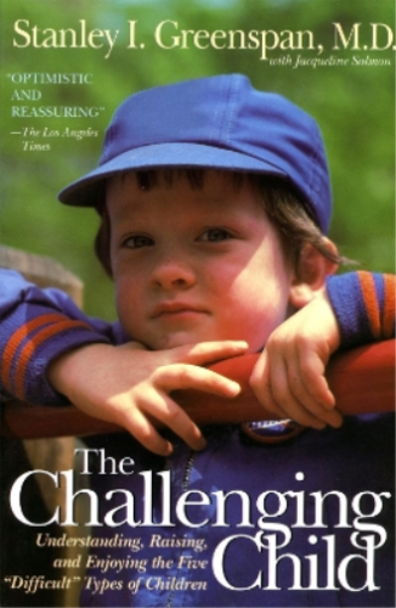 The Challenging Child; Understanding, raising, and enjoying the five "difficult" types of children by Stanley I. Greenspan, M.D.
Most children fall into five basic personality types that stem from inborn physical characteristics: sensitive, self-absorbed, defiant, inattentive, or active/aggressive.  For each of these, there are parenting patterns to avoid and those that help the most. The Challenging Child reassures parents that they do not simply have to "live with" their child's temperament, but can tailor their parenting style to their child's unique personality and help each child build on strengths, master weaknesses, and embrace life with confidence and skills. When confronted with one of these patterns, parents, understandably, may feel confused, overwhelmed, and not infrequently infuriated.  What worked with an older child may not work now. Your child can become more pleasant. They can become easier to live with- less rigid, more trusting.  Life with an initially challenging or "difficult" child doesn't have to be a perpetual battleground.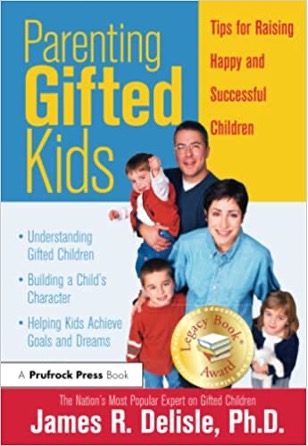 Parenting Gifted Kids: Tips for Raising Happy and Successful Children By James R. Delisle, Ph.D.
Parenting Gifted Kids provides a humorous, engaging and encouraging look at raising gifted children today.  Dr. James R. Delisle offers practical, down-to-earth advice that will cause parents to reexamine the ways they perceive and relate to their children.  Delisle puts forward 10 tips to parents of gifted children- ideas that reflect attitude more than action and allow for introspection and change, rather than quick, do-it-tonight solutions.  Some topics of interest include…
- examining overexcitabilities
- understanding a child's giftedness
- working with the school system
- dealing with perfectionism in gifted kids
- being adult role models for children
- building a kid's character
- helping kids achieve goals and dreams
So, as you continue your journey through life with your young children, don't forget you have a place to go for help. Maybe getting another's perspective can help you resolve conflict.  Or maybe just knowing you're not the only one who struggles can help. Come see us at Scott County Public Library!
Michael~michaels@scottpublib.org
---
Spring Planning for Spring Planting - Flowers Abound!
The winter season says good-bye and spring has now shown her beautiful face!  I'm sure you're ready for April's flowers to bring a new sense of rebirth to your world!  It's time to get out there and mulch, and plant, and reap. If you're wanting a bit of curb appeal, or a garden out back for those lazy evenings, check out some of these gardening tools we have in our shed!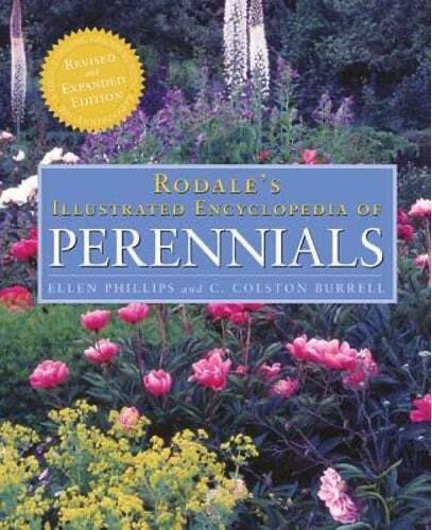 Rodale's Illustrated Encyclopedia of Perennials by Ellen Phillips and C. Colston Burrell
At last, a book that covers it all: perennial design, plant combinations, cultural requirements, and maintenance needs.  I love the lists, the tips, and the words of wisdom throughout. Whether you're a beginner, a weekend gardener, or a professional, Ellen and Cole's book is just what you've been waiting for. If you already garden with perennials or are just beginning, this incredibly exhaustive book provides everything needed to be successful – except maybe the shovel, compost, and plants! And who doesn't love the fact that next year, they will arrive on their own?
Landscaping and Lawn Care; The Complete Guide to a Beautiful Yard Year—Round by Kristen Hampshire Published by John Deere
Whether you're a new homeowner or a lawn care enthusiast, this book provides you with the foundation you need to establish a healthy lawn and maintain it year-round. Learn to mow like a professional, find out how to groom your landscape so it earns the curb appeal it deserves, and troubleshoot common problems that range from poor soil quality to repairing a neglected lawn. Kristen Hampshire shows you how to master landscaping basics and advance to take on weekend projects that will enhance the value of your property. Best practices, equipment basics, and project ideas present a comprehensive, easy-to-digest guide that walks homeowners through the essentials of a healthy, beautiful lawn. Quick tips sprinkled throughout the book allow busy readers to absorb important information in a hurry. Inspiring photography showcases end results for each project.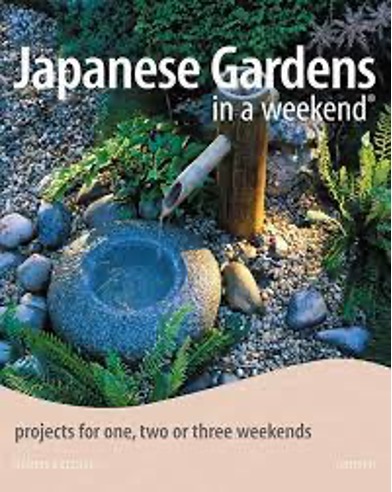 Japanese Gardens in a Weekend – Projects for 1, 2, or 3 Weekends by Robert Ketchell
Be it a simple water basin or a complete garden makeover, the Japanese touch will bring calm and serenity to any garden. And constructing an Oriental look in your own garden is easier than you think- simply choose the type of Japanese feature you would like, decide how much time you have and then select from the range of wonderful projects in this book. Projects can be tackled in a single weekend or spread out over two or three weekends. 
Step-by-step project instructions accompanied by clear illustrations.
Advice on a range of practical points, from making concrete to constructing bamboo fences.
Directory of the best Japanese plants and how to care for them.
Whether you're a beginner or a seasoned landscaper, Japanese Gardens in a Weekend will inspire you to greater heights!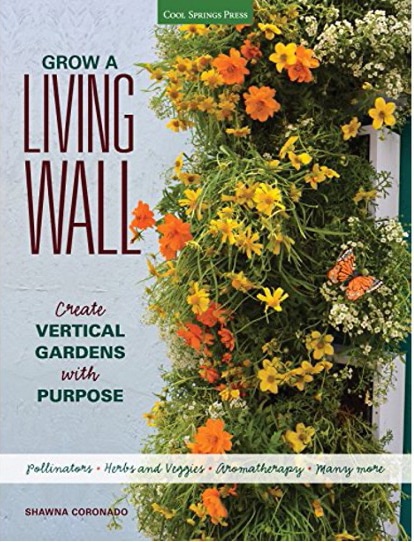 Grow a Living Wall – Create Vertical Gardens with Purpose by Shawna Coronado
Beauty alone is reason enough for any gardener to create a living wall. In fact, their unique visual appeal is the reason you see living walls popping up in gardens everywhere these days. With her new book Grow a Living Wall, however, garden designer and author Shawna Coronado has taken the vertical gardening concept a step further. Along with charm and beauty, the luscious and beautifully photographed wall gardens you'll find inside this book have purpose. One is stocked with flowers selected because they attract bees and other pollinators.  Some are bursting with nutritious vegetables and herbs. Yet another is dedicated to improving your health through aromatherapy. With more than 20 complete designs featured, each fascinating arrangement provides a specific benefit that makes a valuable difference. Like Shawna herself, the gardens you'll find in Grow a Living Wall are positive, life-affirming, and sure to produce a smile or two.
Come see us at Scott County Public Library!  We'll help you develop that green thumb you've always wanted!  And take advantage of our Seed Library, sponsored by the UK Cooperative Extension Service.  Free seeds, both flower and vegetable, to enhance your yard and garden!
Michael~michaels@scottpublib.org
---
Life Planning
Life throws many curves at us and one of the most complicated and frustrating is planning for our families when we're no longer in the picture. We want things to be simple for our loved ones, but we put off estate planning and making our final arrangements - we simply never get around to it!  At Scott County Public Library, however, we have several resources to ease your mind and help you get your affairs in order so your family will be well taken care of.  Check out these resources!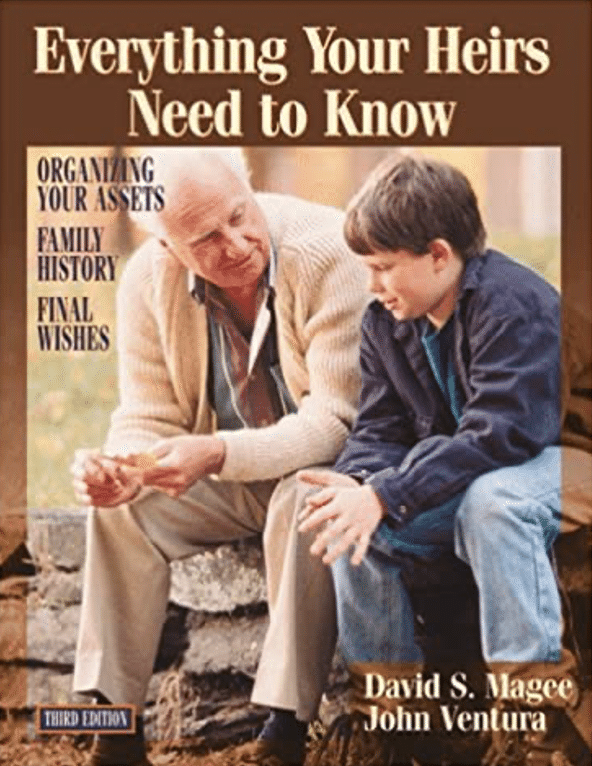 Everything Your Heirs Need to Know  by David S. Magee and John Ventura
A will is not enough. Few of us update our wills with each sale or purchase of an investment.  Major assets such as life insurance, pensions, Social Security, and veteran benefits are not even typically included in wills.  Heirs often face a frustrating search for policies, papers, safe-deposit box keys and other valuables.  An astonishing $10 billion from dormant bank accounts, stocks, bonds, insurance proceeds and other assets now sit in state treasuries across the country unclaimed by their rightful owners!  Many heirs simply do not know that their inheritances exist.
One of the kindest gifts for your heirs is to spare them stressful decisions about end-of life medical care and final arrangements. You can make those decisions yourself easily with the help of this book.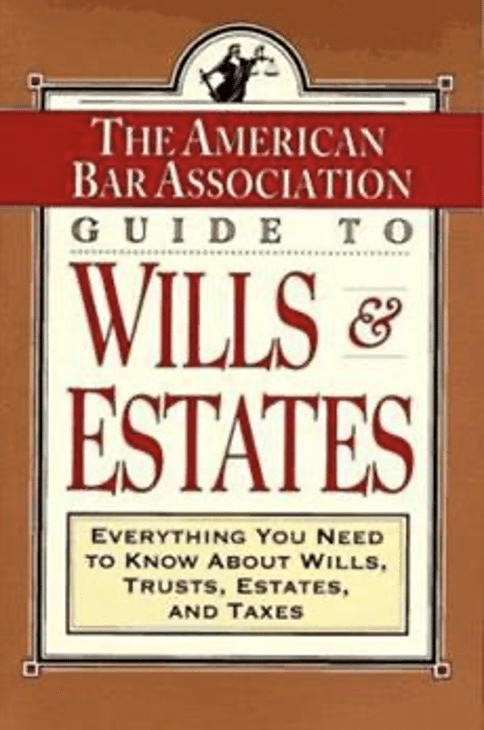 Guide to Wills and Estates: Everything You Need to Know About Wills, Estates, Trusts, and Taxes Published by The American Bar Association
The American Bar Association Guide to Wills and Estates, Third Edition, contains everything you need to know about planning an estate, preparing a will or trust, and minimizing inheritance taxes.  It will help you…
Choose an executor and trustee

Determine what to put in your estate plan

Avoid or reduce estate taxes

Transfer property without a will

Understand the benefits of living gifts and life insurance

Ensure that your will won't be contested
The American Bar Association is the nation's leading legal authority and the world's largest voluntary professional membership organization.  The ABA works to build public understanding of the law, offers programs to assist lawyers and judges in their work, and promotes initiatives to improve the legal system for the public.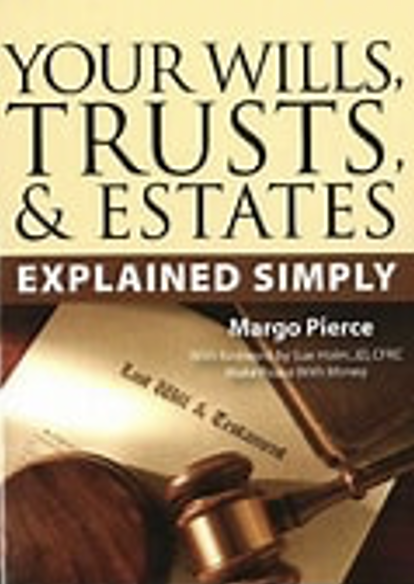 Your Wills, Trusts, and Estates Explained Simply  by Margo Pierce
Reduce potential stress now by planning for the future.  With the information contained in this book, you can take the guesswork out of planning for your estate and understand the complex processes that accompany disability and death.  Your Wills, Trusts, and Estates Explained Simply instructs you how to choose, set up, and execute a will, trust, or estate.  It provides a comprehensive explanation of terminology and laws that you'll encounter.  Aside from teaching about wills, trusts, and estates, the book also covers settlement costs, life insurance, power of attorney, and taxes.
Furthermore, you will learn how to protect your financial privacy and prepare for long-term care.  This will help ensure that you have a say in how your wishes are carried out instead of someone else making all the decisions.
Estate Planning Basics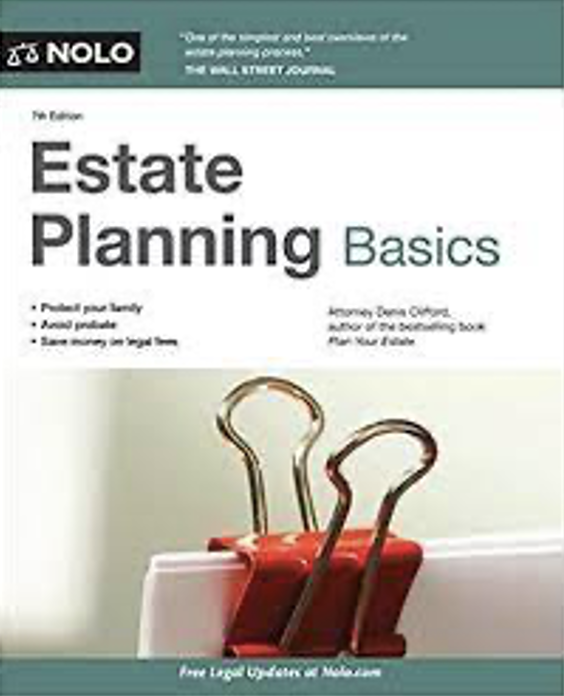 by Attorney Denis Clifford
Here is the information you need, in plain English.  Get the need-to-know basics about wills, trusts, avoiding probate and planning for incapacity with Estate Planning Basics.  This book lays out your options in plain English, guiding you to the right real estate plan for you and your family. 
Learn about:
making a will or living trust
naming a guardian for your children
avoiding probate
choosing an executor
using a durable power of attorney
preparing a health care directive (living will)
If you're like a lot of people, you have a nagging feeling that you need to work on your estate plan-but you haven't gotten around to it because it sounds hard or expensive or just unpleasant.  Perhaps you don't even know where to start!  At Scott County Public Library, we're here to help!
Michael~michaels@scottpublib.org
---
Legends of Hollywood
As I think back to my childhood, one of my fondest memories was going to the movies to see the adventures of our heroes. We were lost for a moment in their escapades and larger-than-life personalities. The glitz and glamour of Hollywood brought us joy and happiness, showing us a world different from our own; the icons and legends live on in our hearts, no matter our age. At Scott County Public Library, you have the chance to relive some of those Hollywood adventures. Check out some of our biographies of the biggest names and characters in 20th century film.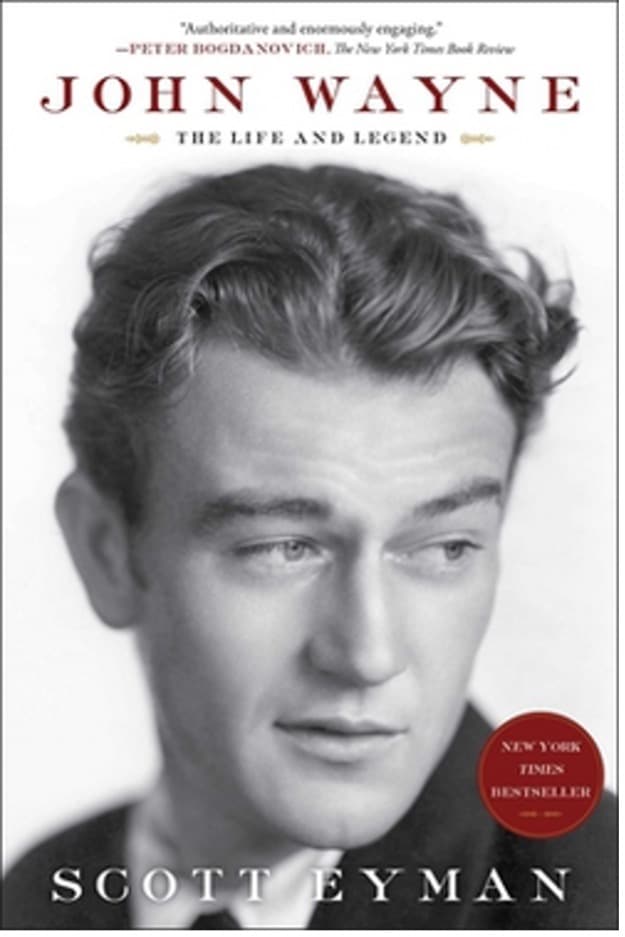 John Wayne:  The Life and Legend by Scott Eyman
John Wayne was one of Hollywood's most famous and most successful actors, but he was more than that.  He became a symbol of America itself.  He epitomized the Western film, which for many people epitomized America.  He identified with conservative political causes from the early 1930s to his death in 1979, making him a hero to one generation and a villain to another. But unlike fellow actor Ronald Reagan, Wayne had no interest in politics as a career. Like many stars, he altered his life story, claiming to have become an actor almost by accident when in fact he had studied drama and aspired to act for most of his youth.  Wayne projected dignity, integrity, and strength in all his films, even when his characters were flawed, and whatever character he played was always prepared to confront injustice in his own way.  More than forty years after his death, he remains the standard by which male stars are judged and an actor whose morally unambiguous films continue to attract sizeable audiences.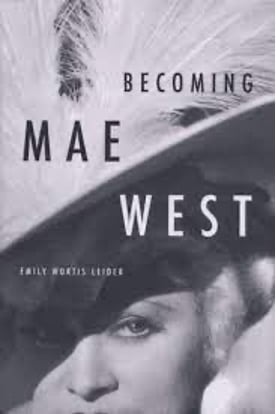 Becoming Mae West by Emily Wortis Leider
Mae West loved big cities, form-fitting clothes, lipstick, jazz, sex in taxis, intrigue, gun-toting bootleggers, boxers lathered in sweat, and cops who read her the riot act. The first intensive biography of Mae West focuses not only on the kitsch of her later years, but rather on the dynamic, creative, sexually adventurous young woman who took aggressive control of her own performances and in the process made her face and form among the world's most famous.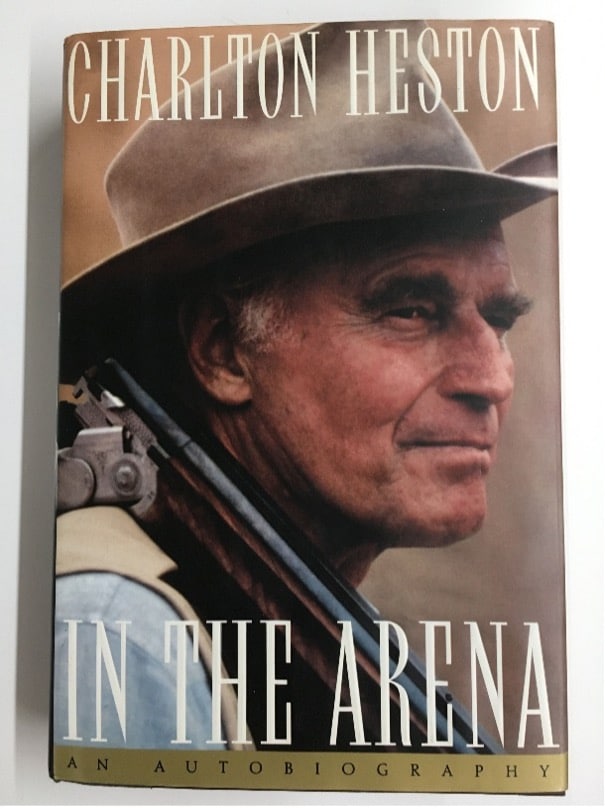 Charlton Heston:  In the Arena, an Autobiography
He is known by millions worldwide for his magnificent portrayals of remarkable men. As an actor, he has reached a level of success and recognition that few have achieved and been accorded an acclaim few have received. Now, looking back over a career that has spanned half a century and a lifetime devoted to being the best possible, both as an actor and as a man, Charlton Heston writes of what it was like to live In the Arena.
In this autobiography- his first ever and written entirely by himself-Charlton Heston writes with candor and warmth of the forces that shaped his early life; of a broken home; of a shy, insecure young man who found in acting a way to express himself; and of Lydia, the beautiful young woman he met while in college and married more than fifty years ago, who remains a true life partner.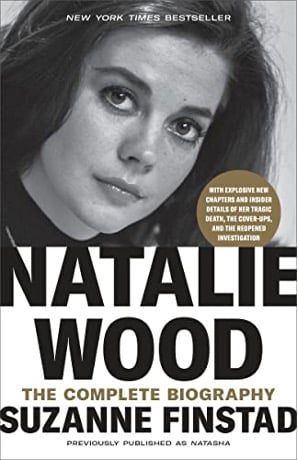 Natalie Wood: The Complete Biography by Suzanne Finstad
Natalie Wood was Hollywood. We watched her mature on the movie screen before our eyes in classics such as Miracle on 34th Street, Rebel Without a Cause, Splendor in the Grass, and West Side Story. But the story of what her life was like when the doors of the soundstages closed has long been obscured. Suzanne Finstad conducted nearly four hundred interviews with Natalie Wood's family, close friends, legendary costars, and virtually everyone connected to her death. She reveals painful truths in Wood's relationships with James Dean, Frank Sinatra, Warren Beatty and Robert Wagner.
In this updated edition, Finstad will share her explosive findings from the last two decades. With her unprecedented access to the LAPD's "murder book" and new witnesses who have never spoken publicly, Finstad uncovers what really happened to Natalie Wood on that fateful boating trip in 1981 with Robert Wagner and Christopher Walken.
Michael~michaels@scottpublib.org
---
Time for the Holidays!
Now that November has arrived, the holiday season is in our hearts and thoughts!  The hustle and bustle can be overwhelming!  Who's hosting?  What presents can I get Uncle Arthur? He has everything! Can Grandma get along with Aunt Sue this year?  It can be a very trying time.  But don't let that overcome the joy and happiness the season can provide.  Here at Scott County Public Library, we have tons of resources to help your holidays be smooth and full of joy.  Check out these little jewels!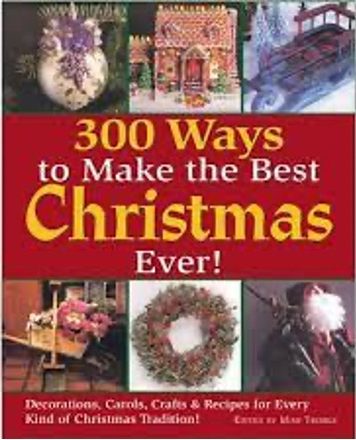 300 Ways to Make the Best Christmas Ever!  Decorations, Carols, Crafts & Recipes for Every Kind of Christmas Tradition! By Mimi Tribble
Whether you want to handcraft pretty wreaths or prepare warm, aromatic mulled wine, here is where you'll find 300 ways to make this and every Christmas the best ever! Organized by region and historical era, these ideas from around the world celebrate a variety of cultural traditions and will appeal to children of all ages.  Choose those that most appeal to you, incorporating them into your festivities. From "Pinecone Fire Starters" to a papier-mache' "Victorian Father Christmas," the ideas in this collection can help you make every Christmas merry and bright.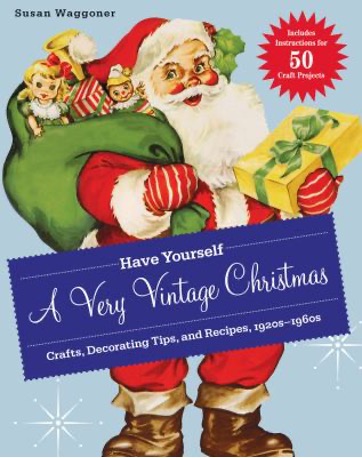 Have Yourself a Very Vintage Christmas.  Crafts, Decorating Tips, and Recipes, 1920's – 1960's by Susan Waggoner
Susan Waggoner recaptures the magic of Christmases Past with the vintage craft projects readers have been craving.  Inspired by the most sought-after treasures from the 1920's through the 1960's, Waggoner recreates a tempting array of decorations and provides step-by-step instructions that allow anyone to deck their halls with cellophane wreaths, glittered glass ornament balls, beaded bell garlands, and whimsical, tinsel-bedecked treat cups. Those pressed for time will also find quick crafts from every decade, along with style notes and decorating tips to pull it all together. A nostalgic bonus art portfolio provides a host of images to use in greeting cards and photo holders.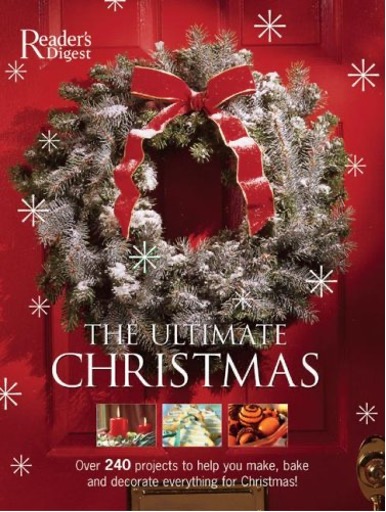 The Ultimate Christmas.  Over 240 Holiday Craft, Food, and Decorating Ideas  published by Readers' Digest
This year and for years to come, make all your holiday wishes come true-with these 240 easy-to-make craft, food, and decorating Ideas!  With The Ultimate Christmas Book you'll be able to make, bake and decorate your way to the best Christmas ever. Set the mood by making your own decorations, from dazzling wreaths to fragrant centerpieces.  Create personalized gifts, sure to be treasured by family and friends- from jigsaw puzzles to shimmering scarfs.  Take the stress out of entertaining with menu ideas and must-have party planners.  Enjoy making the more than 115 delicious recipes, from appetizers to festive desserts. Entertain in style with simple yet elegant holiday foods and décor!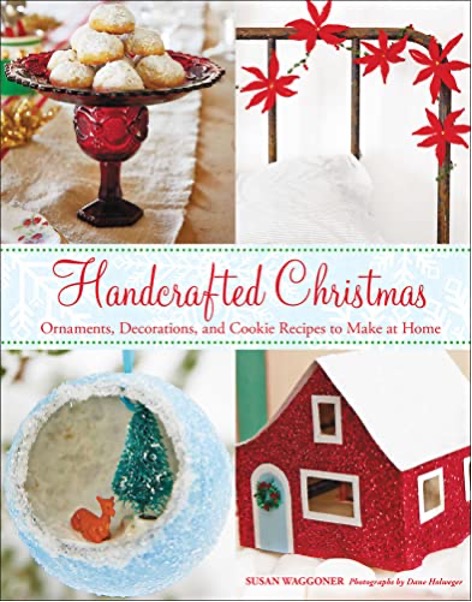 Handcrafted Christmas.  Ornaments, Decorations, and Cookie Recipes to Make at Home by Susan Waggoner
If Susan Waggoner had her way, every Christmas would be a hand-crafted one.  In her newest volume, she captures the magic of Christmases Past with an irresistible assortment of more than thirty-five crafts and recipes inspired by the most sought-after treasures and flavors of the 1920s through the 1960s.  From punched-tin votive holders to wooly needle-felted snowmen, and beloved cookie swap recipes such as Chocolate Sour Cream Drops and Pecan Tassies, the delights of a handcrafted Christmas take centerstage in this vintage-style celebration of the most wonderful time of the year.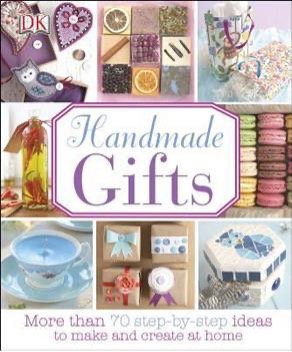 Handmade Gifts.  More than 70 step-by-step ideas to make and create at home By DK Publishers
Learn how to make beautiful, unique, and affordable presents for friends and family.  Handmade Gifts contains more than 70 inspiring ideas for truly personal gifts. It is filled with funky and fabulous gift ideas.  From jewelry, bags, and accessories to pampering treats, edible goodies, and ideas for pet lovers, there's something here for everyone! Inside, find popular craft techniques such as sewing, candle-making, mosaics, and papercrafts, plus clever ideas on how to wrap and present your gifts. Discover gift ideas suitable for all skill levels, from beginner to experienced, and for the time you have available. Easy and effective gift box and wrap ideas will help you present your gift in style.
All these helpful resources and more are available here at Scott County Public Library!  Come see us!
Michael~michaels@scottpublib.org
---
Graphic Novels- Not Just for Kids Anymore!
The witching season is upon us once more, a wonderful time of ghoulish masks, carved pumpkins and ghastly monsters! If you're looking to get yourself in a Halloween mood, come by Scott County Public Library and check out our Adult Graphic Novels section. The horror genre has been taken in a new direction for adults and we think you will find these graphic novels intriguing and wonderfully macabre!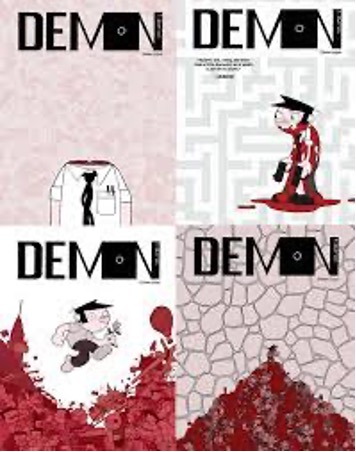 Demon by Jason Shiga
A noose around his neck, a razor across his wrist, and even a bullet to his head all yield the same results; each time he awakes, he is miraculously unharmed, in his shabby room at the Sunbeam Motel. For reasons he doesn't understand, Jimmy has become the world's most dangerous man. Using only his mathematics training and his complete lack of scruples, Jimmy must push himself to his mental limits to stay one step ahead of the elite team of intelligence operatives devoted to the single goal of capturing him alive. From the brilliant and profane mind of Jason Shiga comes Demon; a four-volume magnum opus about the unspeakable chaos that one indestructible man can unleash on the world- and the astronomical body count he leaves behind.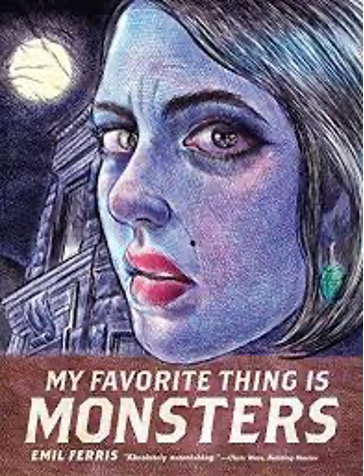 My Favorite Thing is Monsters by Emil Ferris
Once you enter Emil Ferris's spectacular eye-popping magnum opus, there is no turning back. Her werewolf-girl protagonist's spiral-bound notebook is a visual phantasmagoria of neural pathway-altering proportions. Through her dark Chicago streetscapes, a freakish but lovingly cross-hatched cast of characters, meticulously envisioned covers of horror comics, and all-around virtuosic drawing chops, the heroine unravels a baroque mystery whose plot pulls you forward as insistently as the images demand that you linger. This is a monster of a book, in the best way possible.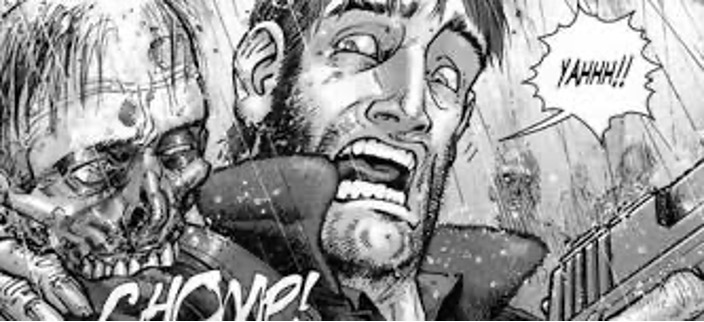 The Walking Dead Series Created by Robert Kirkman
The continual story of survival horror begins here! Robert Kirkman has created an apocalyptic world where every day could be your last. Who do you trust? Who must you kill? Will your loved ones become the very evil that would destroy you?
The adult graphic novel is just as exciting as the early stories and the highly acclaimed television series. This series of adult graphics takes you through the hardships and perils of seemingly ordinary people, with a wide range of cast that will draw you into their dark and demonic world. The local connection is also pretty cool, as Robert Kirkman is a local Kentuckian, born in Lexington, growing up in Cynthiana. Check this one out… you won't be sorry!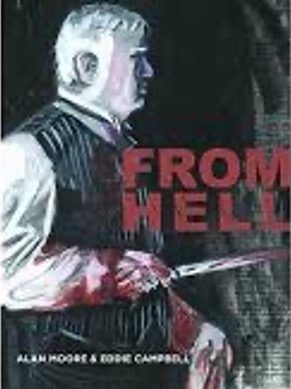 From Hell by Alan Moore and Eddie Campbell
From Hell is the story of Jack the Ripper, perhaps the most infamous man in the annals of murder. Detailing the events leading up to the Whitechapel killings and the coverup that followed, From Hell is a meditation on the mind of a madman whose savagery and violence gave birth to the 20th century. This "melodrama in sixteen parts" has garnered widespread attention from critics and scholars, and was adapted into a major motion picture starring Johnny Depp and Heather Graham in 2001. Often regarded as one of the most significant graphic novels ever published, From Hell combines meticulous research with educated speculation, resulting in a masterpiece of historical fiction both compelling and terrifying.
So, whether you choose one of these little darlings or another of your choosing, we're sure you'll have a ghoulishly good time at Scott County Public Library!
Michael~michaels@scottpublib.org
---
A New Look?
Now that school is back in session, perhaps it's time to take a few minutes to take care of yourself!  You've spent the entire summer caring for the little ones, but people are starting to realize self-care is important to having a fulfilled life.  Perhaps it's a new job, a new home, or perhaps it's simply a new look for yourself! Whatever life throws at you, a happy person takes time to nourish themselves, feel good about themselves.
At Scott County Public Library, we have many resources to help you achieve that new and refreshed look.  Check out these titles!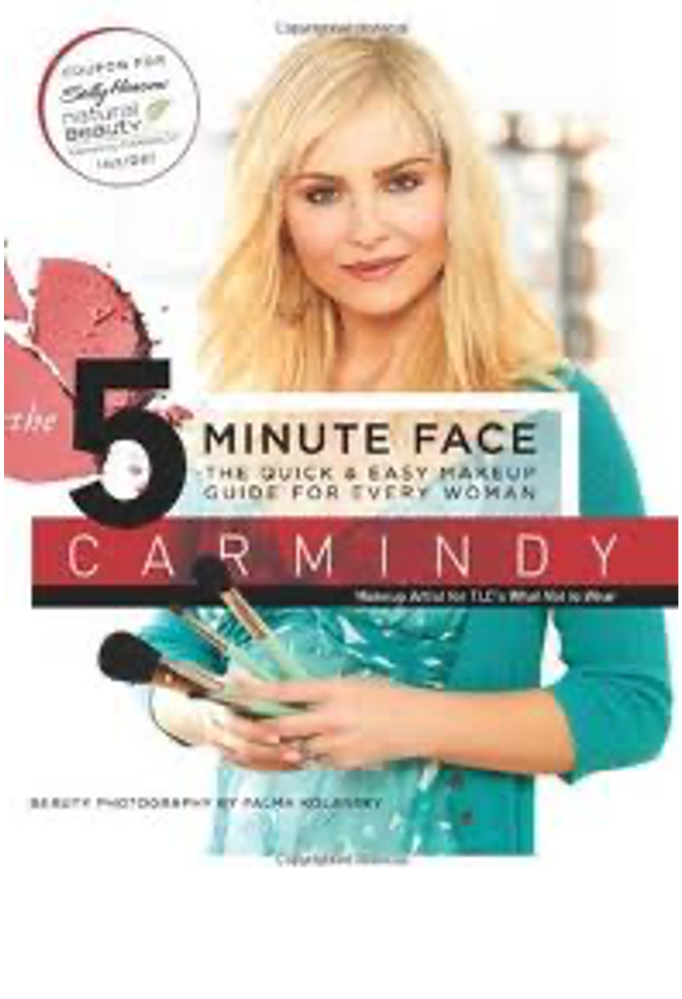 5 Minute Face; the Quick & Easy Makeup Guide for Every Woman by Carmindy
The key to a gorgeous face isn't expensive cosmetics, complicated makeup regimens, or cluttering your bathroom counter with bottles and tubes-it's using the right products in the right places to enhance your own unique, natural beauty.  We know what you're thinking: "Sounds simple, but how do I know what's right and where to put it?"  Carmindy, makeup artist on TLC's hit show What Not to Wear, knows exactly what and where- and she's here to share her secrets. In The 5 Minute Face, Carmindy shares her beauty philosophy, offering a practical, easy, and always successful makeup routine that works for all ages and skin types.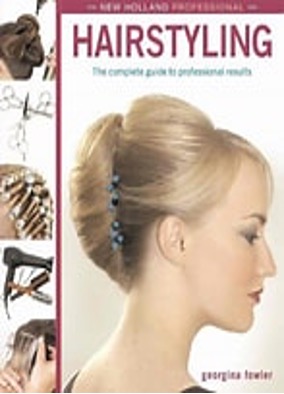 Hairstyling: The Complete Guide for Professional Results by Georgina Fowler
Hairstyling takes you through the essential tools required, from brushes and combs to heated equipment.  The step-by-step sections of the book offer an invaluable guide to all the hands-on aspects of hairdressing, from shampooing and conditioning to treating your clients to a relaxing head massage.  Four basic cutting techniques are covered in-depth, along with techniques for personalizing cuts. Colouring hair is discussed from several different angles, and the guide to perming will make sure that you master this important skill. Whether you have the fundamental skills and want to improve, or you're an old hand who needs to brush up on the basics, this book provides everything you need to know to make you the best hairstylist in town.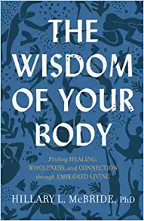 The Wisdom of Your Body; finding healing, wholeness, and connection through embodied living by Hillary L. McBride, PhD
Too many of us have been taught that the body is bad but the spirit is good. If you have ever felt disconnected from your body and wanted to find the way home to yourself, please read this book.  McBride's insights are a gift to us- through tender stories and valuable expertise, we learn the importance of embodiment and what it means to be human.  The book can lead us all toward healing. It is a gift filled with wisdom and sound research all eloquently threaded together, a key for unlocking the unacknowledged mysteries and marvels of the human body and how it connects to everything. McBride presents hard science and mind-blowing facts in a compassionate voice that results in a can't-put-it-down companion for all who are seeking the confidence and self-love we know we're capable of.  What a treasure!
Relax- you may only have a few minutes left by Loretta LaRoche
Loretta LaRoche has been called the "Erma Bombeck of stress reduction"-and in the helpful and hilarious pages of this book, her enormous talent and finding the funny detail to defuse even the most difficult situation has never been sharper. 
"Buy something silly and wear it.  A Groucho Marx nose, mustache, and glasses are my favorite.  When the stress seems unbearable, when you've really reached the limits of your endurance, go into a bathroom, look into the mirror, put on your glasses, and ask yourself, "How serious is this?"
Relax- You may Only Have a Few Minutes Left is filled with practical exercises, hilarious anecdotes, and specific advice for coming to terms with today's ever increasing stress levels-it is a remedy for anxiety and a prescription for laughter.
As we realize that "Me Time" is just as important as those tasks life throws at us, don't forget to use the resources around you. And here at Scott County Public Library, we are here for you! Let us know how we can help!
Michael~michaels@scottpublib.org
---
Ripped from the Headlines!
Hello again from Scott County Public Library in Georgetown, Kentucky.  Every now and then criminal cases come along that strike something deep within us- the tragedy, the injustice, the twisted choices Fate brings to humanity. Check out these recent titles.  The crimes made national or in some cases international headlines. The fact that they are true stokes fear in all of us. You already know the basic story, now get the whole story.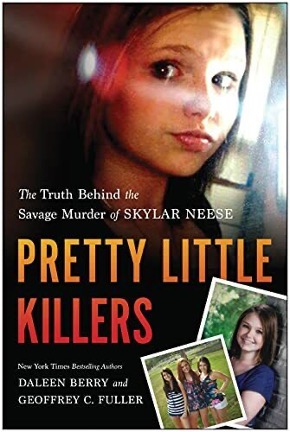 Pretty Little Killers: The Truth Behind the Savage Murder of Skylar Neese by Daleen Berry and Geoffrey C. Fuller
Pretty Little Killers shares the latest theories and answers the questions that have baffled us regarding one of the most horrific murders of our time-the murder of Skylar Neese. Including specific details drawn from one of the murderer's confession, we look at the crime through the eyes of the victim and her killers, providing intimate testimony from the pages of Rachel's personal journal, Skylar's diary and school records and court papers.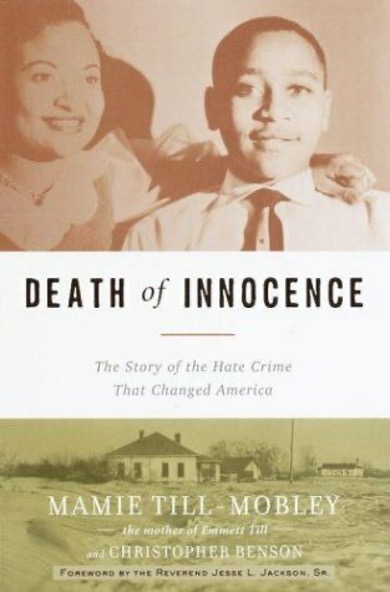 Death of Innocence: The Story of the Hate Crime that Changed America by Mamie Till-Mobley (the mother of Emmett Till)
In August 1955, a fourteen-year-old African American, Emmett Till, was visiting family in Mississippi when he was kidnapped from his bed in the middle of the night by two white men and brutally murdered.  His crime: allegedly whistling at a white woman in a convenience store.  The killers were eventually acquitted.  What followed altered the course of this country's history-and it was all set in motion by the outrage, sheer will, determination, and courage of the victim's mother, whose actions galvanized the civil rights movement, leaving an indelible mark on our racial consciousness. It is a beautiful account of a mother's ability to transform tragedy into boundless courage and hope.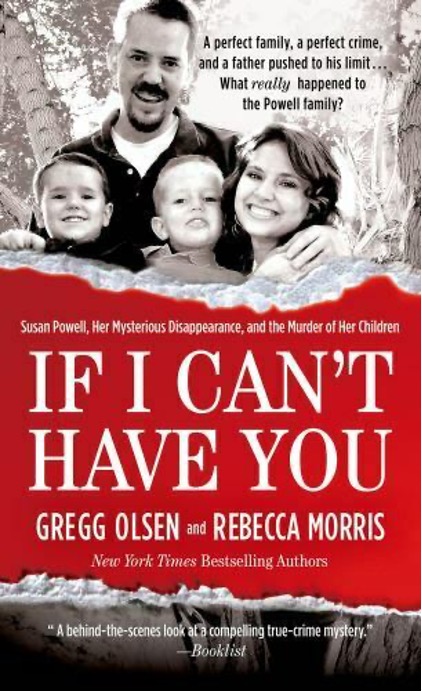 If I Can't Have You by Gregg Olsen and Rebecca Morris
When the pretty Utah mother, Susan Powell, went missing in December of 2009, the media was swept up in the story. Susan's husband, Josh, had no idea what happened to his young wife; he and the boys had been camping in the middle of a snowstorm. Over the next 3 years, bombshell by bombshell, the story would reveal more shocking secrets. Josh's father, Steve, would be convicted of unspeakable perversion.  Josh's brother, Michael, would commit suicide. And in the most stunning event of all, Josh Powell would murder his two little boys and kill himself with a brutality beyond belief, leaving a family destroyed and a nation in shock.
Honor Bound: My Journey to Hell and Back with Amanda Knox By Raffaele Sollecito with Andrew Gumbell
They were accused of one of the most infamous murders of our time.  Targeted by the media, sentenced by the courts, and wrongfully imprisoned for four excruciating years for a crime neither could fathom, let alone perpetrate, Raffaele Sollecito and Amanda Knox were the victims of a trial so bizarre it defied all reason. Now, for the first time since his acquittal, Raffaele reveals what really happened between him and his then girlfriend, before, during, and after Amanda's roommate Meredith Kercher's brutal murder.
Drop by Scott County Public Library and check these and other titles out.  Whatever you're looking for… we've got it!
                                                            Michael~michaels@scottpublib.org
---
Let's Celebrate Independence!
Ladies and Gentlemen! It's that time again! Time to display our flags, don our red, white, and blue, and let the world know we are proud to be Americans! July 4th picnics will be on our to-do list and fireworks will adorn the night skies once more! Here at the Scott County Public Library in Georgetown, KY we have an array of books and resources that depict all the exciting tales of our nation in its early days.  Come check out one of these informative and entertaining items.  There are many unusual and exciting characters and stories as America once again celebrates her birthday!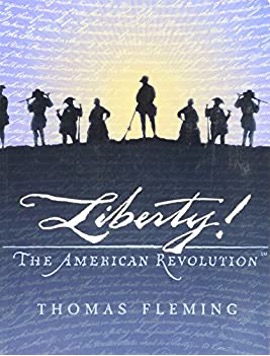 Liberty! The American Revolution by Thomas Fleming
Liberty! The American Revolution brings to life one of the most important and compelling stories in our country's history- the struggle for independence and the birth of the American nation.  Historian and novelist, Thomas Fleming's gripping narrative captures the high drama of the revolutionary years and the unyielding courage and political genius of the men and women who imagined a new set of political possibilities for mankind, laying the foundation for the identity and character of the American people in the process. The companion volume to the PBS series of the same name, Liberty! is illustrated with more than 200 full-color paintings and photographs, illuminating the revolutionary period as never before.  Most important, Liberty! traces the evolution of the ideals that inspired a generation of Americans to struggle against Britain, then the most powerful nation in the world, to establish the free society and democratic system that is so inherently and uniquely American.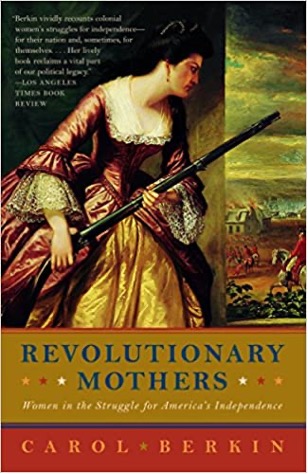 Revolutionary Mothers; Women in the Struggle for America's Independence by Carol Berkin
The American Revolution was a home-front war that brought scarcity, bloodshed, and danger into the life of every American, and Carol Berkin shows us that women played a vital role through the struggle. She retells the story of women's roles in creating a new nation.  And as much as possible, it tells that story through the words and actions of individual women- from Martha Washington to the Quaker spy Lydia Darragh, from the wealthy fund-raiser Esther Berdt Reed to the Indian diplomat Molly Brant. It is a recapturing of ordinary women who lived in extraordinary times, and a fascinating addition to our understanding of the birth of our nation.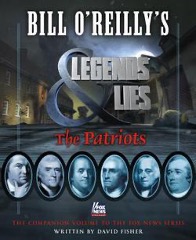 Bill O'Reilley's Legends and Lies; The Patriots By David Fisher
The American Revolution was not inevitable nor was it a unanimous cause. It pitted neighbors against one another, as loyalists and colonial rebels faced off for their lives and futures.  These were the times that tried men's souls; no one was on stable ground, and few could be trusted. Through the remarkable lives of the first Americans, Legends and Lies; The Patriots reveals the contentious arguments that turned friends into foes and the land into a war zone. From the riots over a child's murder that led to the Boston Massacre, to the Continental Army's first victory under George Washington's leadership, David Fisher explores the amazing combination of resourcefulness, perseverance, strategy, and luck that resulted in the creation of a country that would go on to become the most powerful in the world.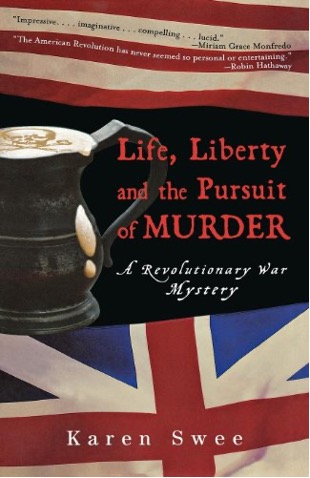 Life, Liberty, and the Pursuit of Murder by Karen Swee (Fiction)
And don't forget the fiction, as well.  An historical setting can bring added interest to a modern-day plot, and the early days of America are no exception! During the winter of 1777, tavern mistress Abigail Lawrence discovers the body of an overnight guest pinned to the floor with an upright sword.  She must find the killer before the occupying British army uses the murder as an excuse to take over her tavern in New Brunswick, New Jersey. Against a backdrop of wartime tension and hardships, Abigail unravels a puzzle that involves stolen diplomatic letters from Ben Franklin in Paris, captivating spies, avaricious traitors and an abused indentured servant bent on revenge. Abigail Lawrence copes with a wartime world of disguised loyalties and she discovers the power of revenge and the courage of patriotism in an extraordinary time.
Michael~michaels@scottpublib.org
---
Adventure on the Water!
At your Scott County Public Library this summer, you will discover Oceans of Possibilities! Various activities for all ages are centered around this exciting theme in libraries all across the country. No matter your age or interests, we have something for you! So if you're in a seafaring mood, Matey, you might want to check out one of these little ocean gems for a bit of high seas adventure!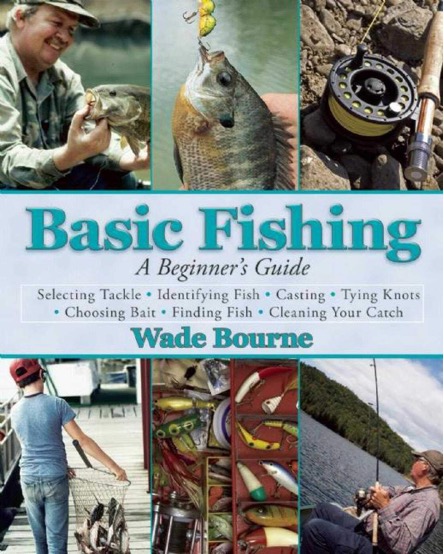 Perhaps a new hobby will make the summer come alive for you! Check out Basic Fishing: A Beginner's Guide by Wade Bourne. Are you new to fishing and have no idea how to start?  With Basic Fishing, you'll become an accomplished angler in no time at all. Expert angler and award-winning outdoor writer Wade Bourne was taught to fish by his father. In turn, Bourne taught his children how to fish. Now he brings his expertise to Basic Fishing, a step-by-step guide that masterfully breaks down the art of fishing with diagrams, vivid photographs and various lessons. This book is great for families looking to bond in the great outdoors!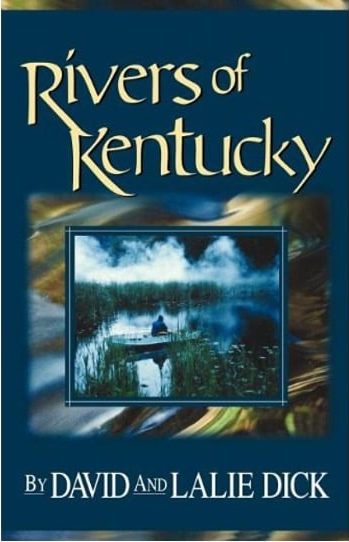 Now that you have your fishing equipment and strategies ready, you'll need a place to wet a line! The Rivers of Kentucky rise in her mountains and flow irresistibly to the sea. Travel these rivers with David and Lalie Dick as they journey across Kentucky and meet the men and women who call these waters home.  Whether you put in your canoe on the wild waters of Rockcastle County…or join the crew for a hearty breakfast on a fogbound Ohio River towboat…or trace the Echo and Styx in the mysterious depths of Mammoth Cave, the rivers of Kentucky will draw you into their spell, for their story is the story of her people.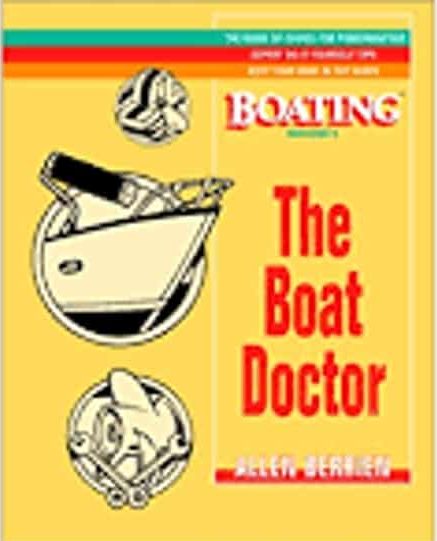 If you're blessed enough to have your own boat, you know maintenance of your equipment is imperative. It's no fun being stranded on the opposite end of the lake from the dock. I know and speak from experience. Boating Magazine's The Boat Doctor by Allen Berrien will help keep your boat in perfect working order as you explore beautiful Kentucky waterways. For years, Allen Berrien, the famous Boat Doctor of Boating Magazine, has helped boaters avoid calamities on the water; pitted gelcoat, battery explosions, time-wasting methods of cleaning and repair, engines dying and worse…
The Boat Doctor's years of practical experience, thousands of hours of boat repair and maintenance and engine expertise are here at your fingertips. His know-how can save you time and headaches and make your precious time on the water a pleasure, not a trial.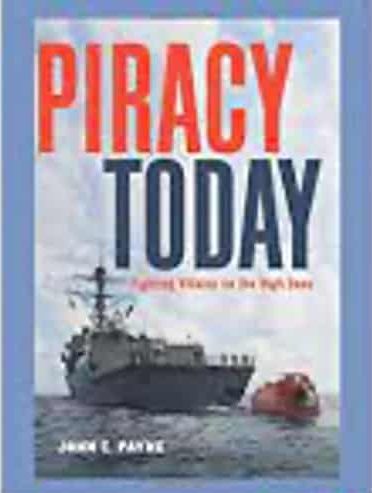 If you're looking for a more worldly high seas adventure, you might want to investigate Piracy Today: Fighting Villainy on the High Seas by John C. Payne. Modern piracy is a billion-dollar business that takes advantage of inadequate international law, lax law enforcement and under-staffed ships.  Gangs armed with AK-47's and small rocket launchers have been emboldened by recent successes and are demanding-and often getting- six figure ransoms. Theft of cargo and rocketing insurance premiums mean the cost of transporting goods is rising as well as the increased physical danger to mariners in all corners of the globe. In this eye-opening account, this respected author lifts the veil on modern piracy, detailing hundreds of very real and frightening accounts. The Maersk Alabama (Captain Phillips), the Faina, the Arctic Sea, and the luxury yacht Le Ponant, are just a few of the hijackings explored here in detail.
So whether you're looking for adventure on the high seas or a calm afternoon cruising your local rivers, lakes, and streams, stop by and see us at Scott County Public Library in beautiful Georgetown, KY, where there are Oceans of Possibilities for adventure!
Michael~michaels@scottpublib.org
---
Considering a New Career?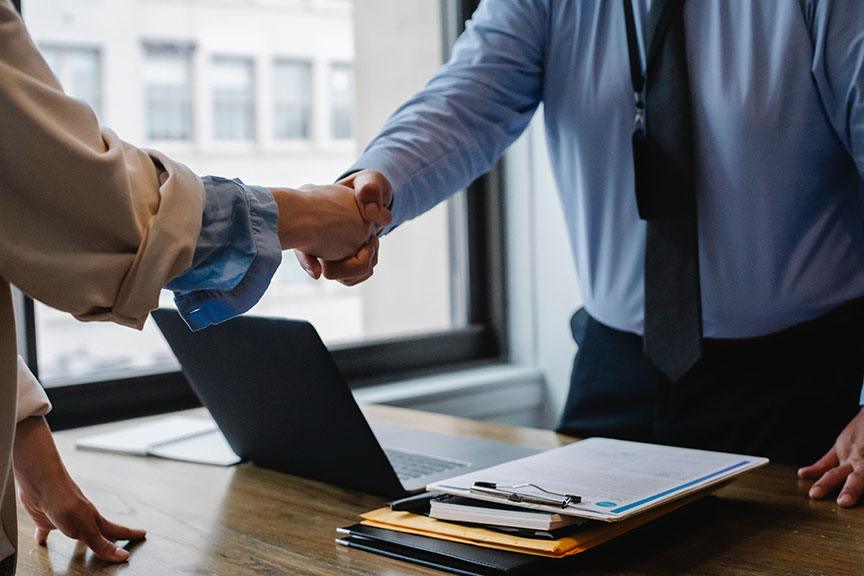 If you've seen the news lately, you've probably seen articles where many people are evaluating their current employment status and are now considering new careers.  It seems the pandemic has simply made us all do a reevaluation of what is important in our lives.  If you are one of those people considering a career change, you might want to start here at the Scott County Public Library. We have many resources to help you with your job search!
Trends change and so have the trends in job hunting.  What was supercool in resumes a few years ago is now seen as passe or "old school." Many resume templates you will find online will claim to be free, but then have a charge when it's time to print the document.  Don't fall for that.  On our website at scottpublib.org, there is a template that will allow you to create your resume and print it for free.  It even allows you to change up the look of your resume to create the desired impression! (Sometimes you want a resume to look one way for one company, another way for another company.) To find it, go to our website, www.scottpublib.org, then click on E-Resources.  You will see the icon for Job and Career Accelerator.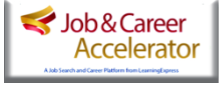 This link contains many resources to help you as you search for that new job or career!  And the best part is that they are all 100% free!  Let's look closer at the resources you now have at your disposal!
Build Resumes and Letters
The step-by-step resume builder will help you create and publish the most effective resumes possible. As you build, you'll find expert advice, easy-to-follow instructions, and helpful resume samples to help you through each step of the process.  Various types of resumes are there for you to choose, whether it be a simple one for an entry level position, or a more technical one showcasing your years of service. There is also expert advice, easy-to-follow instructions and helpful samples to help you create effective cover and job search letters that are sure to get you noticed!
Find a Career Match
Take a survey to see where your skills lie and how to follow a path toward the perfect job! It might even bring up skills you didn't know you have!
Explore Occupations
This section helps you match your skills set to the right occupation! You can obtain some of the fundamental traits needed for many popular careers!
Search for Jobs and Internships
This database identifies over 5 million jobs currently available across the United States and Canada. Companies are just waiting for someone like you!
Prepare for the Interview
In this tutorial, you'll learn the importance of pre-interview research and gain practice answering the most common interview questions. You'll be confident and knowledgeable in your interview!
Career eBooks Library
A discussion of various aspects of the workplace and traits associated with various careers, such as teachers and nurses. If you're at a loss as to which direction to go, this might provide a viable path to your future!
Discover Schools and Scholarships    
This section allows students to look for potential places of higher education and how to obtain scholarships to make their attendance there possible!      
In conclusion, if a career change is in your future, don't just wing it and hope for the best. Become prepared and embrace it through the helpful website at Scott County Public Library!  Happy Hunting!
Michael~michaels@scottpublib.org
---
National Poetry Month
April is National Poetry Month here in the United States and it's a great time to find out what is new in the lyrical poetry genre!  Poetry is not only the old, classic, stale grouping of words many struggle to decipher.  Contemporary poetry now takes on issues of the day, exploring the world of characters and events that make our world special.  It is new, exciting, and thought provoking! Come to the Scott County Public Library to check out some of these cool poetry titles.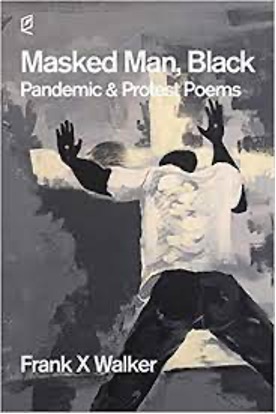 Masked Man, Black: Pandemic & Protest Poems  by Frank X Walker
Sometimes poignant and moving, other times raw and gutting, Walker's pandemic and protest poems provide a ballast to the widespread sensation of being at sea.  Their immediacy helps us to digest the inexplicable chaos all around, grappling in real time with loss pain, tragedy horror, madness, and death- from systemic American racism, inextricably linked to systematic healthcare inequities.  It greeted us each morning during the Covid-inflected version of National Poetry Month in April and continuing into the belly of Black Lives Matters protests in May and June.  Walker's daily offerings calm us, inflame us, inspire us, and offer up a clarifying lens through which to examine the world anew.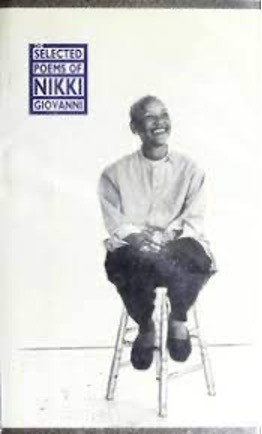 The Selected Poems of Nikki Giovanni
From the revolutionary "The Great Pa Whitie" and "Poem for Aretha" to the sublime "Ego Tripping" and the tender "My House," these 150 mind-speaking, truth-telling poems are at once powerful yet sensual, angry yet affirming.  Arranged chronologically, they reflect the changes Giovanni has endured as a Black woman, lover, mother, teacher, and poet.  Here is the evocation of a nation's past and present-intensely personal and fiercely political- from one of our most compassionate, outspoken observers.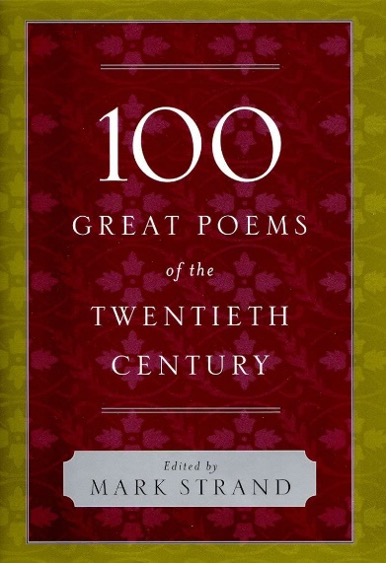 100 Great Poems of the Twentieth Century Edited by Mark Strand
If you're more into classic poetry, check this one out. It accounts for the great range of style and content with which poets such as W. H. Auden, Dylan Thomas, Federico Garcia Lorca, Rainer Maria Rilke, William Butler Yeats, Pablo Neruda, and Jorge Luis Borges and how they responded to the changes and challenges of the twentieth century.  100 Great Poems of the Twentieth Century is intended as both a unique compendium for the already well-versed and an engaging introduction for those new to the expansive world of poetry.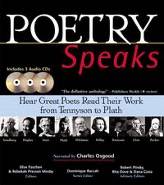 Poetry Speaks:  Hear Great Poets Read Their Work from Tennyson to Plath (Narrated by Charles Osgood /Elise Paschen and Rebekah Presson Mosby, Editors)
Poetry Speaks is a fusion of the poet's words with the poet's voice, including text and recordings of more than forty of the greatest poets who ever lived, ranging from Walt Whitman, Robert Frost, Edna St. Vincent Millay, and T.S. Eliot to Langston Hughes, Dylan Thomas, Elizabeth Bishop and Gwendolyn Brooks.  It is the first book to capture in one volume such an important and diverse array of poets both in print and on audio. (The book has 3 CD's with the audio recordings.) A living document to be shared, this collection is a treasury of the spoken and written word that nourishes the soul.
So, no matter your taste in the eloquent words of poets, whether you're looking for the classics or the modern issues of today, check out these and more at the Scott County Public Library. Poetry strengthens the heart and enlightens the soul!
Michael~michaels@scottpublib.org
---
Seeing History in a New Way!
Several years ago, graphic novels became all the rage with young people. Some thought they were superficial and light reading, nothing more than mere comic books. But the graphic novel has seen an evolution of sorts. They have become sophisticated, high in the promotion of inference skills, and designed for more sophisticated and varied audiences. The recent years have seen an increase of Graphic Novels designed primarily for adults; they are far from mere comic books. Today, let's focus on American historical events through the intriguing eye of the Adult Graphic Novel. Check these out!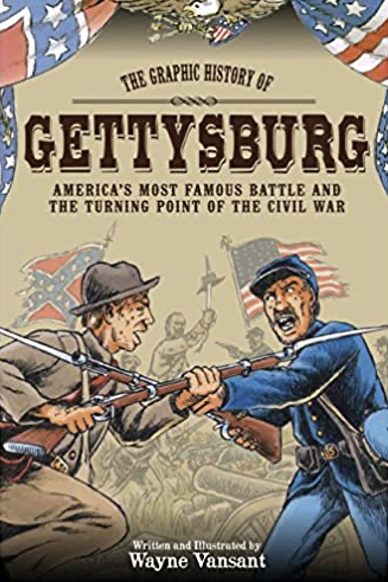 The Graphic History of Gettysburg: America's Most Famous Battle and the Turning Point of the Civil War  (Written and Illustrated by Wayne Vansant)
The Battle of Gettysburg is one of the most famous battles in American history and is widely recognized as the turning point in the Civil War.  A landmark event in United States history, it accounted for the most casualties of any battle during the war and spelled the beginning of the end for the Confederacy.
In this powerful graphic history, Wayne Vansant describes the period leading up to the Battle of Gettysburg as well as all the major artillery events on July 1st, 2nd, and 3rd, including the famous fight for Little Round Top and the death march known as Pickett's Charge. He paints portraits of each army's leaders, among them Robert E. Lee, James Longstreet, George Meade, and the then little-known Joshua Chamberlain. Vansant concludes a few months later at the dedication of the Soldier's National Cemetery in November 1863, when Abraham Lincoln delivered one of the most famous speeches of all time, the Gettysburg Address. Gettysburg delivers one of the hallmark events of American History in an exciting and creative format.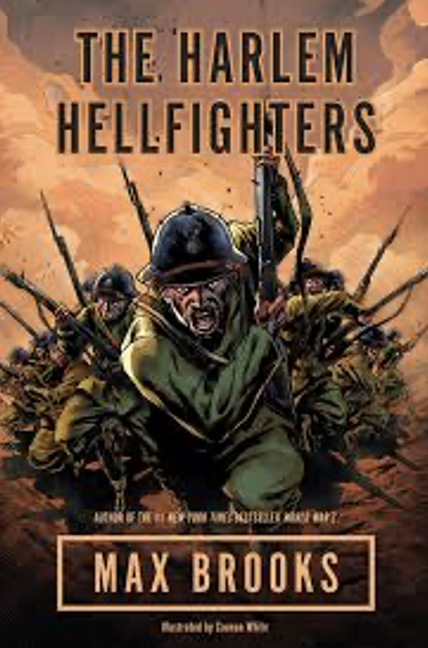 The Harlem Hellfighters (Written by Max Brooks, Illustrated by Caanan White) In 1919, the 369th Infantry Regiment marched home triumphantly from World War I. They had spent more time in combat than any other American unit, never losing a foot of ground to the enemy, or a man to capture, and winning countless decorations. Though they returned as heroes, this African American unit faced tremendous discrimination, even from their own government. The Harlem Hellfighters, as the Germans called them, fought courageously on-and off- the battlefield to make Europe, and America, safe for democracy.
In The Harlem Hellfighters, bestselling author Max Brooks and acclaimed illustrator Caanan White bring this history to life.  From the enlistment lines in Harlem to the training camp of Spartanburg, South Carolina, to the trenches in France, they tell the heroic story of the 369th in an action-packed and powerful tale of honor and heart.
Kent State: Four Dead in Ohio (Written by Derf Backderf)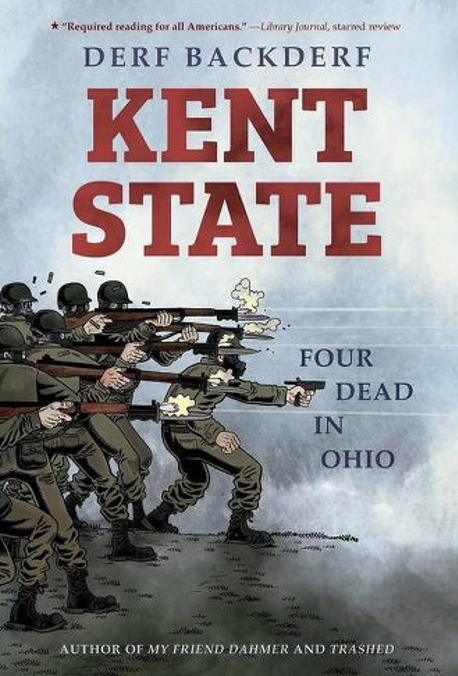 On May 4, 1970 the National Guard gunned down unarmed college students protesting the Vietnam War at Kent State University in Ohio. In a deadly barrage of sixty-seven shots, four students were killed and nine wounded. It was the day America turned guns on its own children-a shocking event burned into our national memory. A few days prior, ten-year-old Derk Backderf saw those same Guardsmen patrolling his nearby hometown, sent in by the governor to crush a trucker strike.  Using the journalism skills he employed on My Friend Daltimer and Trashed, Backderf has conducted extensive interviews and research to explore the lives of these four young people and the events of those four days in May, when the country seemed on the brink of tearing itself apart. Kent State: Four Dead in Ohio published in time for the 50th anniversary of the tragedy, is a moving and troubling story about the bitter cost of dissent- as relevant today as it was in 1970.

The 9/11 Report: A Graphic Adaptation by Sid Jacobson and Ernie Colon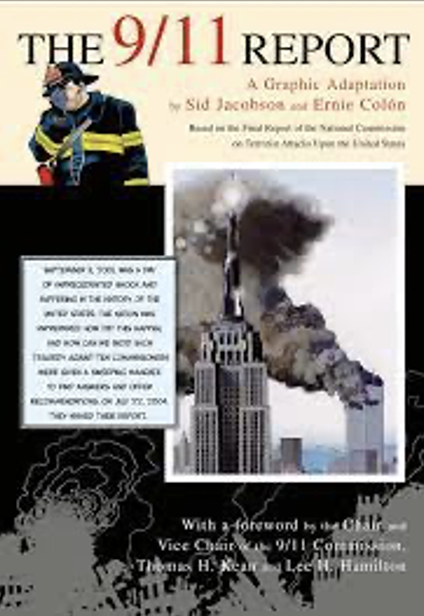 September 11, 2001 was a day of unprecedented shock and suffering in the history of the United States.  Our nation had never experienced an attack of this magnitude on our own soil before. As Americans were glued to their televisions in shock, almost 3,000 people lost their lives that day to a terrorist attack; the nation was unprepared. How did this happen and how can we avoid such tragedy again?  Ten commissioners were given a sweeping mandate to find answers and offer recommendations on July 22, 2004.  They issued their report; a sweeping, easily understood analysis of the tragedy and hopes for the future.
For anyone who might think history is old news, or dull and drab, stop by the   Scott County Public Library in beautiful Georgetown, KY and check out these and other adult graphics!  They are enlightening and informative in a very pleasant and innovative format!
Michael~michaels@scottpublib.org
---
Seed Library Available at the Scott County Public Library

The UK Scott County Horticultural Extension Office is generously providing a seed library to the community, which will be available at the Scott County Public Library. Participants can choose from 16 different seed packets, with a limit of 10 per household.
The seeds that are available are:
Thumbelina zinnia
Bright lights cosmos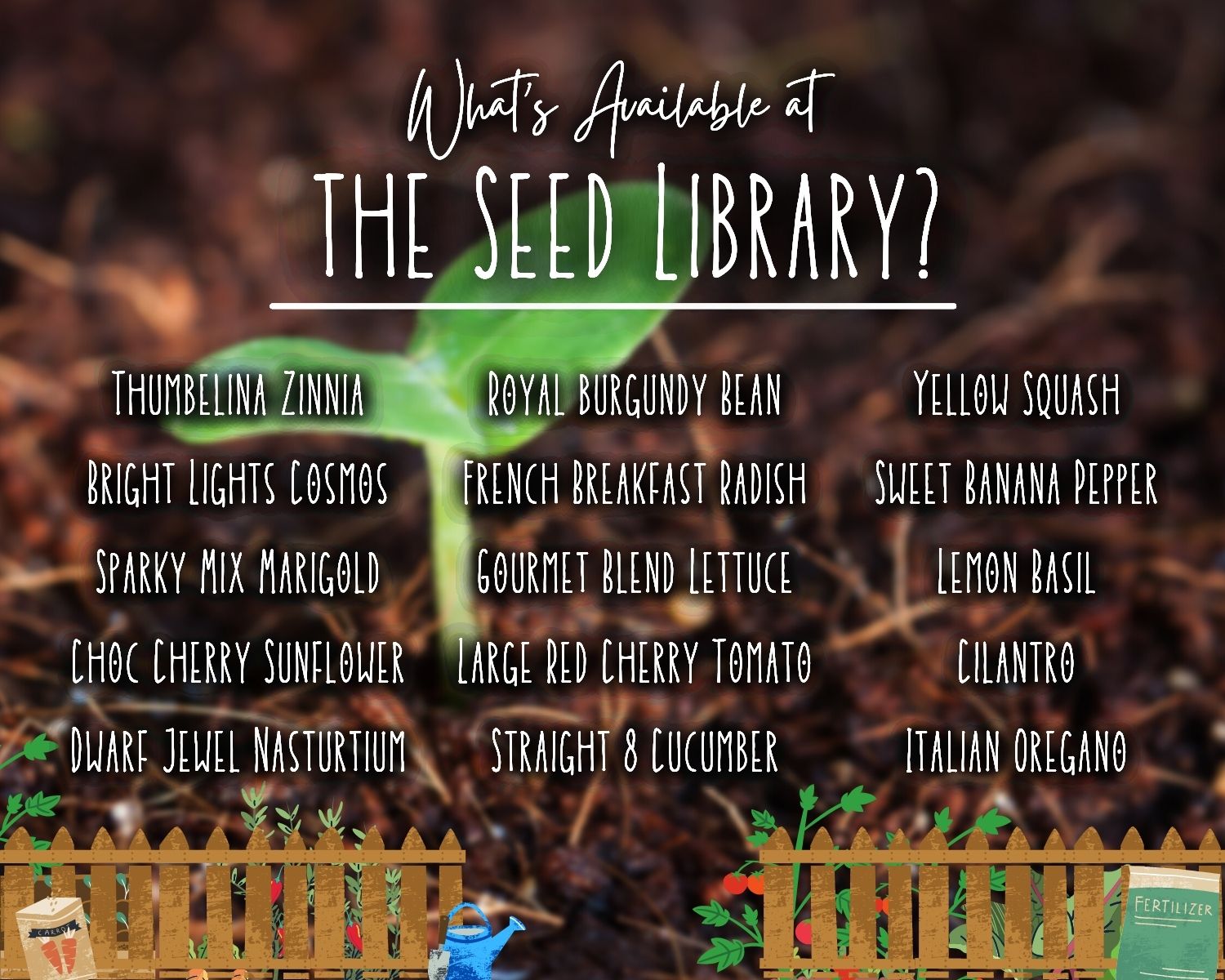 Sparky mix marigold
Choc Cherry sunflower
Dwarf jewel nasturtium
Royal burgundy bean
French breakfast radish
Gourmet blend lettuce
Large red Cherry tomato
Straightneck yellow squash
Straight 8 cucumber
Sweet banana pepper
Lemon basil
Cilantro
Italian oregano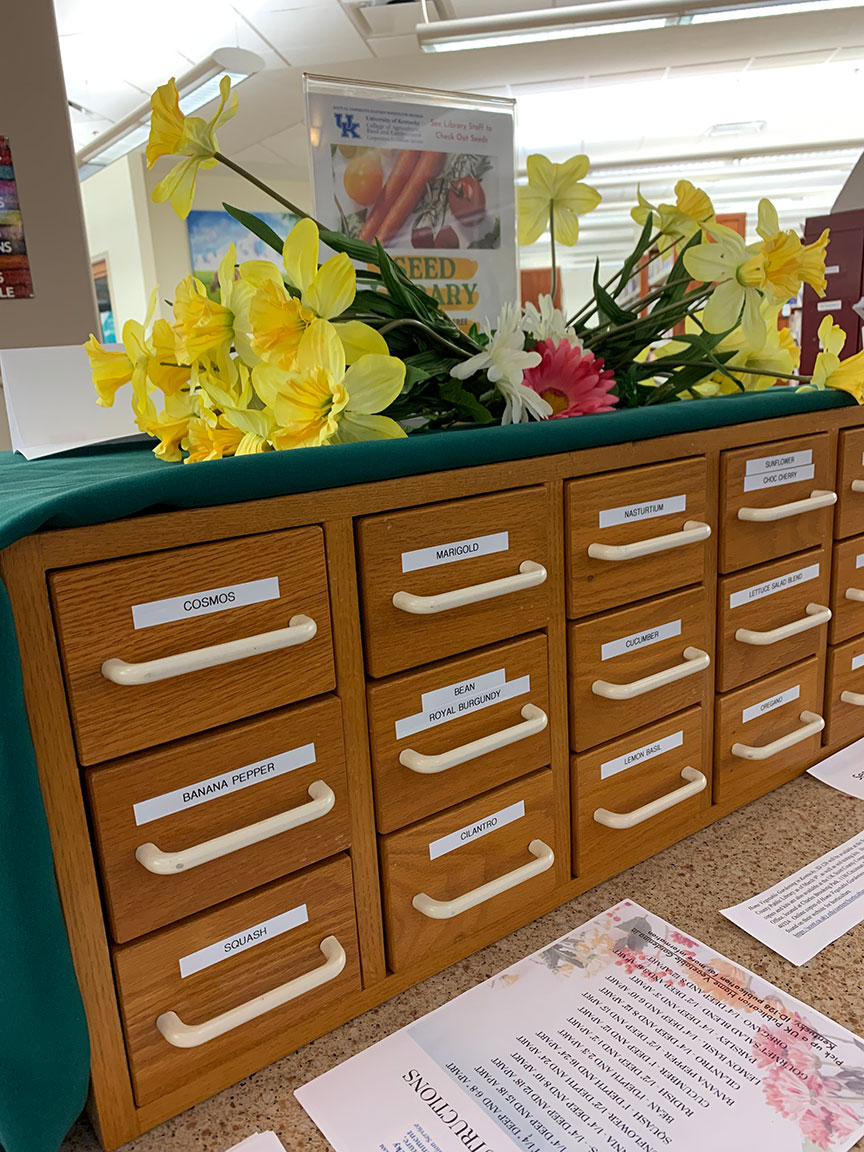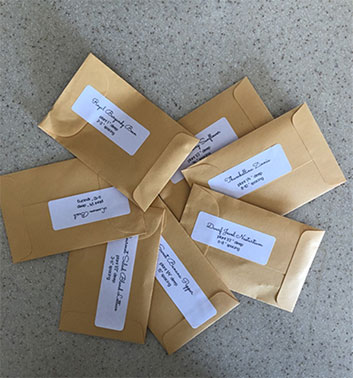 Have no fear if you are new to growing plants from seed (or taking care of plants in general).
The Scott County Horticultural Extension Office has also thoughtfully provided information about how to grow each type of plant, an overall guide for growing vegetables in Kentucky, and soil testing kits.
Whether you choose a vegetable, flower, or herb, many of the seed varieties are easy to grow.  Kids will love seeing the transformation from tiny seed to full grown plant.  One of the simplest to grow, the Royal burgundy bean, will be a beautiful purple; however, expect to see it change to green when cooked.  Gardeners will also appreciate more unusual selections, such as the Choc Cherry sunflower, which is reddish in color and perfect for flower arrangements.  Finally, for folks new to homegrown vegetables, the cherry tomatoes will be packed with flavor.
More information about gardening can be found online at website for the Scott County Extension office https://scott.ca.uky.edu/, as well as the Scott County Public Library nonfiction collection.
Julia~julia@scottpublib.org
---
Earth Day Reads
Earth Day is an annual event celebrated worldwide. The origins of this awareness day date back to 1970. Now, over 193 countries celebrate Earth Day to demonstrate support for environmental protection and appreciation for our planet. How can you celebrate Earth Day, one might ask?? SCPL has got you covered with these earth-inspired reads!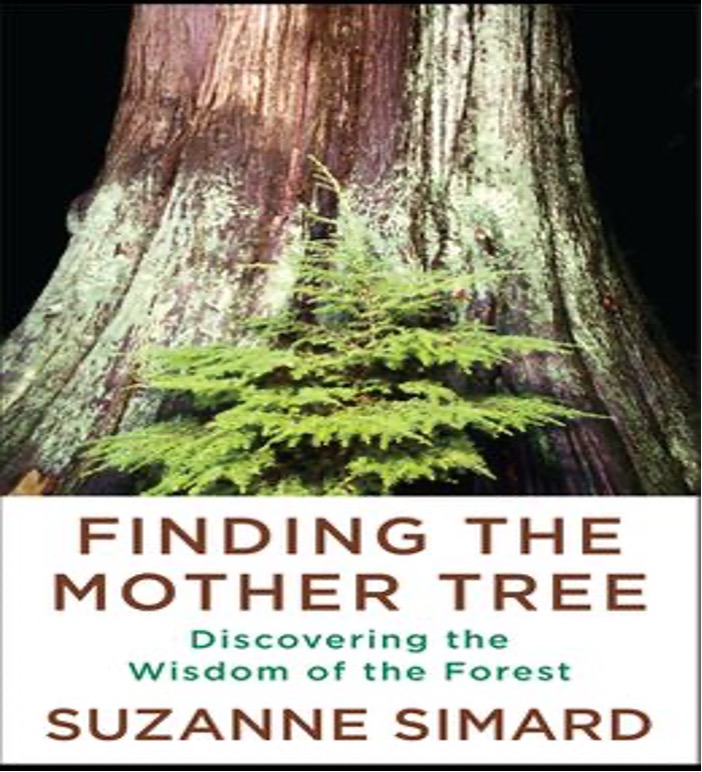 Finding the Mother Tree: Discovering the Wisdom of the Forest by Suzanne Simard
-A New York Times Best Seller, this title is written by a renowned forest ecologist who has helped shift how people view trees and their connections to the living world around them. Trees are more than a source of wood or pulp…they are cooperative, complicated living organisms. After this read, one will begin to see the natural world in a different light, and will most definitely feel the impulse to hug a tree!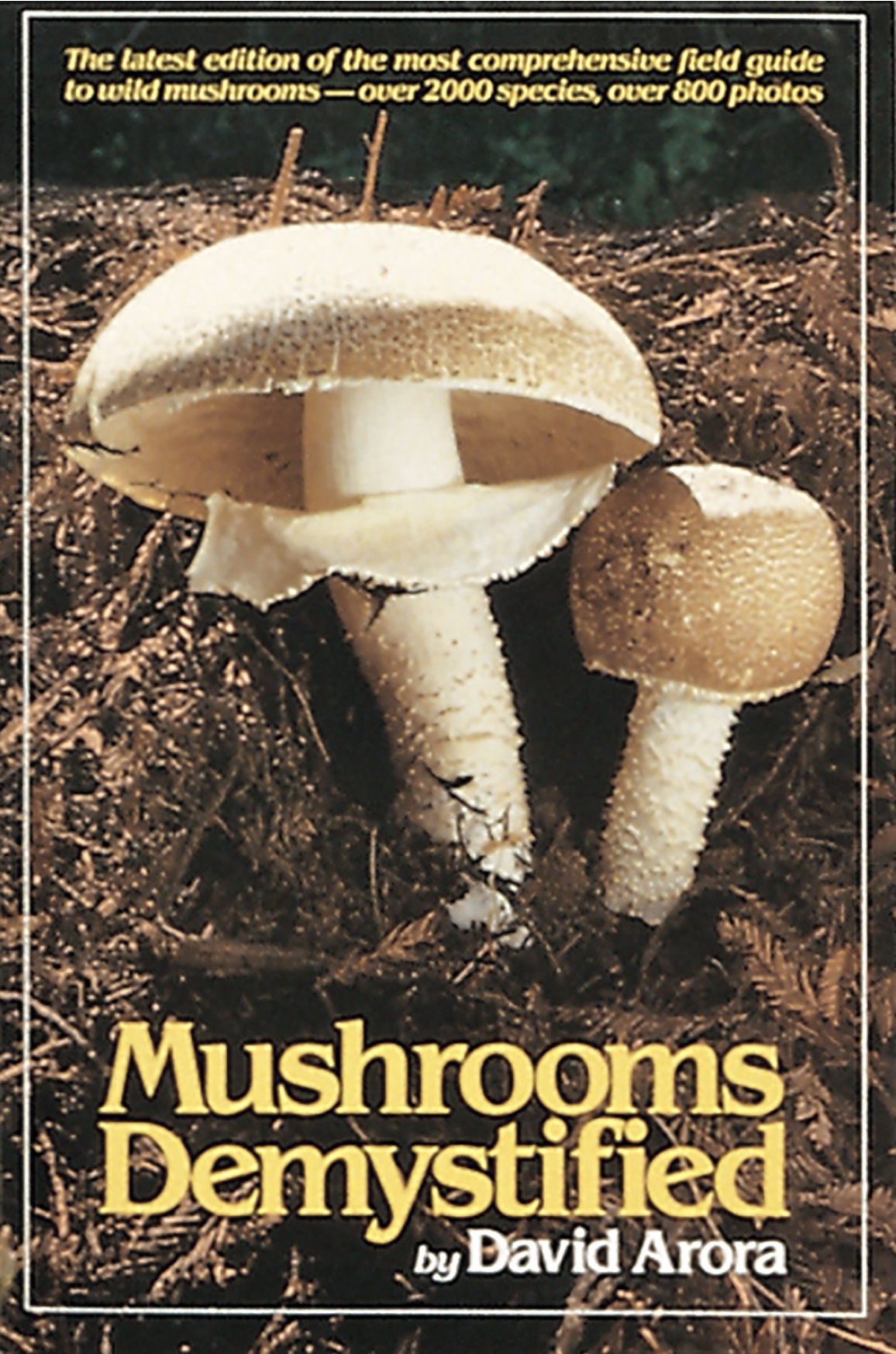 Mushrooms Demystified: A Comprehensive Guide to the Fleshy Fungi by David Arora
-A high quality, intricate mushroom field guide that is beneficial for beginner mushroom hunters and seasoned fungi gatherers alike. David Arora's quirky guidebook contains descriptions of over 2,000 species of mushrooms and includes more than 950 visually stunning photographs. This guidebook also highlights the intricacies and complexities of mushrooms.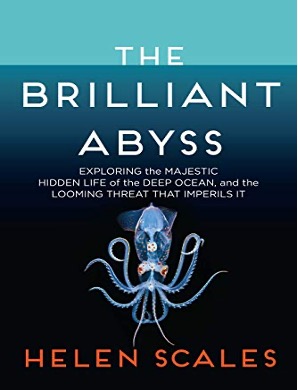 The Brilliant Abyss: Exploring the Majestic Hidden Life of the Deep Ocean and the Looming Threat that Imperils It by Helen Scales
-The deep ocean is a realm about which less is known than the surface of the Moon. Helen Scales eloquently and informatively illuminates the reader with tales of the deep ocean. In addition to spreading some light to the darkness of this realm, Scales also explores how interconnected the deep ocean ecosystem is with the rest of our world – how it can impact global climate and weather systems, and also affect the rest of the ocean. The Brilliant Abyss serves as a poignant call to action to protect this vast, unseen world.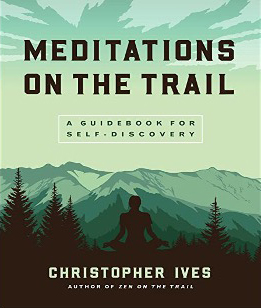 Meditations of the Trail: A Guidebook for Self-Discovery by Christopher Ives
-A compact, easily-totable read, Meditations on the Trail makes a perfect companion to toss into your backpack for a day of hiking. This guidebook is filled with meditations and mindful practices that can help deepen one's connection to both the natural world and one's own mind and body. A must-read for nature-lovers and hikers!
- Enjoy Earth Day on April 22nd, 2022. Happy Reading! -Stephanie~stephanie@scottpublib.org
---
Films to Celebrate Black History Month
Black History Month is an annual observance originating in the United States, where it is also known as African American History month.  It has received official recognition from governments in the United States and Canada and more recently in Ireland and the United Kingdom.  It began as a way of remembering important people and events in the history of the African diaspora.  Here at Scott County Public Library, one way to celebrate is through our movie (DVD) collection.  Check out these classic and captivating films which capture the spirit of Black history!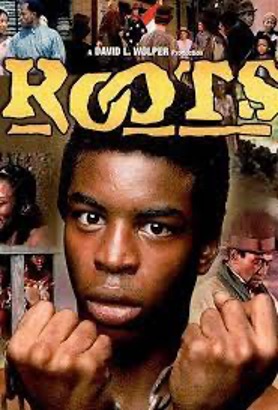 Roots by Alex Haley

In Gambia, West Africa, Kunta Kinte, son of Omoro and Binta, distinguishes himself in manhood training rituals.  But he does not enjoy his new status long; slave traders sweeping the countryside seize him.  Chained with other captives, Kunta begins an agonized odyssey to the New World.  In this saga, we meet such wonderful characters as Kizzy and Chicken George.  It is an epic story that swept our nation in 1977 and will forever touch our hearts.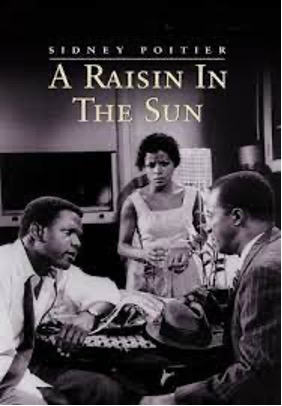 A Raisin in the Sun (1961) play and screenplay by Lorraine Hansberry
A Raisin in the Sun is a groundbreaking drama celebrating the human spirit, featuring an electrifying performance by Academy Award winner Sidney Poitier. The Younger family, frustrated with living in their crowded Chicago apartment, sees the arrival of a $10,000 insurance check as the answer to their prayers.  Matriarch Lena Younger (Claudia McNeil) promptly puts down payment on a house in an all-white suburban neighborhood.  But the family is divided when Lena entrusts the balance of the money to her mercurial son Walter Lee (Poitier) against the wishes of her daughter and daughter-in-law. It takes all the strength and integrity of this African American family to battle against generations of prejudice to try to achieve their piece of the American Dream.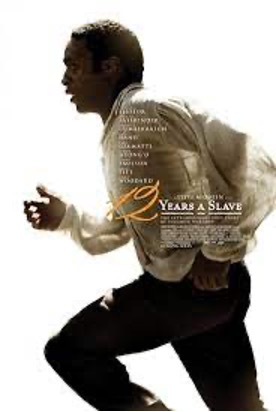 12 Years a Slave (2013) Directed by Steve McQueen
From acclaimed director Steve McQueen comes this "deeply evocative and brilliantly acted" film based on the true story of Solomon Northup.  It is 1841, and Northup (Chiwetel Ejiofor) an accomplished, free citizen of New York, is kidnapped and sold into slavery.  Stripped of his identify and deprived of dignity, Northup is ultimately purchased by ruthless plantation owner Edwin Epps (Michael Fassbender) and must find the strength within to survive.  Filled with powerful performances by an astonishing cast that includes Benedict Cumberbatch, Brad Pitt and newcomer Lupita Nyong'o, 12 Years a Slave is both an unflinching account of slavery in American history and a celebration of the indomitable power of hope.
Hidden Figures tells the incredible untold story of Katherine Johnson, Dorothy Vaughan and Mary Jackson-brilliant African American women working at NASA who served as the brains behind the launch into orbit of astronaut John Glenn, a stunning achievement that turned around the Space Race and lay the groundwork for future missions. The visionary trio crossed all gender and racial lines and inspired generations.  The all-star cast includes Taraji P. Henson, Octavia Spender and Janelle Monae.
So, during Black History Month, as we celebrate the diversity that makes our world so interesting, come see us at Scott County Public Library, where you're sure to learn, know, gather, and grow!
Michael ~ michaels@scottpublib.org
---
Thrillers in Large Type
As we get older, some of us struggle with eyesight as we approach those "golden years."  (Maybe they should call them Tarnished years instead of Golden!)  Even if we find our eyesight waning, hopefully our love for reading is not.  Here at the Scott County Public Library, the Large Type section can be a godsend.  With less stress and strain on the eyes, perhaps reading sessions can be extended—especially when you find that thrilling novel that grabs you by the throat and won't let you go.
Many of us are fans of thrillers—not the gory kind, but the suspenseful ones where you're yelling at the girl to go back and be with her friends; or reminding her she forgot to lock the door; or telling her not to invite the service man into her apartment—he's evil!  Maybe the thriller is one where the protagonist is the only man who can keep the explosion from taking out half the city.  These are the kind that get our hearts pumping and provide the escapism that we might desire!
Here are a few stand-out thrillers that are plot-driven tales of danger and courage that take you, the reader, along for the ride: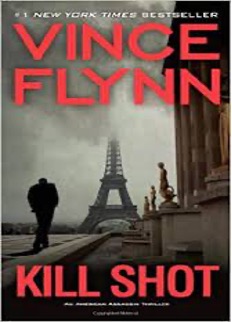 Kill Shot by Vince Flynn
On a mission to hunt down the men responsible for the Pan Am Lockerbie terrorist attack, Mitch Rapp has been steadily working his way through a list of men. With each kill, the tangled network of monsters responsible for the slaughter of 270 civilians becomes increasingly clear. His next target is a plump Libyan diplomat who is currently in Paris without a single bodyguard. Rapp finds him asleep in his bed and unprotected. With conviction of the man's guilt, he sends two bullets into the man's skull.  Suddenly everything changes. The door to the hotel room is kicked open and gunfire erupts all around Rapp. In an instant, the hunter has become the hunted.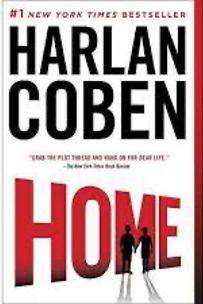 Home by Harlen Coben
A decade ago, kidnappers grabbed two boys from wealthy families and demanded ransom, then went silent. No trace of the boys ever surfaced. For ten years their families have been left with nothing but painful memories and a quiet desperation for the day that has finally, miraculously arrived. Myron Bolitar and his friend Win believe they have located one of the boys, now a teenager. Where has he been for ten years, and what does he know about the day, more than half a life ago, when he was taken?  And most critically; What can he tell Myron and Win about the fate of his missing friend? Harlan Coben delivers an explosive and deeply moving thriller about friendship, family, and the meaning of home.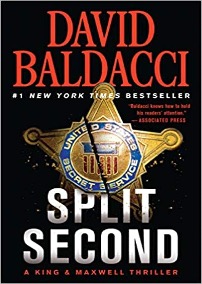 Split Second by David Baldacci
Michelle Maxwell has just blown her future with the Secret Service; She let a presidential candidate out of her sight to comfort a grieving widow. Then the politician whose safety was her responsibility vanished into thin air. Sean King has been there.  Eight years earlier the hard-charging Secret Service Man allowed his attention to be diverted for a split second. And the presidential candidate Sean was protecting was gunned down before his eyes. Now Michelle and Sean are about to see their destinies converge. As the two detectives enter a maze of lies, secrets and deadly coincidences, they uncover a shocking truth: the separate acts of violence that shattered their lives were really a long time in the making- and are a long way from over.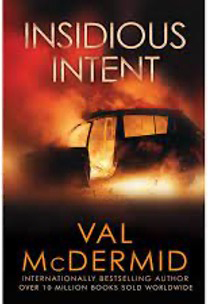 Insidious Intent by Val McDermid
In the north of England, single women are beginning to disappear from weddings. A pattern soon becomes clear; Someone is crashing the festivities and luring the women away-only to leave the victims' bodies in their own burned-out cars in remote locations. Psychologist Tony Hill and former police detective Carol Jordan are called upon to investigate- but this might be the toughest case they've ever had to face.
All of these authors have multiple novels in the Large Type section of the Scott County Public Library, so come in and pick out a good one!  Whether your notion is for a thriller like these, a romance to take you away, or a western to whisk you into the Wild Wild West, come see us.  We know you won't be disappointed!
Michael ~ michaels@scottpublib.org
---
Memories Can Last A Lifetime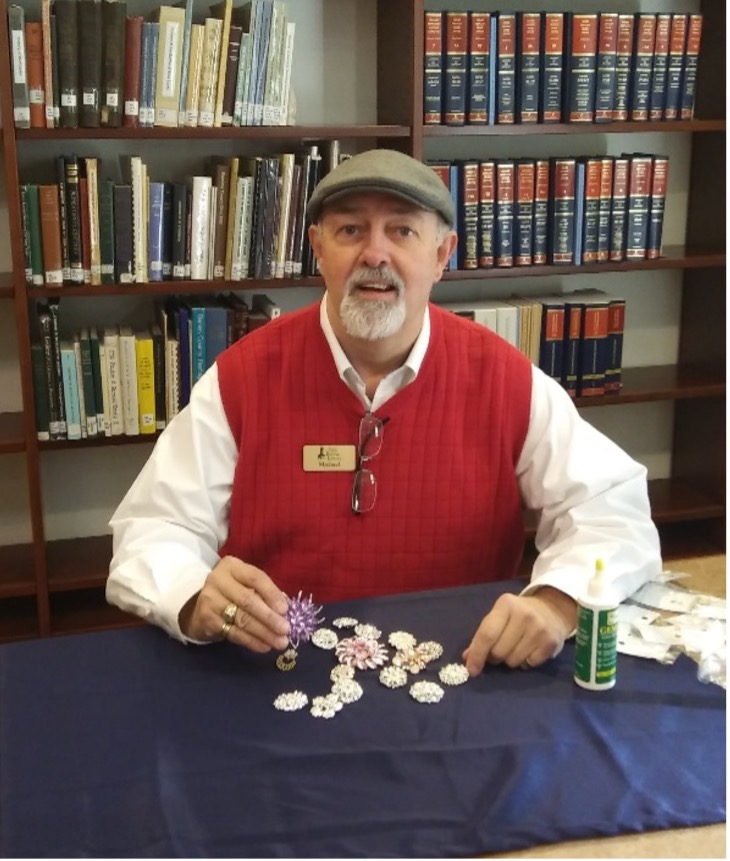 It's that time of year again… the end of one year and the renewed birth and exhilaration of the new one.  Does it hold promises of hope, joy, prosperity?
It is a time when we reevaluate our past.  We think of our accomplishments, our struggles, our successes and our losses.  For me this year, I think not of "things" that have happened, but the people in my life.  Maybe it's the possibility of Covid stealing them away from me that makes me hold them so dear.  I think of my grandmother, grandfather, and my father who are no longer here with us… and hug those who are just a bit too tightly.  I wanted to find a way to honor their memories and have them with me as I journey through this life.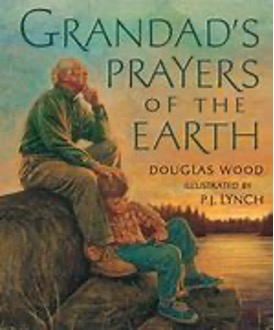 With my Grandfather Chester, I took the children's book Grandad's Prayers of the Earth by Douglas Wood and, in the front and back covers, my family and I wrote all the quaint little sayings that were only his.  "Bless his little peapicking heart, three times in a row." "You want an ice cream?  Bring me one, too!" "That little dog ain't worth nothin'.  Won't even hunt a rabbit."  When we'd see the morning fog rising in the "knobs" of Appalachia, he would say, "Look, Boys, the rabbits are cooking breakfast!" He was a wise man full of character and himself and rarely understood what was going on in our lives and why we didn't enjoy fox hunting up on the mountain like he did. He was a man of integrity through and through; he instilled the importance of honesty in us all. "A man's word is his bond." "A man's gotta use his mind or his muscle to make a living in this old world, Michael.  Which is it gonna be for you?"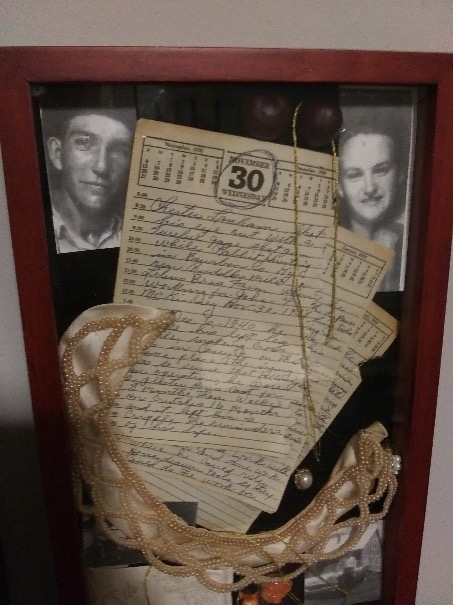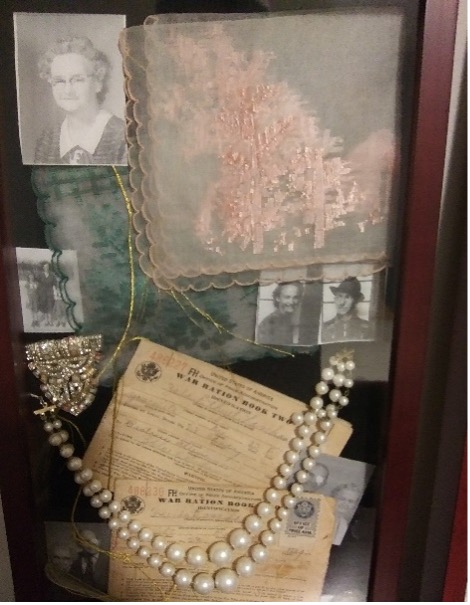 As a way to honor my grandmother and grandfather, I created what I call memory boxes, a shadow box filled with mementos from their lives; it's a box that makes them feel closer and keeps their unique lives with me so cruel Father Time doesn't fade them in a box in the attic. I created them for Grandma Zola and Grandpa Chester.  They hang in the guest bedroom of my new home and I feel warm, sentimental fuzzies as I gaze upon their belongings. It has some of Grandma's jewelry and handkerchiefs, her handwriting on little notes for various family members, their ration cards during WWII, etc. Grandpa's memory box has some of the knives he carried, his handwriting, pictures of them at an early age, etc.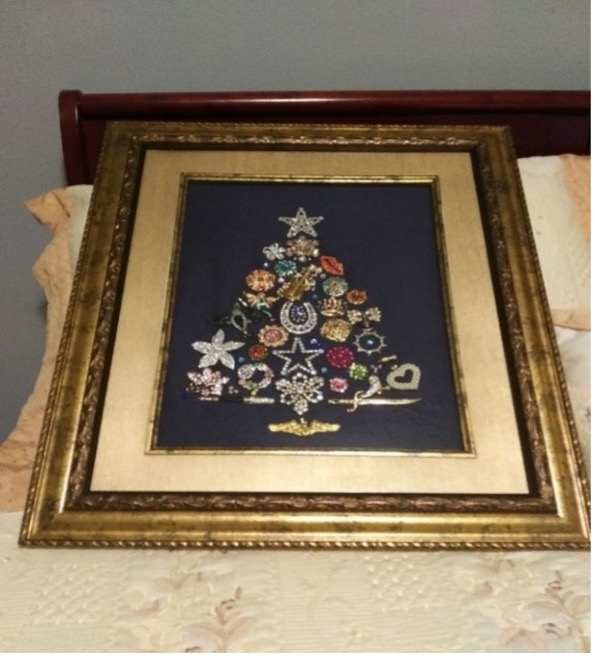 With another idea, instead of Grandmother's costume jewelry hiding in a box somewhere, my Mom and I decided to put some of Grandmother's jewelry together into a jewelry tree as art.  We chose the pieces we loved and remembered her wearing and put them in a frame for the wall. We utilized all kinds of pins, buttons, brooches and earrings and it quickly became a very special piece of art. They remind us of various events in her life and her impeccable class and style.  For a strong country woman, she was a class act.
So yes, another year is ending and the new one has unkept promises to fulfill.  Some say it's always best to look forward to the future, but the past holds such tender and poignant moments…ones that should never be forgotten. When someone you love becomes a memory, the memory becomes a treasure.
Michael ~ michaels@scottpublib.org
Resources:
Grandad's Prayers for the Earth  (Douglas Wood)
Grandma's Jewelry Box: A Guide to Making Framed Jewelry Trees and Art (Barbara J. Endzel)
Martha Stewart's Encyclopedia of Crafts
Beads  (Judy Ann Sadler)
Beads   (ejournal)
Bead & Button (ejournal)
---
It was a dark and stormy night…
The classic entry to a scary story immediately sets the mood for a novel of ghosts, horror, or just downright creepiness.  Many of us enjoy these frightening tales and novels with a bit of guilty pleasure, while others stay far away from anything remotely related to "horror."  Personally, I love to stay up late, immersed in a spine-tingling tale that keeps me turning the pages with a sense of creeping dread far into the wee hours.  You may not want a book to keep you up at night, but perhaps you enjoy a little spine-tingling mystery?  How about just a little something shocking in the plotline?
I have found there are many shades of horror, and not all of them are slimy, blood-soaked gore-fests.  Some novels that classify as "horror" are classic ghost stories, some are set in unsettling places, some with frightening people (and ghosts, and unsettling places).  Horror often has roots in folklore, religion, and history, but focuses on those areas that make us nervous, tapping into our fears, our curiosities, and our sense of the forbidden.  While a lovely, fluffy little romance can take the reader away into another reality, there is nothing in my mind quite as powerful a vehicle for literary traveling than between the pages of a scary book.  I like to have my world (safely) shaken up a bit.
Of course, Stephen King often comes to mind as a master of horror, and I have to confess, his Pet Sematary is still my most terrifying read to date.  Yes, I kept my closet doors firmly shut after reading this novel, and I even moved my desk at work to keep my back from facing a darkened doorway.  Unfortunately, I had just buried a cat in the woods behind my house (I know, right?!) and rather than cut through this lovely little sylvan glade on the way to and from a friend's house, I began taking the longer, and better lit, route home.  The power of books can touch even our real, waking world.
Besides King and his terrifying novels and creepy short stories (don't miss those!), I have enjoyed the short stories of Ambrose Bierce, who in my mind is more haunting than Poe although a slightly later contemporary, and a variety of other novels.  Author Adam Nevill is a must read for creative and disturbing tales, The House of Small Shadows will leave you stunned and paging back through to the beginning to read it all again and The Reddening is a fantastic mix of haunting locale, folklore, and history with just enough gore to add the terror without turning the stomach.  Stephen Irwin's The Dead Path came to mind this summer with our "Tails and Tales" theme, as this novel, with its slowly increasing terror is based on a number of fairy tales.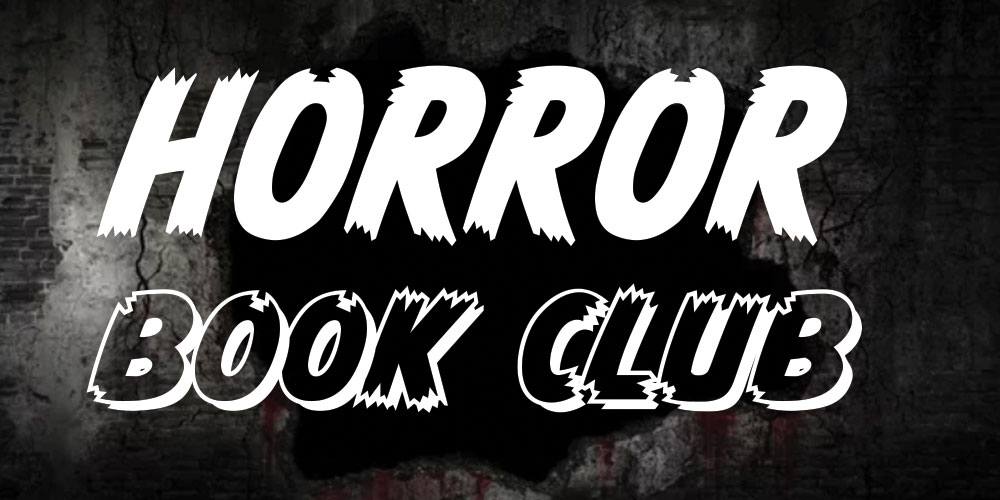 If you are interested at all in exploring this genre further, or meeting people with similar affection for scary books (from whom you can also get lists of more titles to try), join us Thursday, July 22 at 6:00 p.m. for a Horror Book Club.  Associate Professor Gerry Adair of BCTC's English department, is going to lead this lively exploration of the genre and kick off a book discussion, which will meet thereafter every other month.
Come and join us on the dark side…
Melissa ~ melissa@scottpublib.org
---
Our debt to the heroic men and valiant women in the service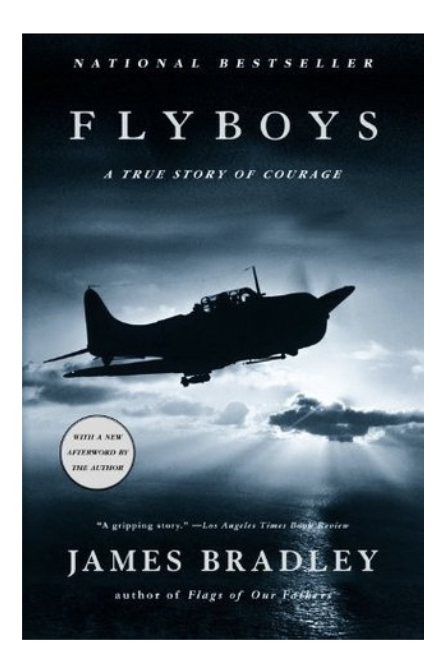 As Harry S. Truman once said, "Our debt to the heroic men and valiant women in the service of our country can never be repaid."  Here at Scott County Public Library, we have wonderful books and resources which detail our heroes of the military.  One of the best of these tributes is Flyboys: A True Story of Courage by James Bradley.  The chronicle of events over the Pacific during WWII with some of our fighter pilots is truly chilling. The author details the war in the Pacific, from the attack on Pearl Harbor through to the bitter end of the war.  It is not easy on the heart to read.  The stories are graphic and sad, with the tragedies of war brought to point.  At one point, the author is describing an American soldier who has been beheaded, well almost.  He describes the head hanging on the front of the body, so this account of the times of war is not for the faint of heart.
Another troubling aspect was the way the American public looked at and treated the Japanese people. From internment camps here in America to the inhumane treatment of soldiers on the battlefields, it is a daunting account of war. The despair and guilt of our soldiers is not often considered in military history, nor is the hypocrisy involved in views of the enemy's action: When the Japanese soldiers killed our men, they were violating the Geneva Convention rules of war, but when our soldiers killed theirs, "they had it coming."  The dual version of morality is bothersome, but this is a very personal, intimate, and real account of several prisoners of war-their courage is truly awe inspiring.  American should never forget the sacrifice of our American soldiers.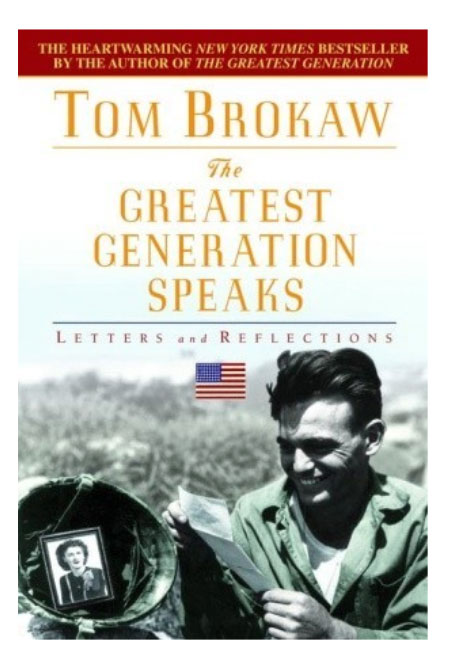 Another great choice when you're looking for a hero is The Greatest Generation Speaks: Letters and Reflections by Tom Brokaw. It is the voices of many who participated in WWII in various letters and accounts.  They are the personal stories of the soldiers who had to face unspeakable scenes.  They describe the fear of being in a foxhole and having mortar rounds hitting merely 2 feet away. Or the lone stealthy German soldier who dropped a grenade into their foxhole and the resulting damage.
Not all of the stories are about combat, battles, life and death heroes.  A photographer, Raymond Daum, discusses his experiences and Veronica Mackey Hulick shared her experiences with Navy WAVES (Women Accepted for Voluntary Emergency Service) as she and other women ran some of the first computers, cataloguing and creating intelligence for the armed services to utilize.  
This compilation of the stories of these heroic men and women will stay with you long after you put the book down.  They are truly our greatest generation and helped provide the comforts of life we enjoy today.  Both of these are available in Large Type in our library which make them easy on the eyes.  Come in and check us out at Scott County Public Library.  We think you'll be impressed!
Michael ~ michaels@scottpublib.org
---
Summer Time!
The name itself slides off my tongue with a sibilant murmur, and reminds me of the cool tender grass I would lie in as a girl, looking up through the trees and the dappling sunshine, letting my mind drift along with the breeze.  The school calendar gave a sense of holiness to this season, and the end of enforced learning initiated a sense of freedom when the mind was released to explore on its own.  I spent most of the day out of doors, in the quiet country area where I grew up; hanging out in the barn with the dusty scent of hay and horse, wandering along the creek in the "bottom field" (which was a bit daring as I wasn't supposed to be there unsupervised), or just generally running about in the large backyard, usually with a dog or cat at my heels.  But summertime was most of all the blessed time in which I could immerse myself fully and guilt-free in whatever reading material my heart desired.
I read voraciously all year, but there was something special about those relaxed weeks in the summer months when I didn't have to read something for someone else's agenda.  I was determined to read whatever I wanted the year around, but during the school months this often required reading after "lights out" by the scant illumination of a flashlight or 4 watt nightlight bulb – heaven knows how I have any eyes left at all.  Homework and after school activities interfered with my pleasure reading, not to mention the required reading my mother set for me as she guided me through the classics.  Summer represented a time when the pressure was off and I could feel relief wending through every brain cell.  The freedom to explore was a tangible force.  I don't know if it was simply the cessation of  looming deadlines and expectations, or whether it was delayed gratification, but the reading I consumed during the summers always tasted sweeter, was felt more deeply, and was better remembered.
There were horse books during the warm days of early childhood summers; Margarite Henry, Walter Farley's Black Stallion series, and one lovely summer in which I read Hold the Rein Free, a gift from my fourth grade teacher.  I attended riding camp through some of these summers and books always accompanied me, to be read and swapped with other campers for their equally alluring volumes.  I remember specifically A Horse for XYZ and Mary O'Hara's classics My Friend Flickaand Thunderhead traveling along in my footlocker, consumed in hot bunkhouses or under a tree.  The dining hall of our camp was located in an old historic house, with tempting bookshelves filled with deliciously scented old books lining the walls.  I always managed to sit near one of the shelves in a corner, where I could slip a mystery off the shelves and read during my weeks there, in between tennis lessons, long barn hours or splashes in the pool and lake.  I plowed through several Nancy Drews in such manner.
It wasn't all light reading – in fact it rarely was.  There was the summer I devoured Dickens and another in which I read nothing but Russian authors.  And there was the high school summer I immersed myself in the American Civil War via MacKinlay Kantor's Andersonville, an experience so searing I haven't repeated it.  Generally, I tend to cycle back and read my favorite books again at some point, but Andersonville has remained closed.  It was a shock to dive into that visceral, carnivorous world and re-emerge into a warm landscape where sprinklers whirred, lawn mowers distantly growled and the sun beat down on my towel-draped chair. I don't know if it was entirely the book itself, or just the time during which I read it, but it was summer and in my experience every book I tasted during those few months carried  an extra-intense flavor.
So as the days lengthen, and the sun warms more and the school calendars begin to wind down I send this wish out to everyone – go out and feel the grass, absorb the warmth, inhale the smells, the light and the sounds of this season, and taste the sweetness of literary freedom.
Melissa ~ melissa@scottpublib.org
Yoga
Let's face it…life can be messy and busy! And while life's craziness can certainly make things interesting, there are times when it is necessary to take a deep breath and slow down the pace. Practicing yoga and a mindful state of being can help foster a deeper inner awareness and allow one to relax more fully. Yoga and mindfulness practices link the breath to movement, and body to mind. These amazing practices help center you in the now, so that you can better appreciate the moment.
If yoga and mindfulness is something that you are interested in learning more about, you are in luck! SCPL offers Beginners Energizing Yoga and Chair Yoga. See our online calendar for date and times. Registration is required, and proper social distancing measures are followed. We look forward to seeing you in class! Namaste.
Tai Chi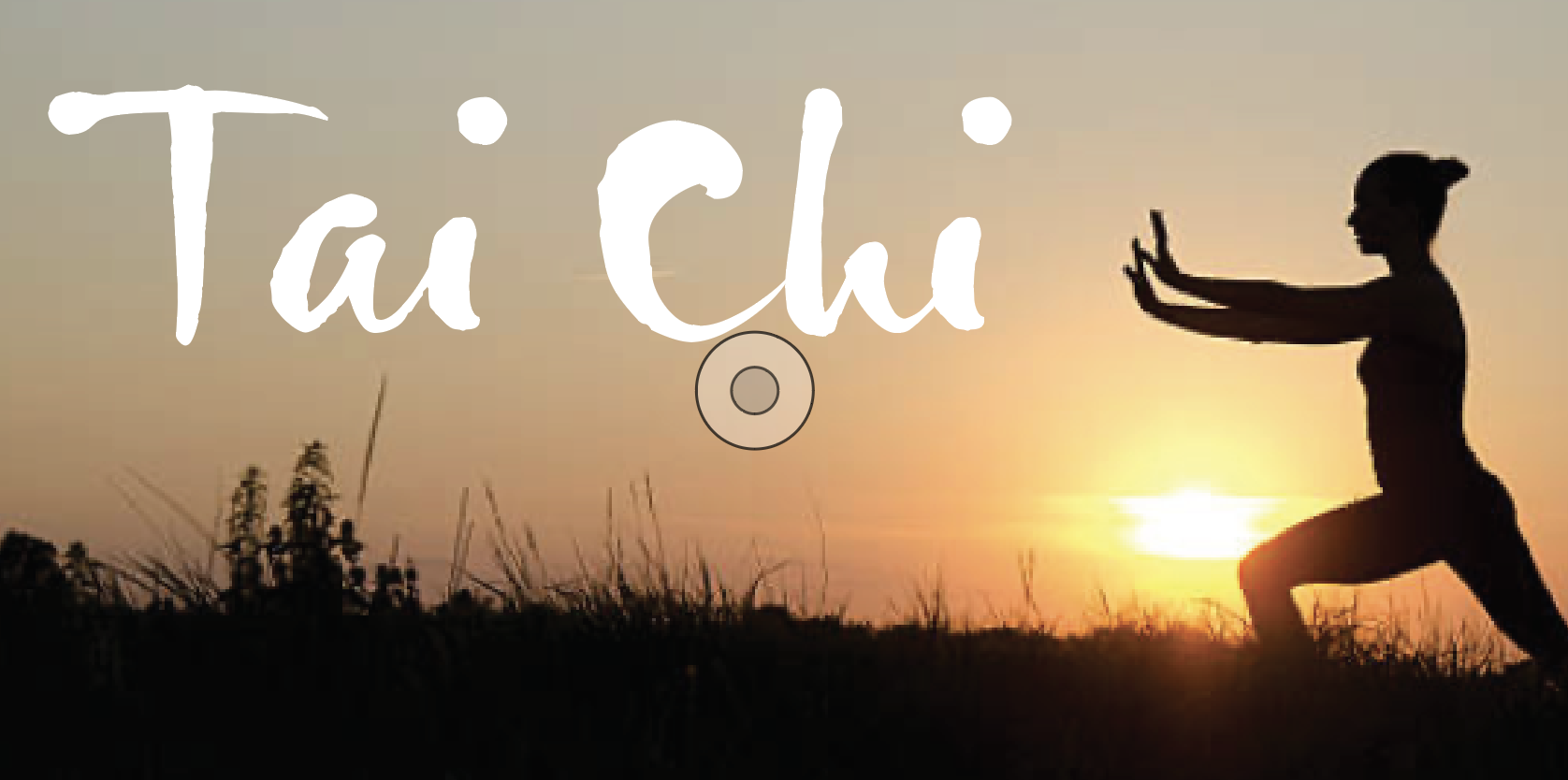 Tai Chi is a moving meditation conducted through a sequence of gentle movements that promote harmony between mind and body.  Registration is required and space is limited.  Be sure to wear comfortable clothing and flat-soled shoes.
Waiver Needed
These program contains physical activity that has risks associated with participation. You will be asked to sign an Accident Waiver & Release of Liability form before you can participate.
Please print and fill out this form before attending: Accident Waiver & Release of Liability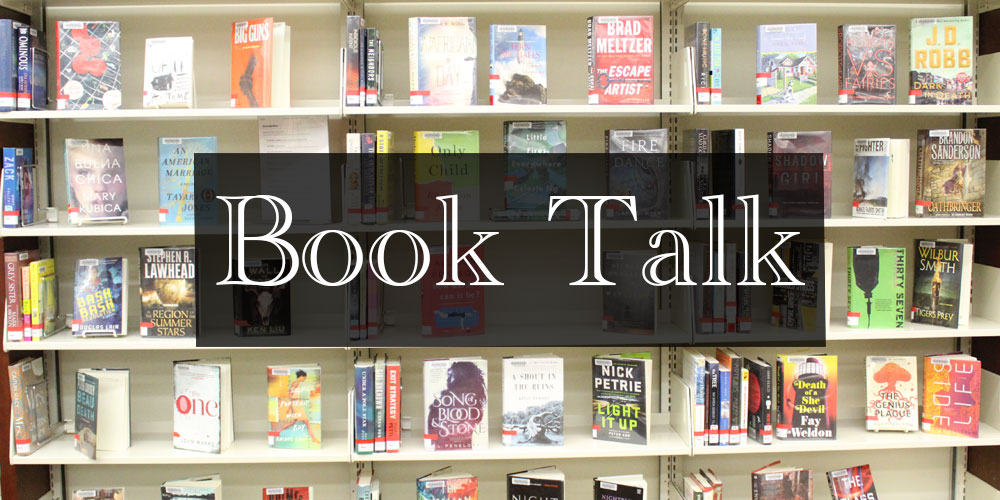 A book discussion for adults where we meet on Fridays at noon about every six weeks and talk about both fiction and nonfiction works.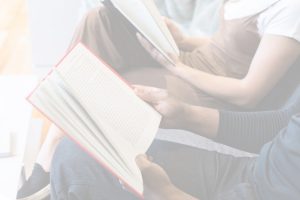 We gather at the library the first Wednesday at 5:00 p.m. for a casual book discussion.  We read books from a variety of genres and enjoy talking about the books that we love.  No registration required.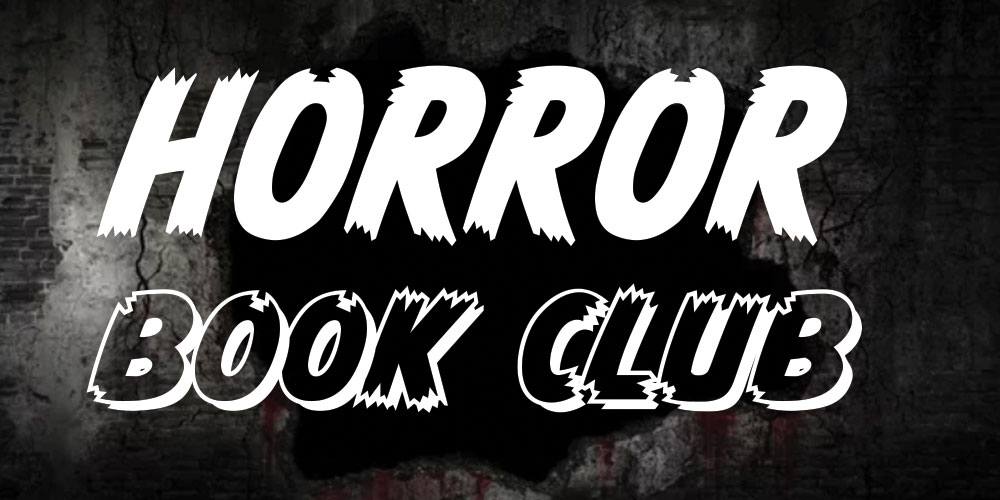 Join us as we discuss our favorite horror novels and authors, in the casual book discussion led by associate professor of English Literature Gerry Adair of BCTC.  Feel free to bring your favorite books to share.

This group meets twice a month for anyone interested in writing memoirs and/or family history. Please come join us.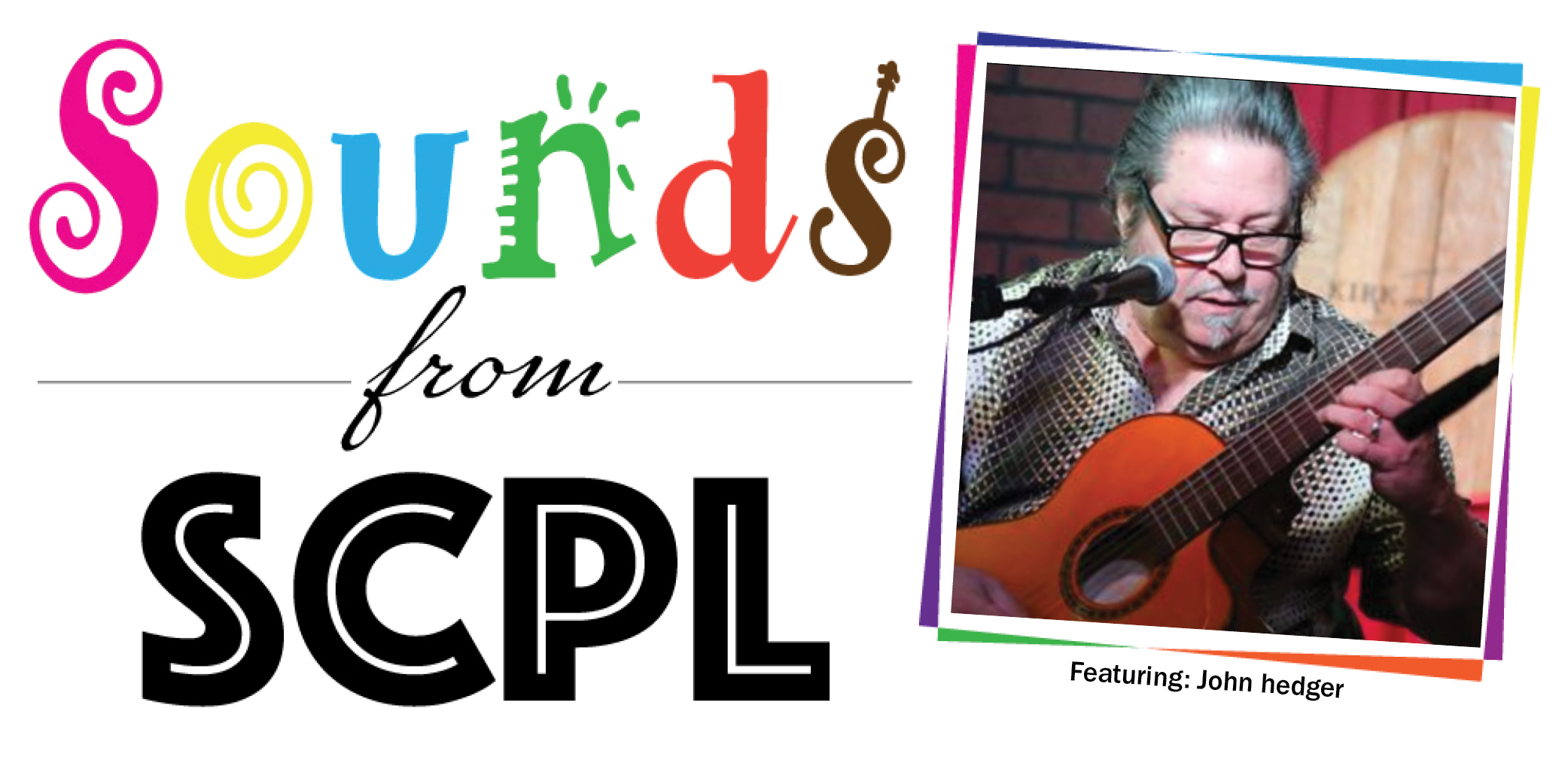 Enjoy the sounds of talented musicians and their instruments by the fireplace. Go to our events calendar to see the next scheduled musician to perform at the Scott County Public Library.

Discover!  Programs are designed for adults with intellectual and developmental disabilities in mind.  Registration is required - participants' caregivers need to be present and register for the class as well.  Ages 16 and older.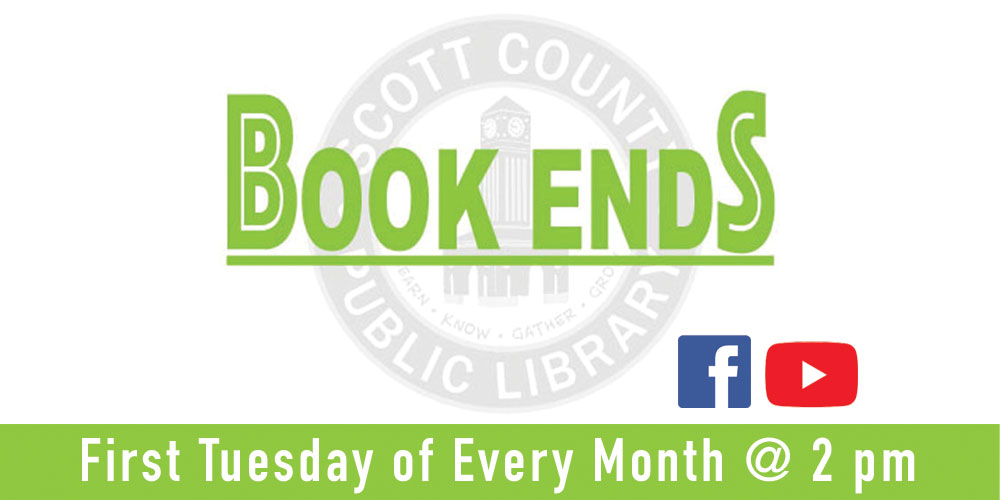 Join us first Tuesday of every month for Virtual Bookends. A Book Suggestions From Our Staff. Tune in each time to our presentation of Bookends where staff present their favorite books, or items pertaining to specific subjects available now for check-out. This is a great way to get new ideas and find your new favorite author.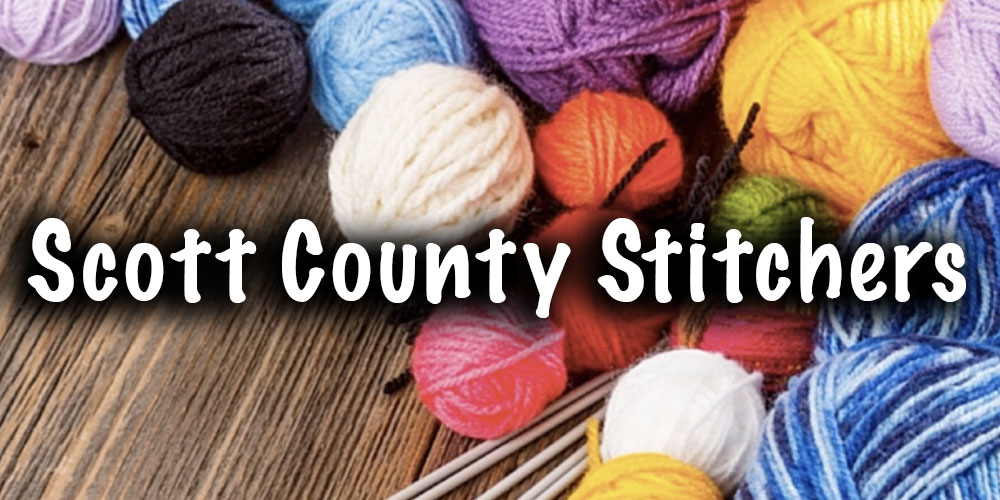 Calling all crafty people who enjoy stitching!  Do you like to quilt, knit, crochet, needlepoint, embroider or work counted cross stitch or tatting?  If your favored form of creativity involves a needle and a yarn or floss, we have the perfect afternoon for you.  Join us for an relaxing afternoon with friends, in our comfy chairs in the new fiction section or our own separate space in the teen room overlooking the patio and bring your projects with you.  This is the perfect excuse to get out of the house!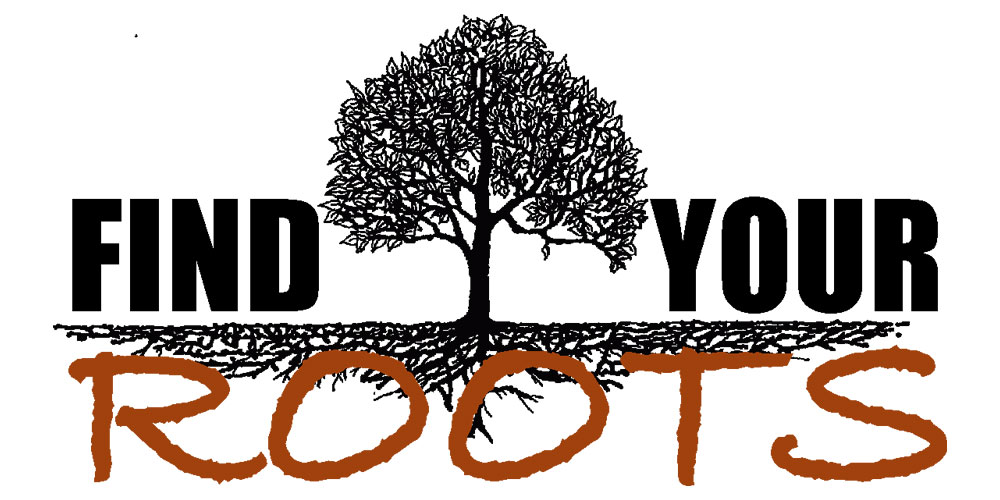 On-site family history research assistance is provided by a volunteer from the Scott County Genealogical Society.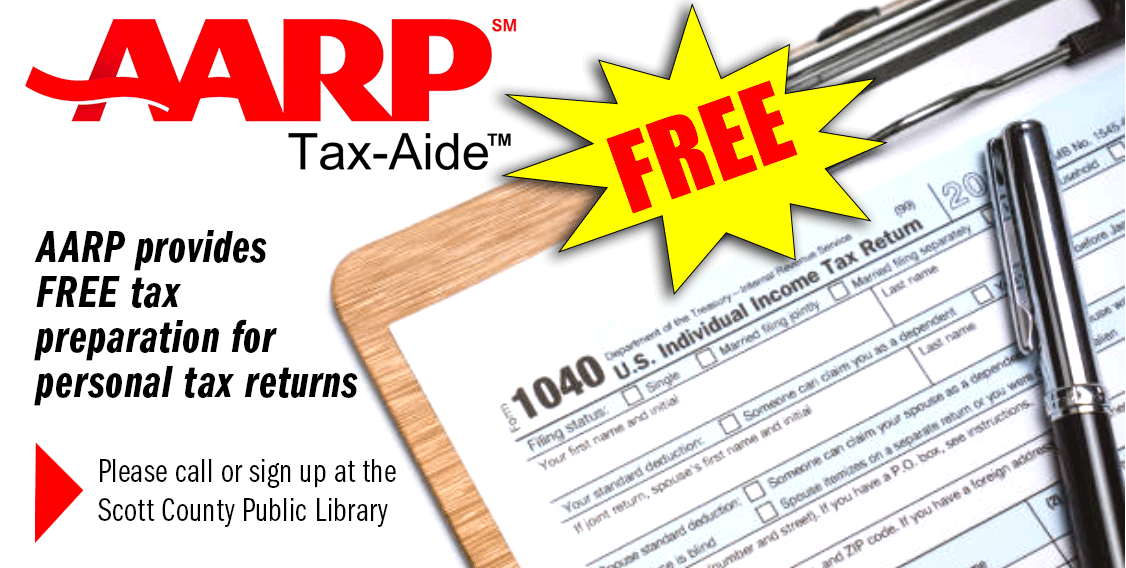 AARP Tax-Aid™ Help by Appointment Only
AARP Foundation Tax-Aide Program will be providing free tax preparation services at the Scott County Public Library. Tax preparation will begin February 2nd and continue each Thursday through April 13th.  This service is by appointment only.  Beginning January 17, 2023, you can call the Scott County Public Library at 502-863-3566 and ask to be added to the Tax-Aide contact list.  Please leave a phone number and email address and an AARP volunteer will return your call to schedule your appointment. AARP Tax-Aide Program can prepare most individual Federal and Kentucky returns although some items are out of scope (examples - estates and bankruptcy).  If you have questions about your taxes, please ask when the AARP counselor calls to set up your appointment.  
AARP provides free tax preparation for personal tax returns. We do simple taxes and have certain guide lines we must follow.
AARP Offers:
Self-preparation using tax preparation software packages available free of charge, subject to income and other criteria.
Facilitated Self-Assistance in which you are provided access to free tax preparation software, subject to income and other criteria, and for which you can request assistance from a Tax-Aide "Help-Desk" staffed by IRS-certified Counselors.
Access to free file tax preparation software, with no age or income restrictions, along with coaching from Tax-Aide IRS-certified Counselors.
If you would like to use any of the above filing options, please visit https://www.aarp.org/money/taxes/aarp_taxaide/
Watch these and other videos from Adult Services on our YouTube Channel