Yoga Storytime with Zen Jen
Join Ms. Zen Jen for  a month of fun Friday YOGA Storytimes. Every Friday in September. Wear Comfy Clothes you can move and bend in!  Ages 2-6. No registration, but we do begin on time.  Stories, stretches and poses together with your young child. Bring your own YOGA Mat if you want.
Fridays in September @ 11 AM
---
The Youth Services Department is a vibrant and whimsical space where young learners can explore, play, share, and grow. We curate curiosity in ages 0-18 with year-round programs, book suggestions, and information help. Come visit our story barn to play and explore.  Do a scavenger hunt or work a puzzle. Use your imagination in creative role-play.  Make a craft, color, or play checkers. We support literacy every day, especially through 1000 Books Before Kindergarten, 50 Books to Read in Kindergarten, Every Child Ready to Read, and school readiness programs.  Youth Services: where books are just part of the story!
For information on programs and storytimes, please contact the Youth Services Manager.

Summer Reading is for all ages! Every June – August, we celebrate summer with books, programs, crafts, and great prizes. The theme for 2022 is "Oceans of Possibilities," and we will explore all things to do with animals and stories. See below for some program highlights coming in June and July. Be sure to check our online calendar for complete list of summer reading programs. The best part is IT'S ALL FREE! We hope you make the Scott County Public Library part of your fun filled Summer!
---


Join us throughout the summer for this Special Exhibit from the Kentucky Science Center. Big Blue Blocks, Giant Light-Brite, Roller Coaster Building, Hands-On Science and fun crafts. Exhibit runs June 4-August 28 in the Youth Department. FREE to the public during regular library hours. CLICK HERE to learn more about this exhibit.

Baby Sharks Storytime @ 9:30 am (Ages up to 2)
Dancing Dolphin Storytime @ 10:30 am (Ages 2-3)
Mondays/Tuesdays in June
Stories and songs, fingerplays and dancing.
Artsy Urchins Crafts & Art Activities  
Wednesdays in June @ 2 pm (Ages 6-12)
Age-appropriate arts & crafts each week using a variety of supplies and mediums.
Paddling Penguins Storytime  
Thursdays in June @ 11 am (Ages 3-5)Z
Fingerplays, songs, and books together with you - coordinating crafts at end of storytime.
Turtley Tweens  
Fridays in June @ 4 pm (Ages 8-12)
Each class is different, and could include Science, Art, Craft. or STEAM programming.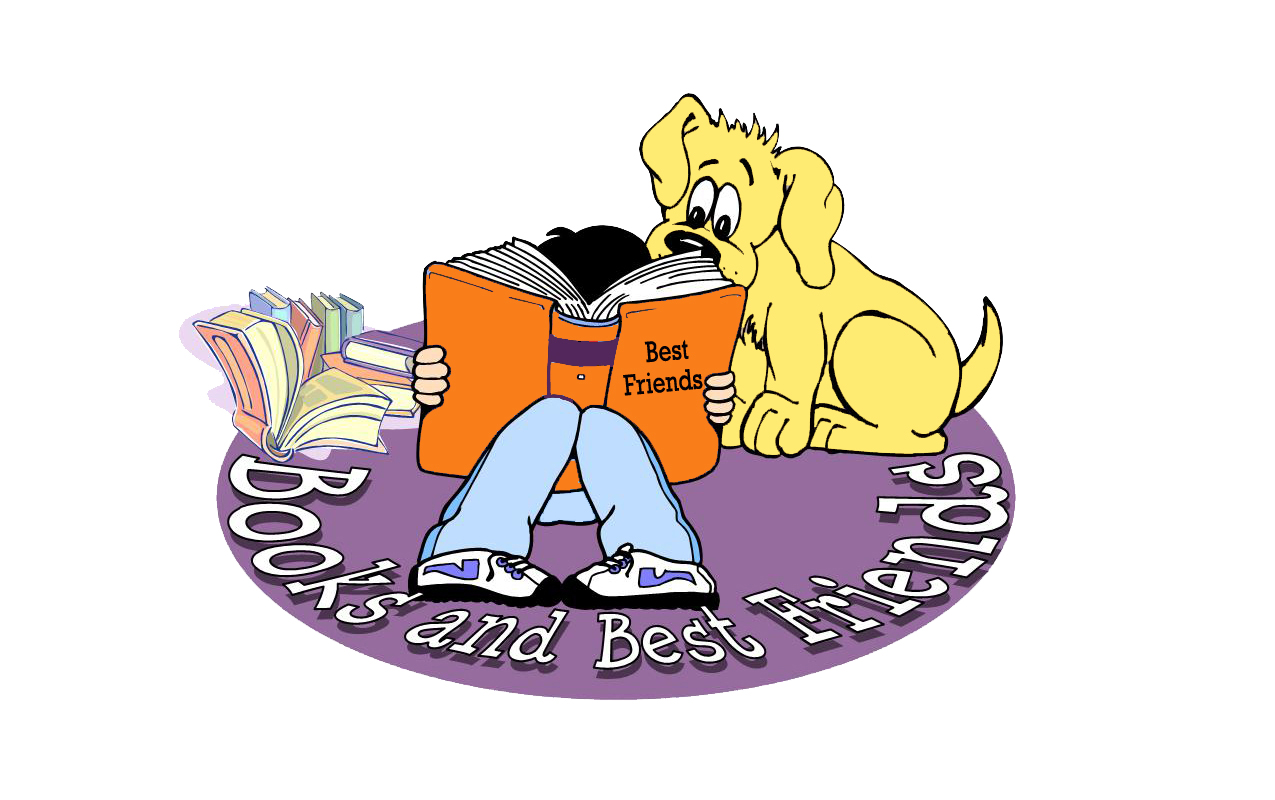 Books and Best Friends
Saturday, 6/4, & 6/18 @ 2 pm (Ages 4-12)
Come read to Therapy Dogs from Pawsibilities Unleashed every First & Third Saturdays of the month! There's Oceans of Paws-ibilities this Summer!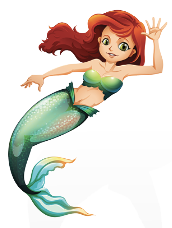 Mermaid Crafts
Thursday, 6/23 @ 2 pm (Ages 6-12)
Join us for some fun MERMAID-inspired crafting! Free- please register, limited spaces. Must be able to use scissors and follow instructions. Please Register.
Pirates, Princesses, & Sharks
Tuesday, 6/28 @ 4:30 pm (Ages 3-12)
Join SCPL staff for a fun afternoon of Pirates, Princesses and Sharks! Shark toss, Pirate shenanigans, crafts, and singing Baby Shark! Please register for this family event.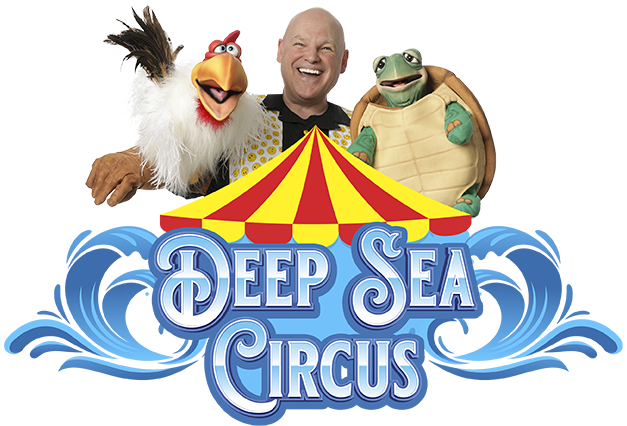 Barry Mitchell Magic: Deep Sea Circus
Friday, 7/15 @ 11 am (Family) 
Guess whos back with his favorite turtle friend!? That's right, it's Barry Mitchell and Sam. They will entertain you with their Deep Sea Circus act.
Please visit our online calendar for complete list of Summer Reading programs.
---
Suffoletta Family Aquatic Center
July 29th, from 7:30-9:30 pm
Did you participate in Summer Reading at SCPL this Summer? If so, make sure you turn in your reading log by 7/29 and get your family pool pass to join us at Suffoletta Family Aquatic Center on Friday, July 29th from 7:30-9:30 pm for a family swim for all participants. Be sure to check our Facebook page for last minute weather changes. Feel free to bring your own food and drinks. No glass containers. Clothing with exposed zippers are not allowed on the pool's flotation devices or on the big slide as they cause damage.
RAIN DATE: SATURDAY, July 30th.
---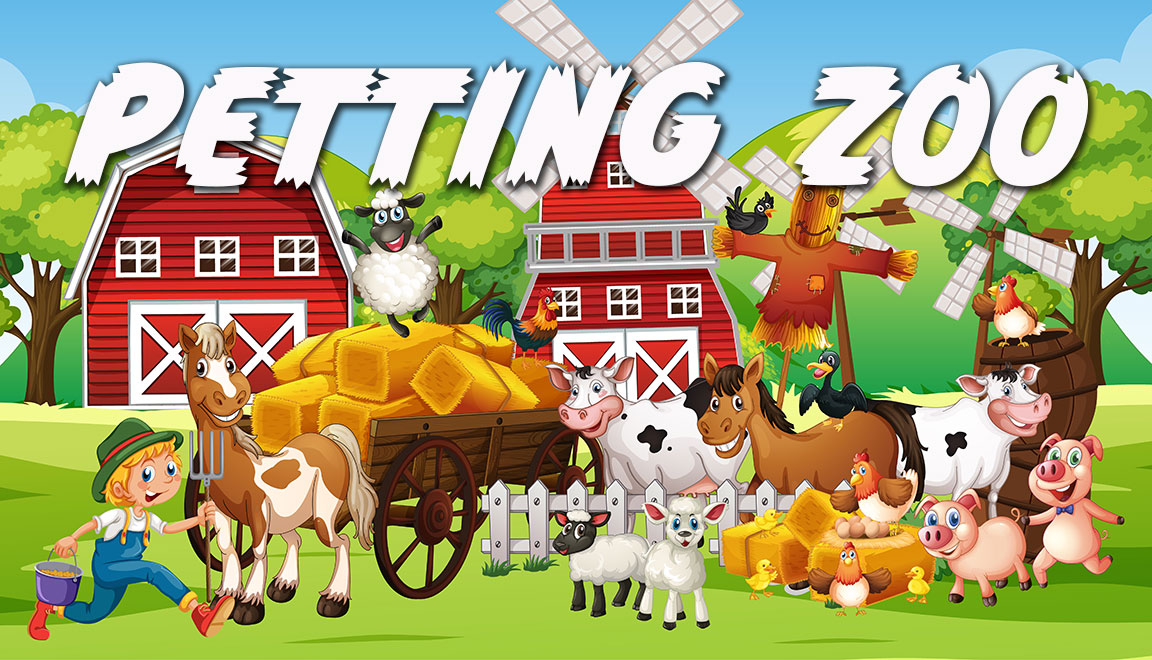 Petting Zoo Coming in August: Animal Enterprises
Friday, 8/5 from 10 am - 1 pm (Front Parking Lot)
Join the fine folks of Animal Enterprises, from WENDT's WILDLIFE Adventure Farm, in Carlisle KY, for a fun morning with animals outside! Come pet and feed a pig, turtle or goat, oh my! Many more animals.
FREE. No Registration.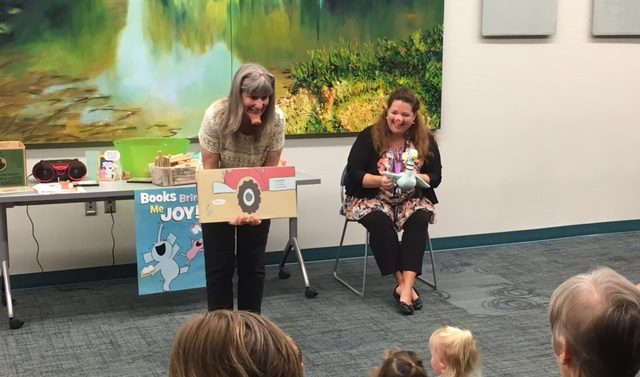 The Storytimes are in-person for both Toddler Storytime and for Preschool Storytime. 

Equipping your child to become an eager lifelong learner begins at birth. Our storytimes will model for you effective ways to share reading, music, and play-based learning that will greatly enhance your child's early development. Come join us for stories, bouncing, singing, crafts and fun. No registration required.

Scott County Public Library Storytimes are typically hosted weekly and by age:
0-24 months Monday and Tuesdays at 10 AM
24-36 months Monday and Tuesdays at 11 AM
3-5 years Preschool Storytime Thursdays at 11 AM
You must call the library to receive the password to access archived videos on the Storytimes page.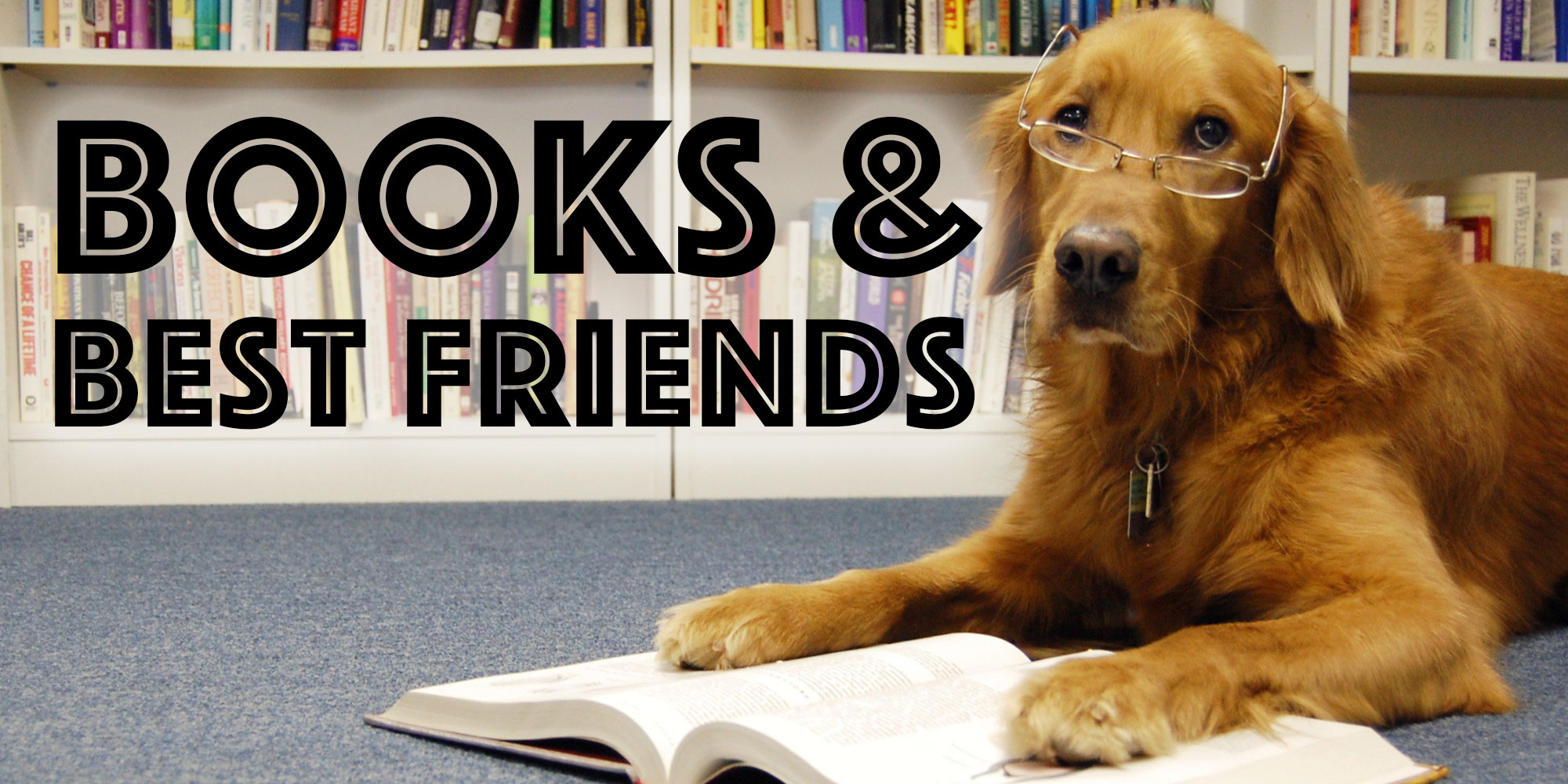 Young readers are invited to "bone up" on their reading skills by reading to certified therapy dogs. Recommended for ages is 4-12 years old; and children and adults with disabilities are welcome. Please speak with the Pawsibilities Unleashed representative for special accommodations or programming, or get more details from the Youth Services Manager.

Every First and Third Saturdays of the month at 2:00pm, Pawsibilities Unleashed brings certified and insured therapy dogs to the library for an hour of relaxation with some good books and you!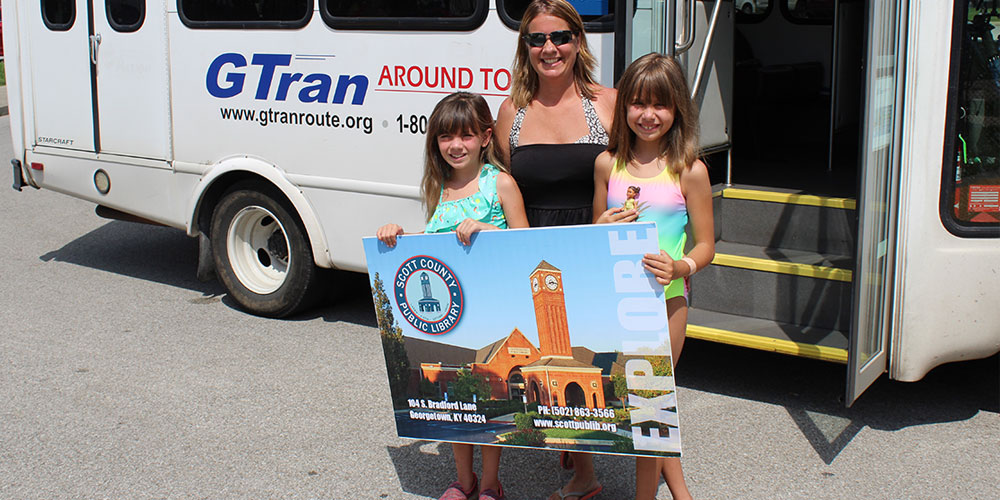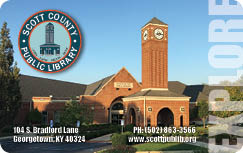 Library cards have no age requirement at SCPL! To obtain a library card for your child, please go to the Circulation Desk. Any child may obtain a card which is then linked to a parent card in our system.
Unattended Child Policy: Please do not leave your children unattended in the library. The library is a public place. For their safety, children under 12 must be accompanied by a responsible caregiver, age 16 or older, who will maintain eye contact with the children. Library staff are not considered in loco parentis. All children and their caregivers are subject to the library's Public Conduct Policy.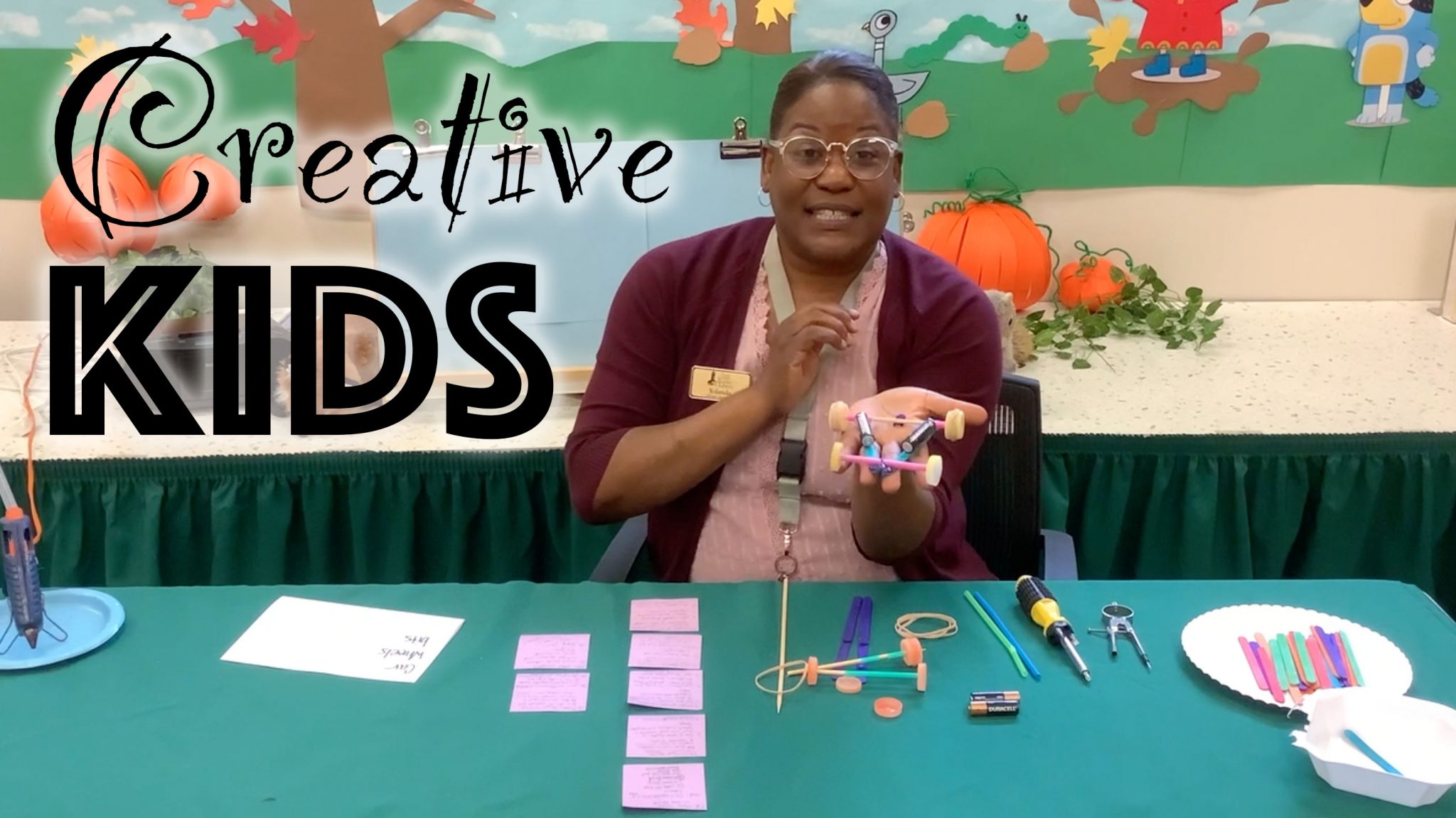 The Creative Kids will resume in August. In the meanwhile, we invite you to drop in and join us for Artsy Urchins on Wednesdays at 2 pm this Summer.
Children ages 6 & up can drop by the children's activity room most Wednesdays at 3:30pm. They will explore their creative sides with a new art or craft project each week. Children must be able to use scissors, glue, permanent markers, and paints on their own, and follow directions. Smocks will be provided when needed to protect clothing. From Matisse cut-outs to building paper sculptures, our Creative Kids program builds little artists. Please keep an eye on our calendar for other fun art programs like our annual book parties, character-themed events, and Thinkers Group(a special arts-intensive). Checkout our YouTube Channel to view these programs virtually.  Need more information? Email Yolanda@scottpublib.org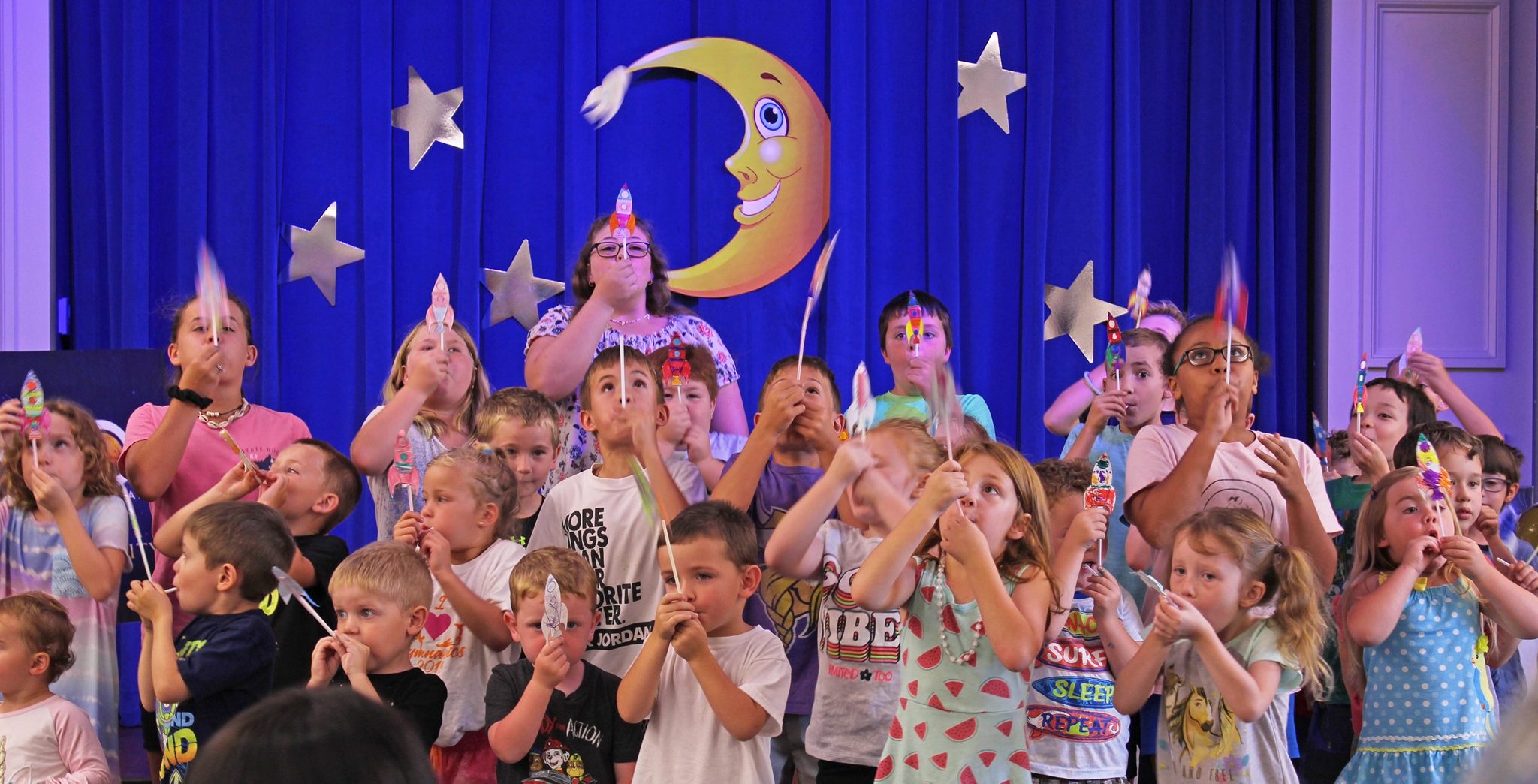 Children ages 6-12 have plentiful opportunities to learn, know, gather, and grow at the Scott County Public Library. Check out our calendar of events for programs such as Books and Best Friends (1st and 3rd Saturdays), Creative Kids (Wednesdays), Tween Art (select Thursdays), Tween Crafternoons (select Fridays), Tween STEM Days (select Fridays), and more! And don't forget that the library provides access to databases like Kentucky Virtual Library, Eric, ProQuest, and Encyclopedia Britannica. Contact the Youth Services manager  or call (502) 863-3566 for more information.
             Accelerated Reading (AR) programs, 40 Book Challenges, Battle of the Books…we've got you covered in Youth Services.  Our online catalog provides lots of great information on our collection to help you find the perfect book. Or come in for a reader's advisory chat with a librarian whenever we are open!  Want eResources?  Our website is open 24/7 for Hoopla, Overdrive, LIBBY, Lynda and much more. Check us out!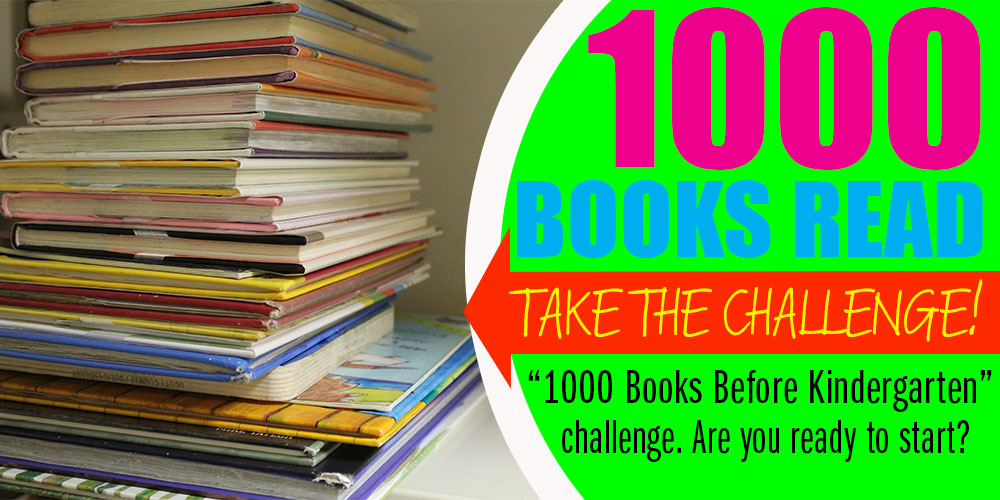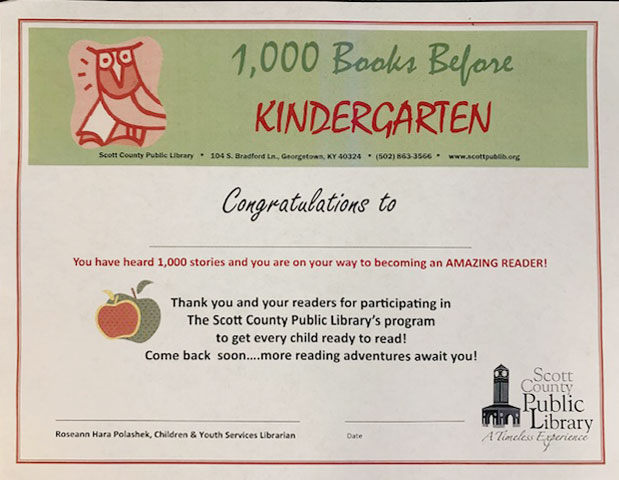 1,000 Books Read Before Kindergarten encourages reading at an early age. The goal is to have read 1,000 books before kindergarten. It takes patience, encouragement and lots of support from the family.
To get started, parents can keep track of all books read in methods such as, personal logs, Spreadsheet (Print PDF), or journals. When completed, turn in your sheet to the Youth Services to be recognized. The record of books your child has read can be a keepsake for them as they get older. The Scott County Public Library will recognize your child's achievement with books, a book bag, prizes, a certificate, and a picture to be posted on the website and social sites (with your consent) to honor their achievement.
So what are you waiting for? START READING!
Frequently Asked questions: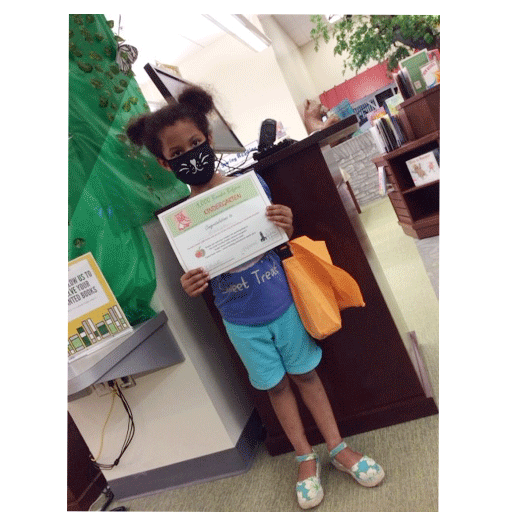 Can you really expect to read 1,000 books to your child before kindergarten?
If you read only one bedtime story every night for three years you will have read: 365x3=1,095 books. If you read 10 books each week for two years, you will have read 1040. Just double that rate to do 1,000 books in one year. You can begin much earlier though, when your child is an infant!
Do we have to read books from the Scott County Public Library?
No, you can read books from anywhere. The goal is that READING is made an essential and expected part of a child's life.

I read the same book every night to my child. Can I count that book more than once?
Yes, write down the title each and every time you read the book. Repetition encourages learning narrative progression, but we encourage adding new and similar books for variety.
I have more than one child I read to. Can I count the same title for each child?
Yes, you can. If one of your older children reads to their sibling, you can count that also.
Can I count books that are read at Storytime?
Yes, just ask the youth services staff for the titles and the author's names.
What about the books that my preschooler hears at school from the preschool teachers?
Yes, you can count those if they were read in their entirety and listened to all the way through.
My child has an electronic device that reads the story. Does that count?
As long as your child listens to the entire story. You can count it.
My child "reads" books to himself. Should I count those?
While it's great start to reading, if your child is only pretending to read, you shouldn't count it. If your child has memorized a book you read together recently and can read it themselves, then go ahead and count it.
If you have further questions about this program, please email the Youth Services Manager at: Roseann@scottpublib.org.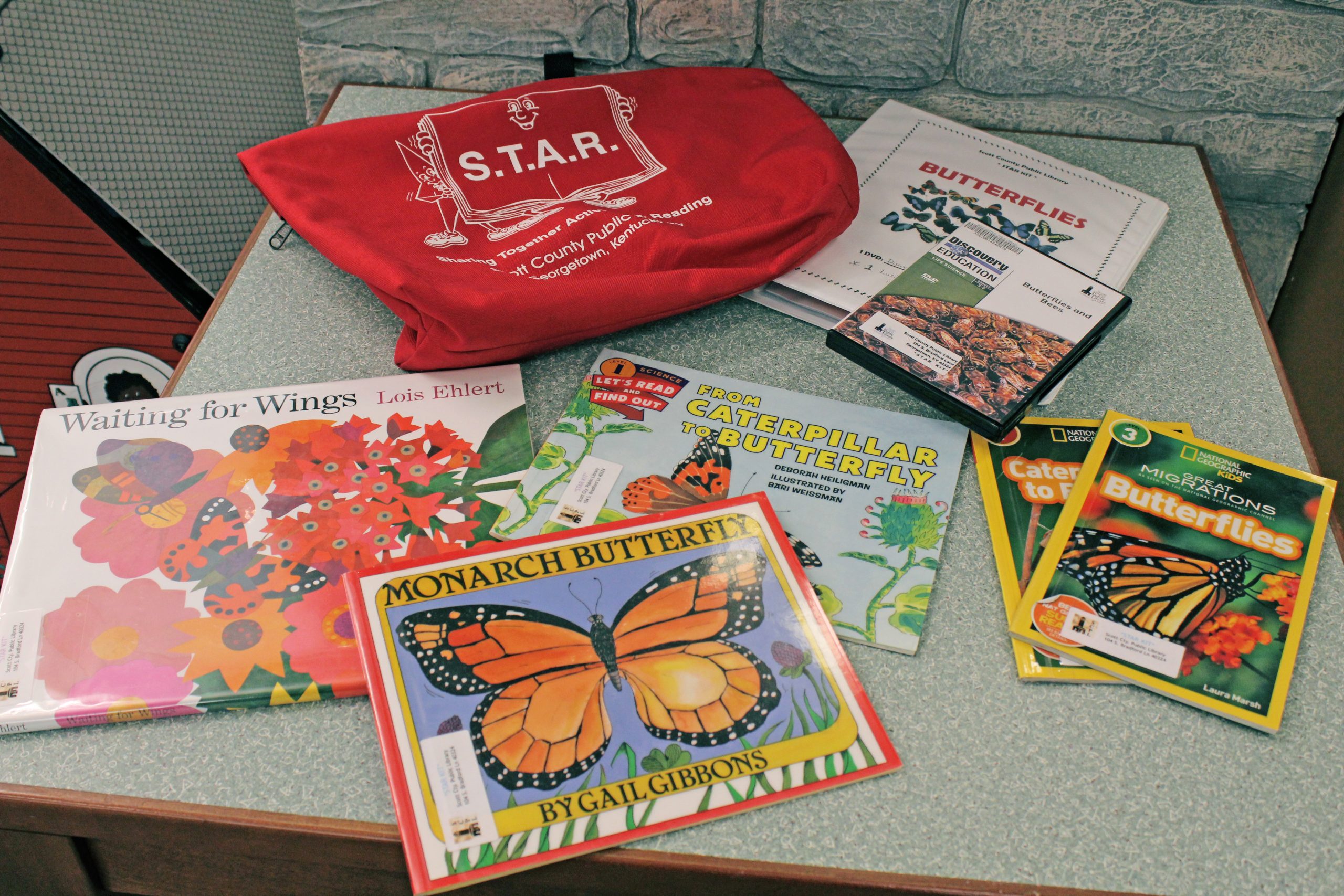 All Kits are available to checkout without the toys
The Library has all kinds of KITS that patrons can check-out and enjoy. Youth Services provides the following types of KITS which can be checked out for three weeks at a time: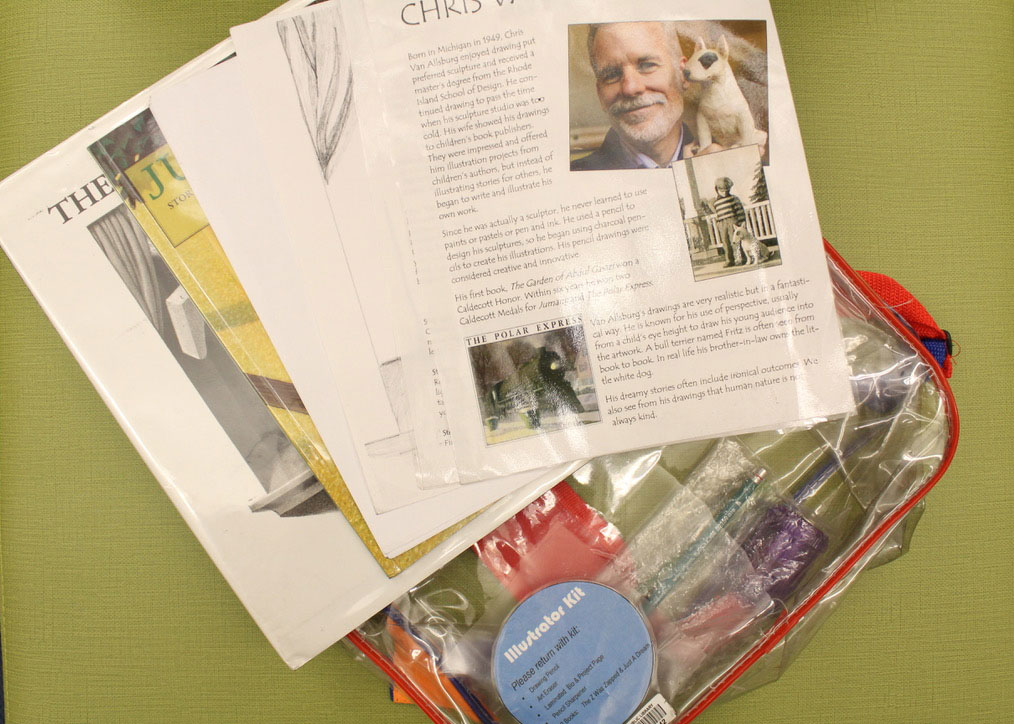 ART Kits: Located in the J740 shelves, these kits will teach children how to create art like Eric Carle, Ezra Jack Keats, Leo Lionni, Denise Fleming, and more.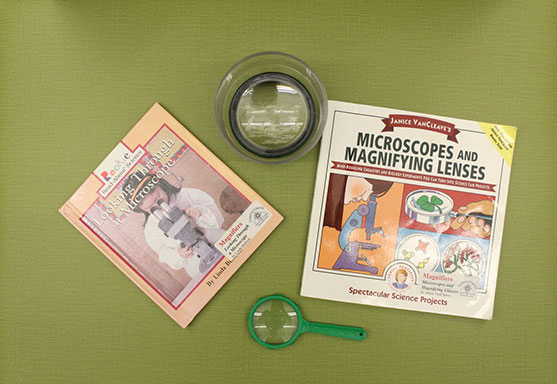 Science Kits: Located in tubs above the J500 shelves, these kits include a volcano, the human body, Boom Whackers, magnifiers and more.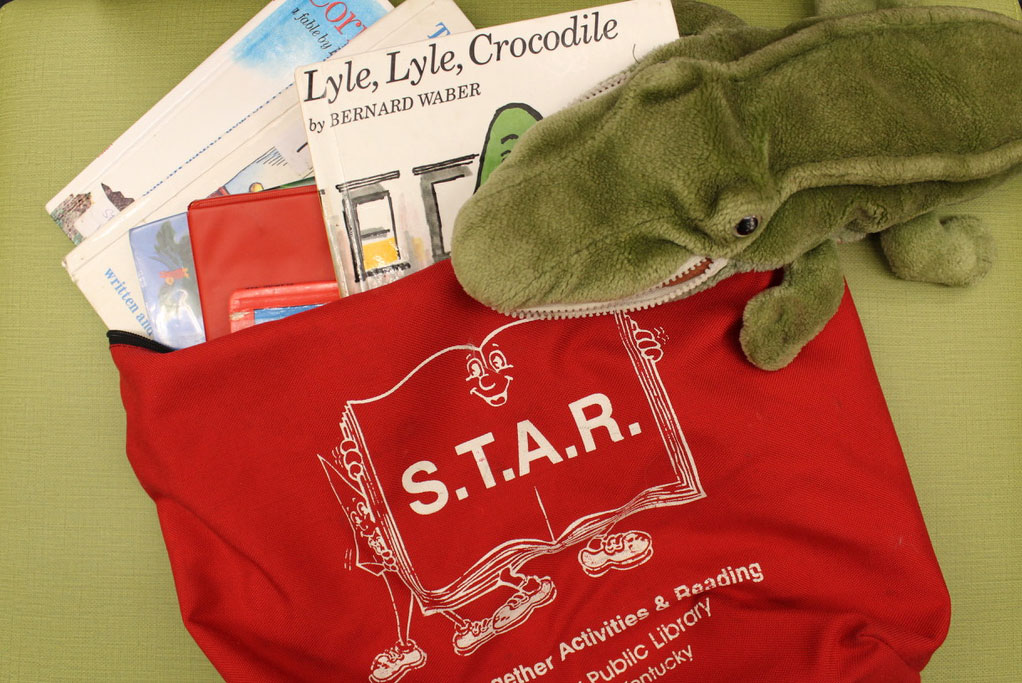 STAR Kits: with over 80 to choose from, these kits come packed with books, DVDs, toys and a binder filled with craft ideas, songs to sing, and fingerplays to try. Some favorite kits are Dinosaurs; Mo Willems; My New Sibling; Dentist; Scaredy Squirrel; Llama Llama, and Pete the Cat for the preschool set. For School-aged children we have kits on Dragons, Pirates, Fibonacci Numbers and more.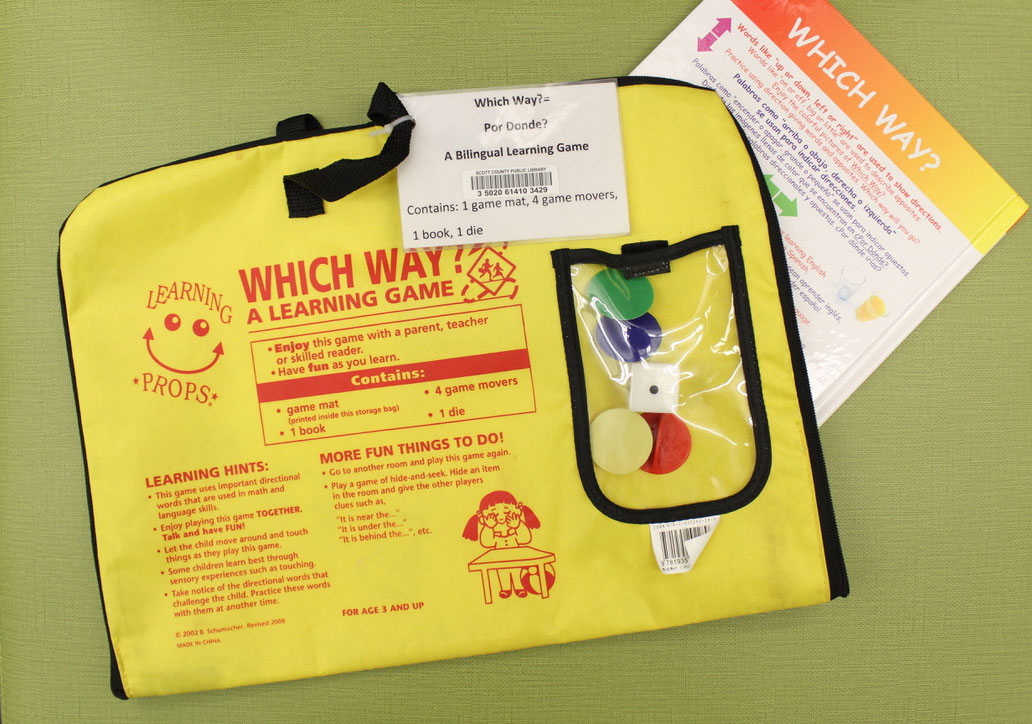 Bilingual Game Kits: from Shapes and Patterns, to Critters, Counting, and Dressing Yourself, these self-contained bag kits are bilingual Eng/Spa and easy to play with the family.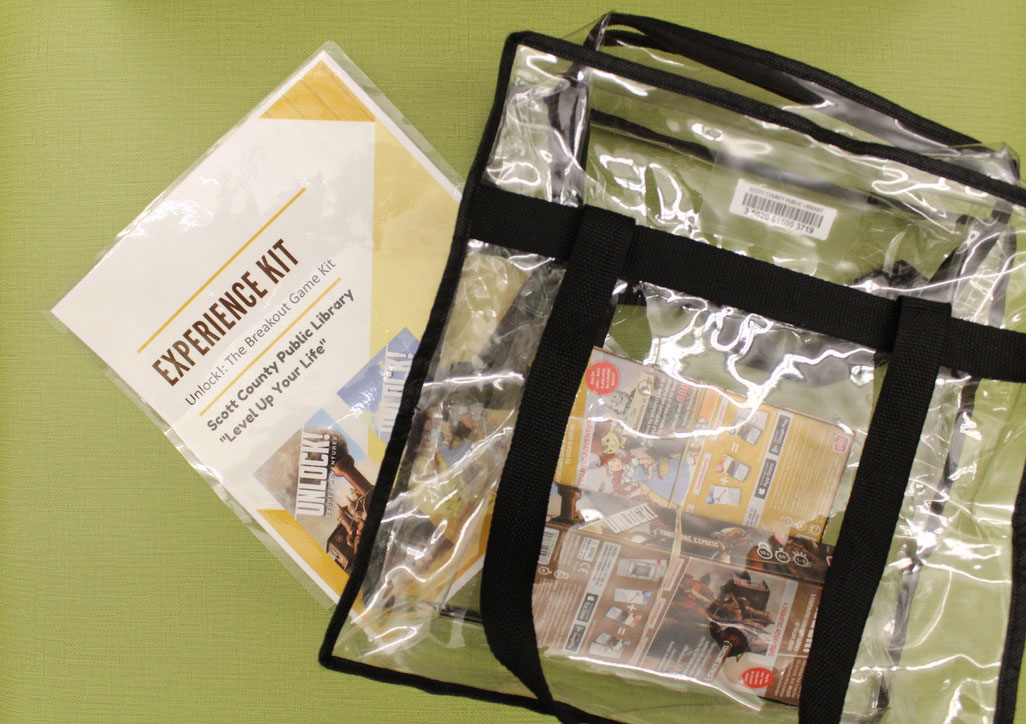 Experience Kits: from learning to knit, play D&D or Magic the Gathering, we have kits to provide your family with a whole new experience. Not sure if you want to buy that board game? Try it out now from the library!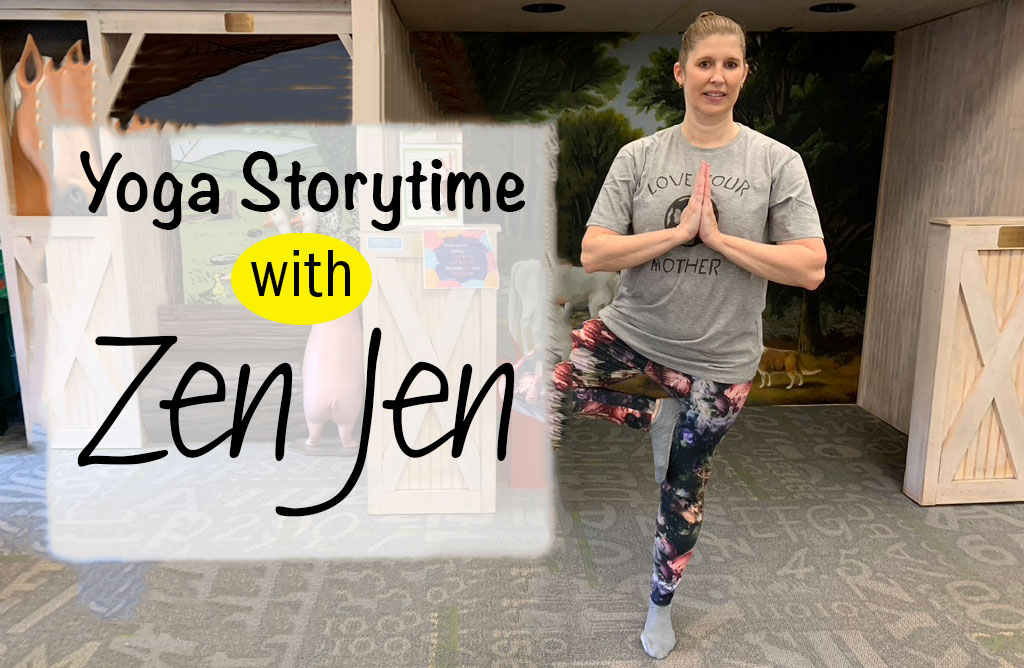 Flex Fridays allow us to offer unique programs for preschool children (we recommend ages 2-5y) like Storytime Yoga, Kids on the Move, Play Out Loud, seasonal celebrations, and paid performers! Programs are typically at 10 or 11AM on Friday mornings; please check our calendar each month for this special programming schedule.

We'll highlight topics of interest and share ideas that matter to you and your children. Have a story to share? Send me an email at roseann@scottpublib.org.
---
Tears, Tantrums and Your Emotional (growing) Child! 

Objective: Help your child explore their Feelings and Moods in a safe and supportive way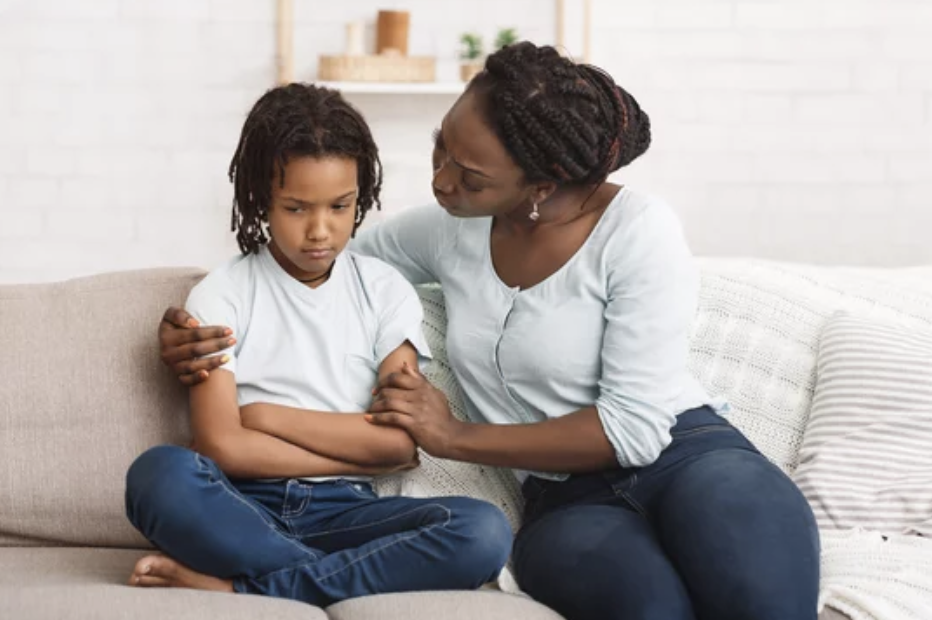 This is the message in the current READ BRIGHTLY blog for parents who love to read to their children.  If there is one thing that any parent knows, it's that children will go through every type of emotion, mood and 'feeling' as they grow from infancy to young-adulthood. An important part of their developing emotions is their first loss of a pet or family member, loss of a friend to moving away or bullying, and learning to put names to all the emotions they experience, from frustration to sadness, joy to anger, confusion to elation. 
Teaching your child about all the feelings…. 
Children don't always handle their emotions well. Tantrums and crying are the first emotions a child expresses. But as a parent, we need to help them identify all the other complex emotions they may be experiencing, and we cannot do that unless we, ourselves, as adults, have the words to label them, and the presence of mind to look out for them and help our children handle them in an appropriate, timely, and safe way. 
This is where PICTURE BOOKS come in.   
The Scott County Public Library has a wealth of amazing picture books on emotions to help your child navigate their changing world. Checking out and reading these books during the calmness of bedtime or anytime is one good way to tackle the Emotion-Monster that is your growing and changing child. 
Ask your child questions, and really listen!  
Once you have labeled and discussed emotions, ask your child questions to put things into perspective. Having to answer questions puts your child's new vocabulary to good use!  
 Some examples:  
'Remember that time Sophie grabbed the last free swing at the park right before you got to it and you stomped away?  That was anger. You were angry because you did not get to swing before we left the park'. 
'Remember that time you saw the bunny in the road that had been hit by the car.  Seeing a dead animal made you so sad you cried for a long time. Sadness is what we feel when we lose something or someone. It's okay to feel sad about that. It's okay to cry to express your sadness.' 
'Remember when you were building towers with the big blocks and the top block kept falling off and you were not happy.  That's frustration. Feeling annoyed that the blocks were not behaving the way you want is frustrating.  And that's how I feel sometimes when you don't listen to me in the store and wander off. I am frustrated that you did not listen, and worried that you are lost.' 
Putting names to emotions is an important first step for young children who are learning about their emotions.  Children as young as 1 year old can feel sad, anxious, frustrated, fearful and even worried.  Help them learn the words they need to express themselves as early as possible. Teaching your child words for emotions and feelings is their first step to understanding themselves better, too.  
And don't forget that these last two years have been traumatic for children of ALL ages. It is totally appropriate to discuss emotions with your tween and teen and find age-appropriate books to help them.  The Youth Services staff at the Scott County Public Library is happy to help with all your questions about this very important topic. See you at the library! 
Check out these and other great books about EMOTIONS at the Scott County Public Library
:  
Curtis, Jamie Lee, and Laura Cornell. 

Today I Feel Silly & Other Moods That Make My Day

.

 

Emberley, Ed, and Anne Miranda. 

Glad Monster, Sad Monster: A Book about Feelings

.

 

Geisel, Theodor Seuss. 

My Many Colored Days

.

 

Kaiser, Cecily, and Cary Pillo. 

If You're Angry and You Know it!

.

 

Moser, Adolph, and Melton David. 

Don't Feed the Monster on Tuesdays!

 1991.

 

Dewdney, Anna. Llama, Llama Mad at Mama.

 

Doerrfeld, Cori. The Rabbit Listened.

 

Telgemeier, Raina.  Ghosts.

(tween moving and leaving friends behind)

 
Read Brightly BLOG:  (See:  https://www.readbrightly.com/books-to-help-kids-handle-uncomfortable-emotions/?ref=PRHBCA74EBB1ECC&linkid=PRHBCA74EBB1ECC&cdi=2B816681DB1460A1E0534FD66B0AB004&template_id=25128&aid=randohouseinc40072-20 ) 
---
Every Child Ready to Read: Easy Reader books and your Preschooler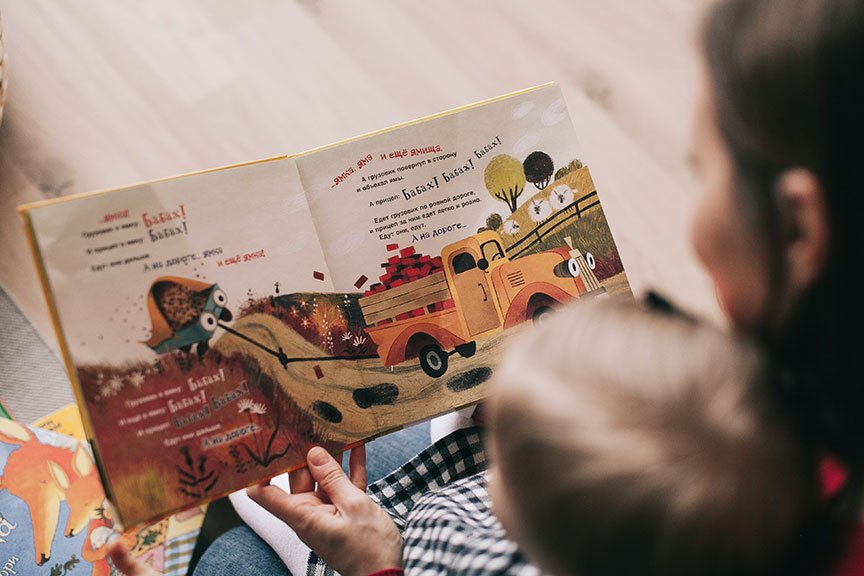 Hello parents!If you have a child ages 3-5 years old, you have a pre-reader!This is a stage in their reading development where each child will be different, read or pre-read at a different rate or capacity, and have different levels of confidence in their own reading abilities. And this is A-okay! The Scott County Public Library Youth Services Department uses the Every Child Ready to Read guidelines in our book displays, easy-reader book categories, and even in our storytimes to help your pre-reader.So what is "Every Child Ready to Read" (ECRR) and how does it affect easy readers?
To quote their own webpage: ECRR "incorporates simple practices, based on research, to help parents and other caregivers develop early literacy skills in children from birth to age five." These simple practices include:Talking, Singing, Reading, Writing and Playing.Yes, Playing is an integral part of learning to read because we learn how people interact, talk to each other and go back and forth in conversation.Learning to share starts at home.
Singing helps teach sounds, word inflections, and how some words are happy, some loud, some sad, some quiet. Singing gets us comfortable with our bodies producing sound and controlling our sounds. If your child is told to use their 'inside voice', they need to know what that is first. Talking is key to developing vocabulary. Mimicking what adults say, repeating words and learning what they stand for and mean is the basics of learning to read, too. Talk to your child a lot.
Writing is getting used to holding a pencil or crayon, forming shapes on paper that will one day turn into pictures and then words.Scribbling is part of pre-reading, too! Handedness, left or right, is usually not important until end of Kindergarten, when your child's hand muscles are more developed. Don't worry if they hold the pencil incorrectly, just encourage mark-making.
Reading.Yes, read them that book one more time! Or ten times! Repetition helps your child hear words and learn them.More vocabulary!
So every day, you are your child's best teacher!Help them play, sing, talk, write and read to them. The more words and books your child hears, the more they are learning to read. And they also spend quality time with you doing something that will build their brains.
*How our Easy Readers are categorized at the Scott County Public Library:
We have labeled ER-Pink, ER-Blue, and ER-Gold Easy Readers in our collection.
ER-Pink spine labels are for pre-readers ages two through Kindergarten. Few words are on the page, repetition of words is key, and lots of simple storylines and pictures are part of these "Pink" spine-labeled Easy Readers. Themes such as friendship, sharing, caring, and learning shapes and colors predominate this group of easy readers. Titles include Disney characters, Biscuit, Fancy Nancy, Dick & Jane series, SoundBox, & Paw Patrol.
ER-Blue readers have more words, and a more developed story. Perfect for Kindergarten through first grade, where reading stamina is building, and the child can concentrate longer on words.Vocabulary is more varies. Titles include Fly Guy, Superman, Katie Woo, and Max & Ruby.
ER-Gold books are longer, with fewer pictures, and could have over 50 words per page. They include longer stories or multiples, such as Amelia Bedelia, Star Wars and Cork & Fuzz adventures.These get children ready to move into juvenile series chapter books.
Browse our catalog for Juvenile books.
---
Children's books on history of race in our country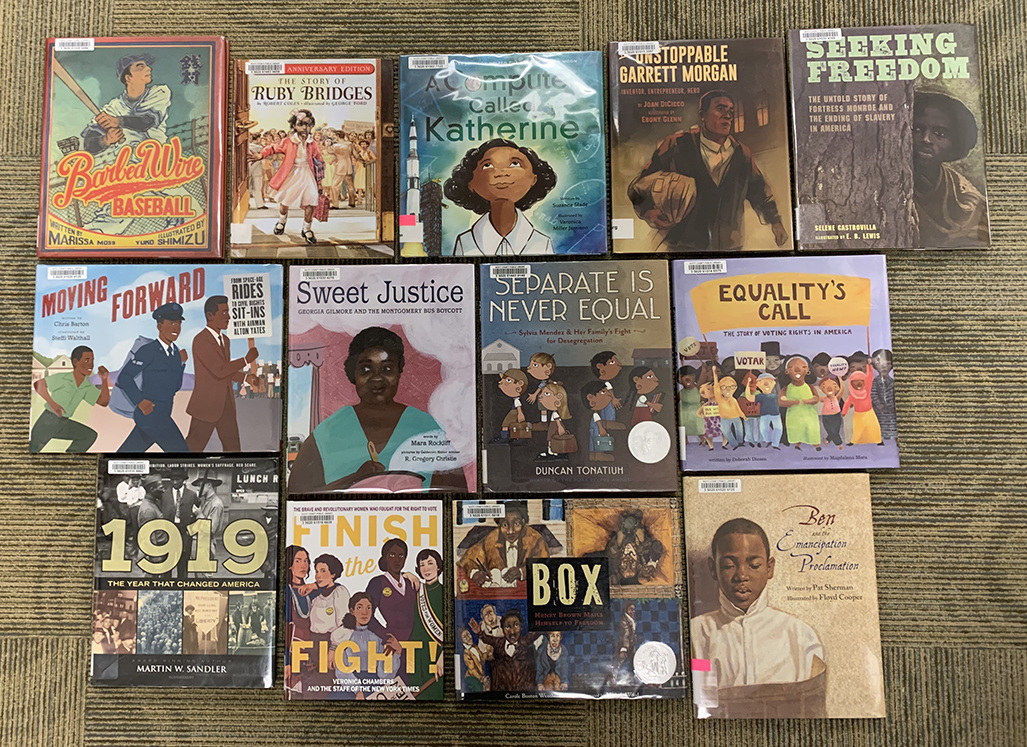 In the last couple of years, a great deal of attention has been given to how we acknowledge and teach the often troubling and violent history of race in our country to our children.  Our history books have captured and celebrated many of our moments of glory and triumph, but have not always examined darker events: these stories of heroic persons and deeds have often excluded the remarkable achievements of people of color, ethnic minorities, and women.  Perhaps you have wondered how to share these stories with your own children.  Perhaps you have wondered where to find materials that include people that look like you or come from your cultural background.Look no further than your public library.
The category of children's nonfiction picture books has exploded in both quantity and quality.  Movements to include writers of color and events in our history that have not been included in most of our history books of the past has fed this growth.  In age-appropriate ways, these picture books help introduce your children to events in history that have been previously erased.  These books show us that shameful events often give rise to heroic behavior.  These books can also tell your children (and the adults in your home as well!) wonderful stories about talented and influential women and people of color most of us have never heard of because their accomplishments have been overlooked for so long. 
I invite parents to come see what our library has to offer you for the education of your children on the history of race in our country.  I would like to offer that the teaching of this history does not have to be slanted toward a white or black perspective.  Instead, we can look for a more comprehensive picture, a fuller truth about the American experience that includes us all, regardless of race, ethnicity, or gender. 
That is what you will find in these books: stories that show us who we are (good and bad), where we have been, and what we can be.  Not sure where to start?  Come see us at the library and we will be glad to help! 
 See below for some great book suggestions:
1919 The Year That Changed America by Martin W. Sandler
Barbed Wire Baseball by Marissa Moss, illustrated by Yuko Shimizu
Ben and the Emancipation Proclamation by Patrice Sherman, illustrated by Floyd Cooper
Henry's Freedom Box by Ellen Levine, illustrated by Kadir Nelson
History Smashers: Women's Right to Vote by Kate Messner, illustrated by Dylan Meconis
I Am Not a Number by Jenny Kay Dupuis and Kathy Kacer, illustrated by Gillian Newland
The Story of Ruby Bridges by Robert Coles, illustrated by George Ford
The Unstoppable Garrett Morgan: inventor, entrepreneur, hero by Joan DiCicco, illustrated by Ebony Glenn
Unspeakable: The Tulsa Race Massacre by Carole Boston Weatherford, illustrated by Floyd Cooper
Unstoppable : how Jim Thorpe and the Carlisle Indian School defeated Army written and illustrated by Art Coulson
March : March Series, Book 1 by Gaddis, John Lewis
---
Books & Snuggles & Jolabokaflod…oh my!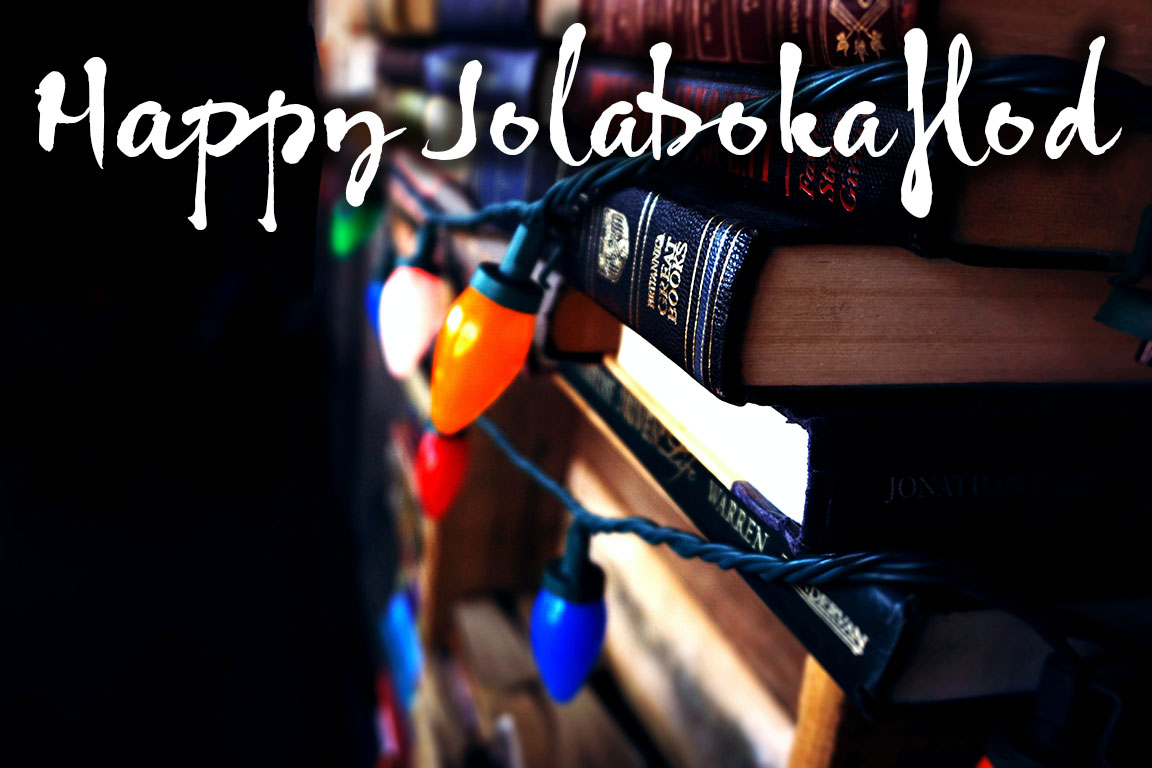 The Christmas-Hanukkah-Kwanzaa season brings lots of traditions to every household: from matching PJs and making cookies, to hiding the pickle on the tree, lighting candles, singing songs and prayers, and cooking homemade treats, we all have that one tradition we cannot do without each Christmas!
For the people of Iceland, Jolabokaflod – meaning "Christmas Book Flood" – is the long-standing tradition of reading into the night by candlelight with your family and a cup of hot cocoa. And maybe a good cookie or three.
Dating back to World War II, when the paper that books are printed on was one of the only commodities NOT rationed, books were shared with abundance and love at Christmas. So today, the tradition still stands, and a free catalog of Iceland's newest books hits everyone's mailbox in hopes that some will end up under the tree on Christmas Eve.
Iceland is a nation of booklovers. My wish is that the United States, resplendent with publishers and writers of every kind and genre, will also one day be a nation of books. (In 2019, a poll noted that Icelanders read 2.3 books per month compared to USA's 4 per year…)
Therefore, I humbly suggest with this blogpost, that THIS YEAR, instead of working to excess, and driving around to malls and light shows, and maxing out our credit cards, let us all spend some quality family time reading together under the tree Christmas Eve (or by a cozy fire, or on a squishy couch). A quiet, cozy, candle-lit, cocoa-drinking night in.  Reading lots and lots of books. With our children. And our pets. Yes, even the hamster and turtle love a good story (try Frog & Toad are Friends).  Let us transform this holiday season into a book reading season.
And yes, you can use books from the Scott County Public Library, as long as you remember to return them!
Jolabokaflod!  This can be an important NEW tradition for your family, because not only does it redirect the meaning of Christmas towards family togetherness, but it emphasizes that everyone in the home can (and should) read more books this upcoming year. Together.
So why is reading important? Well, it has many benefits for human health. Reading lowers stress.  It helps us improve our memory. Like puzzles, reading provides mental stimulation. Reading also helps us empathize. Children who don't read much before the age of 16 years often suffer from an inability to empathize with others later in life, making friendships and even work relationships harder. Reading builds the brain in ways we often overlook. Oh, and reading takes us to places we've never been without leaving our chair!
Fairytales. Classics. Romance. Adventure. Thriller.  Historical Fiction. Mystery. Sci-fi. Graphic Novels. History. Fantasy. Magical Realism. Horror. Memoir. Biography. Humor. Short Stories. True Crime. Poetry. Surely there is something for everyone at the Scott County Public Library.
Not sure what to try? We have a bunch of very helpful library elves at every desk to make great recommendations. Just ask!   And a very Happy Jolabokaflod to you!
https://www.fatherly.com/play/icelandic-christmas-eve-tradition-jolabokaflod/
https://www.npr.org/2012/12/25/167537939/literary-iceland-revels-in-its-annual-christmas-book-flood
---
Why Storytime – in any format- matters to your child! 
Storytime for babies, toddlers, and non-reading children may seem odd or irrelevant to some people. But it is actually very important. I mean, babies and toddlers don't talk much or know how to read… But reading to your baby or young child, even just after birth, has great developmental value, and it is something ANY parent can do with little or no effort or preparation! 
First, you are spending quality bonding time with your child!  This is a win-win situation. Bonding allows for your child to feel love, safety, and to learn your voice.   
Second, reading lots of picture stories also provides visual, auditory, and mental stimulation.  The mind of a child needs constant stimulation to grow! The value in reading books is seeing pictures, hearing new words and making connections. Learning stories, like Red riding Hood or Jack And the Beanstalk, help children learn how stories are told (beginning, middle and end) and how pages in books are read and turned (left-to-right in America). They learn books are NOT for eating, stomping, ripping, or throwing.  If you value books and stories, they will also learn to value them. 
Third, a stimulated mind is also a curious and creative mind.  Children who are read to often are more observant, more curious about the their surroundings, and more likely to seek out more information. They will learn to love to learn. And becoming a life-long learner is exactly what we all strive to be- that we are forever learning and growing and expanding our minds, and therefore our horizons!   
Encourage this creativity! Don't be shy!  Draw the story, retell it differently, put your child in the story, re-enact the story in your living room with props, cook the recipe, don the costume, kiss the frog…. You get the idea! And with that, your children will also grow their literacy, become better readers, have bigger vocabularies, and enjoy being creative.  
How to read:  So you have some books from the library and are ready to read to your baby or toddler. Make sure you use varied tones in your voice, and even varied facial expressions.  Being silly is OKAY! Your child loves you even if you sound like a snorting dragon for a moment! 
Drama... it also helps your child learn to read and speak with EXPRESSION.  You don't want your child to fall asleep, but to be captivated. (That is, unless it is a bedtime story or lullaby!)  And in case you forgot this important skill, children need to learn to SIT STILL.  Yes!  Although often taken for granted, as any preschool or kindergarten teacher will tell you, sitting still is a critical skill that is best learned during early childhood.
Fourth, stories can help children learn what is real and what is not real. Real Life can be a scary place.  Addressing a situation or topic in a book, in the safety of a parent's lap is a LOT more manageable for little children than experiencing it alone for the first time. From ghostly shadows and birthday clowns, to lightning and fire truck sirens, the first experience of these things can be confusing or frightening to small children.  But being able to say to them– Hey! remember when we read that book about fire trucks? And we made the sound of the siren together. In real life they can be very loud and scary but you know they turn it on loud to let everyone know to stand back and let them go out and help people…" Or maybe, "remember when we talked about storms and that sometimes the electricity goes out and it gets really dark? But we are safe, we are together, and we have a flashlight. Everything will be okay, and it's kind of fun to pretend we are underground animals living in the darkness…"  A reassuring connection to a book may put real life and fantasy into perspective.  
It's so Emotional…. And don't forget, children are packed with emotions they are learning to understand and control.  Knowing the differences between hunger and frustration, sadness and sleepiness, fear and anxiety, those come through years of learning. The colorful and simple pictures in books can help put labels on these emotions and give your child the vocabulary to better help express their needs! Then the only emotion you really need to focus on is more HAPPINESS! 
And please don't discount storytimes done virtually.  While it may require more work from you-- the parent-- in getting the child to focus, sit still, and sing along, by modeling the behaviors, sitting with your child, singing, dancing, clapping and reading along, you and your child get all the same storytime benefits. And you finally have an excuse to belt out that Laurie Berkner Band song that has been stuck in your head since the last Thursday!  (I've been there- kids' songs are major ear worms!)
Here at the Scott County Public Library, we firmly believe in the tenets of the Every Child Ready To Read program. Just by reading, singing, talking, writing, and playing together, you can help turn your child into a happier child and a book-loving child.    
To learn more, go to their website: http://everychildreadytoread.org/ 
Happy reading!  And we'll see YOU at the library! 
---
Leaping, Hopping and Jumping into Fall!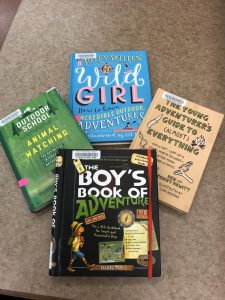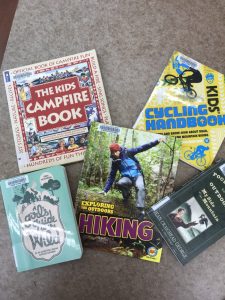 I'm one of those people that gets kind of crazy in the fall.  Not pumpkin spice crazy, but get outside, hike the trails, weed the garden and play in the leaves kind of crazy.  The cooling weather and physical transformation of the natural world does it to me every year.  I was thinking about the things I loved doing with my children when they were young during those golden weeks just before the serious cold sets in. And that's when I felt inspired to make the Fall Family Fun Challenge.  This challenge comes in the form of a bingo card that offers activities rather than numbers.  Complete a line in any direction and your children get to choose a small prize from a prize bucket.  And for every line you complete, your family gets another entry in our drawing for a grand prize of a S'mores Package. 
So, if those little goodies are not enough to entice you, let me offer you the benefits of outdoor activity for you and your children*:
Sunshine fills our bodies with Vitamin D which strengthens bones and boosts our immune systems.

Sunshine helps regulate our moods and sleep.
Daily exercise is just great for everyone, and is essential for growing children.

Playing outside is a fabulous way for growing bodies to get a full workout.
Executive function (the ability to solve problems and make good choices) and creativity are both developed through unstructured play.

Time outdoors for young people, exercising their bodies while playing games with others, and exploring the natural world alone helps young brains grow in very healthy ways.
Risk taking is important for a child's growth in confidence and resilience.

Parents want to and should protect their children, but kids also need to take some risks, skin their knees, get wet in the creek and experience some failure.

 

Outdoor family adventures are a great way for children to take risks and test themselves.
Important social skills are developed through outdoor play.

Structured play such as sports do not provide the same challenges that unstructured play and exploration offer.

 

Problem solving, cooperation, resolving disagreements, the give and take that comes when we play with others provides great support for social growth.
Exploring nature helps build a deep respect and love for the natural world.

To prepare our children for the work that lies ahead in dealing with environmental problems, we need to teach them to LOVE the world that we are trying to heal and save.
We have a great collection of books at the library that offer information on a large variety of outdoor activities for kids and families.  We hope you will check some of them out. So button up your jackets, put on your hiking shoes and see how far you can get with our Fall Family Fun Challenge!
*These 6 benefits of outdoor activities were found here: Harvard Health Blog, October 27, 2020 by Claire McCarthy, MD, Senior Faculty Editor, Harvard Health Publishing
---
Your Grieving Child 
Tips and Resources for handling a death with your child. 
Grief is an unavoidable part of life. Every adult has probably felt the terrible loss of a pet, friend, parent or grandparent.  We grieve the loss of our favorite childhood heroes and musicians.  Autumn, when trees lose leaves, and plants go dormant, is a reminder of the cycle of life. It is natural, and children are aware of these changes. So a large change, like a death in the family, is something that children can also learn to understand. 
Children also suffer losses, and although their understanding may be limited by age or mental understanding, a grief felt by a child is no less worthy of understanding.  Loss of a friend who moves away from playschool, loss of a pet or even a long-beloved stuffie, can be a traumatic event in a little life.  We should not ignore the grief of children. 
Help your child understand that grief is NORMAL. 
We all have moments of real sadness, but this sadness does not last forever. Our sadness, our tears, help us deal with the internal emotions we feel. Emotions are complicated for children. They may not yet discern the difference between being tired and being hungry, or being angry and being sad or feeling guilty.   
Explain to your child that their emotions may look different from adults when they feel the same emotion. Some people are more quiet. Some cry a lot, some become introspective, some even turn to exercise to burn off excess emotions. Some of these traits, or none, may apply to your grieving child.  Reassure your child, this is Okay, this is natural, and the pain will ease off, and they can soon return to focusing on life, and new things, but that it's okay to remember the sad things even as we move on, and it's OKAY to be Sad. 
Use the right words to help your child.  Be age-appropriate with your help. 
Get Simple and Direct:   "Your Grandma has died today.  She is no longer living. Do you know what that means?"   "Your cat was not feeling well, and he died today. We are going to miss him a lot, right?"   Children 6 and under may not fully understand the "gone forever"' concept. 
Listen to them, comfort them, answer their questions:  "No, it's not your fault they died. Yes, it was just their time to leave this world.  No, you won't see them again in person, but you have lots of great memories with them…remember when…"    Remember, your child may have experienced death in cartoons or games, but it's different in real life. 
If they can't put their feelings into words do it for them, to help them understand:  "I know you are feeling sad. I am too. Do you want to cry together?"  "Do you have a lump in your throat? It's okay, we feel that sometimes when our body needs to cry to help us get over big emotions."   "Do you feel mad that they are gone? I am too, I wish I had more time to talk with them, too. Maybe we can write a letter to them together to get our feelings out." 
Note, some children who suffered from Separation Anxiety previously may be more affected by this permanent separation from a loved one, as it is an extreme change, and they won't "come back."  Assure them that while you can't bring them back, that they live on in our hearts, our minds and our memories. 
Keep your children informed of what is happening so they are not "left out". 
What comes next:  Children understand something has changed, but how will it affect them?  Don't leave them to guess, because they will only come up with the worst ideas, especially if they feel guilt over the loss. For example,  they may feel guilt that they forgot to feed kitty four days ago, so they must have caused the death… or some other hidden guilt.  Make sure they know they will go to school as normal tomorrow but Uncle Bob will pick them up instead of Daddy. "Then we will all go to the Funeral Home for a family visit with all of XYZ's family to say goodbye to Grandma….."  Reassure that death is normal. 
Do they want to participate?  Some parents assume that funerals are no place for a child. Yet anyone with a child who has an 'old soul' will tell you, sometimes it is just the right place for them to be, seeing active grieving by adults modeling good behavior. Make sure they are prepared for an open casket, and explain simply. Children can pass out programs, tissues, flowers, memory cards, or be in charge of the sign-in book. They need to feel as important as on any other special occasion.  Because for your family, this IS a special day in their life.  Making positive memories of it can be cathartic for everyone. 
Give your child time to heal and feel better:  Quiet comforts, coloring, talking, sewing, building together, even if it's a distraction for a bit, allows a child to process this new and special information.  Adults do it without thinking.  For children, we may need to provide these resources to help with the transition.  Make a memory book together, and talk about the person or pet openly.  Share photos. Touch their special belongings and tell stories. 
When to seek Professional Help:  If the grief lasts more than a few weeks, it may be time to seek professional help to make sure that your child has processed the death without undue distress. Seek a counselor, doctor, or appropriate community member to support you and your child. 
For More Resources, try:
https://www.unicef.org/parenting/child-care/how-talk-your-children-about-death-loved-one 
Beloved Mr. (Fred) Rogers 
https://www.fredrogerscenter.org/wp-content/uploads/2019/07/exceladocument.pdf 
https://childmind.org/article/helping-children-deal-grief/
https://kidshealth.org/en/parents/death.html 

Picture Books for Children at SCPL:  
The Goodbye Book (E Parr)
Saying Goodbye to Lulu (E Demas)
The Boy and The Gorilla (E Kramer) Preschool Appropriate
Everette Anderson's Goodbye (E Clifton)
The Heaven of Animals (E Tillman)
Nana Upstairs, Nana Downstairs (E De Paola)
The memory tree (E Teckentrup)
The Best Cat in the World (E Newman)
The Yellow Suitcase (E Sriram)
Someone I Love Died (E Tangvald)
Paws + Edward (E Dekko)
Chester Raccoon & the Acorn full of Memories (E Penn) 
SCPL:  STAR Kit Grief 
---
Talking with our kids about 9/11
Many of you coming into the library with your children were probably quite young yourselves when the Twin Towers and the Pentagon were attacked on that cloudless, late summer day in 2001.  Pulling on your own memories of how you felt and experienced those awful days can be a great help in figuring out how to talk with your own children  about these violent attacks, for they will surely be asking.  This year is the 20th anniversary, and images, messages, and remembrances are everywhere.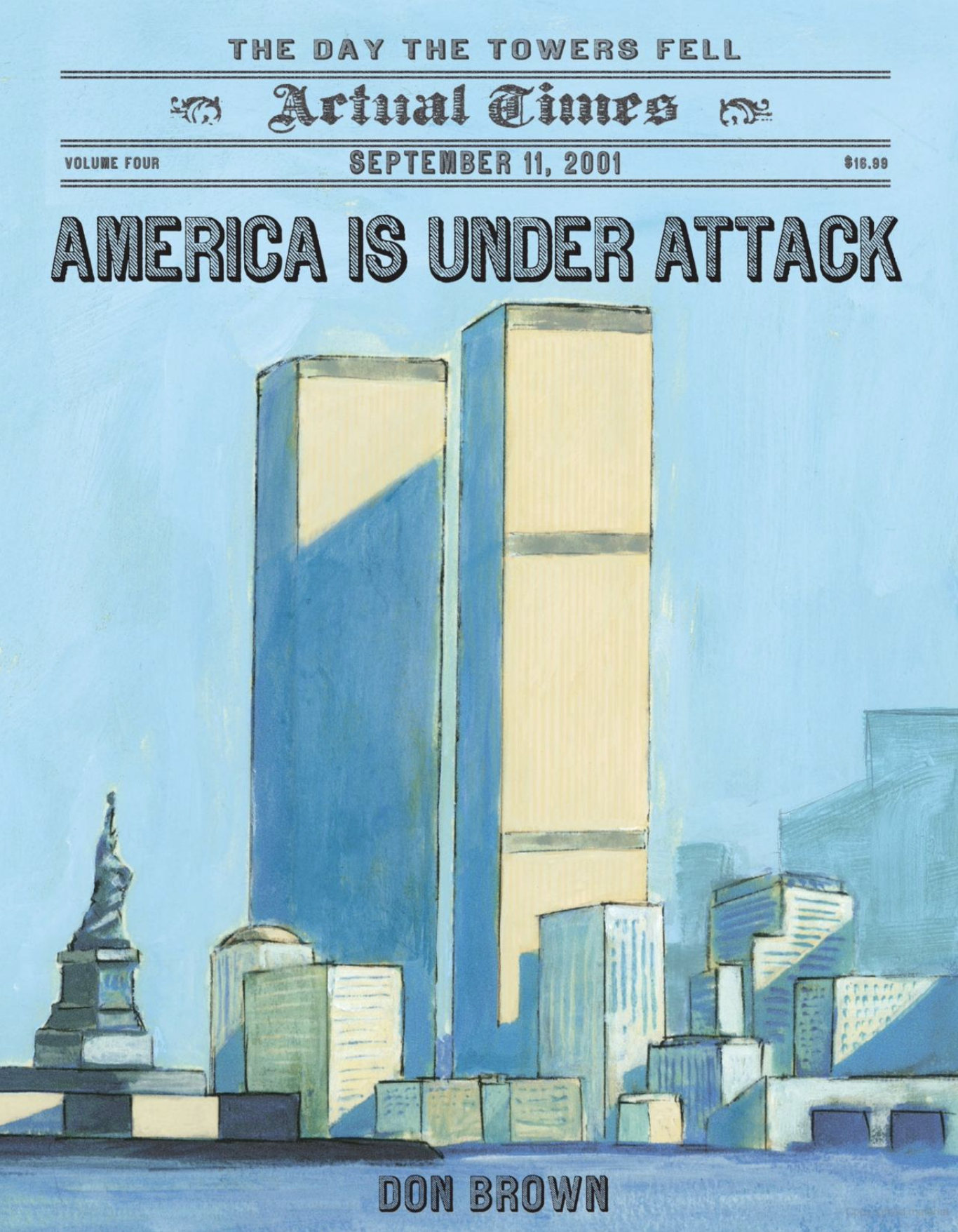 The library has some resources that might help.  Yesterday, I read 2 books that I highly recommend.  I suggest that parents read any book about 9/11 first and then share with their kids who are old enough to follow along.  America is Under Attack by Don Brown is part of his series Actual Times.  Written in straightforward, clear, honest language, his book tells exactly what happened that day, intertwining stories of individuals caught in the towers and in the Pentagon.  Some survived, some did not.  The artwork is heart wrenching – not graphic, but deeply moving in its depictions of people trying to escape. 
I also read the graphic novel version of I Survived the Attacks of September 11, 2001, based on the novel of the same title by Lauren Tarshis who is aided by Georgia Ball in adapting the story into a comic, with art by Corey Egbert, and colors by Chi Ngo.  This comic tells the story of Lucas, a 5th grader whose dad is a New York City firefighter.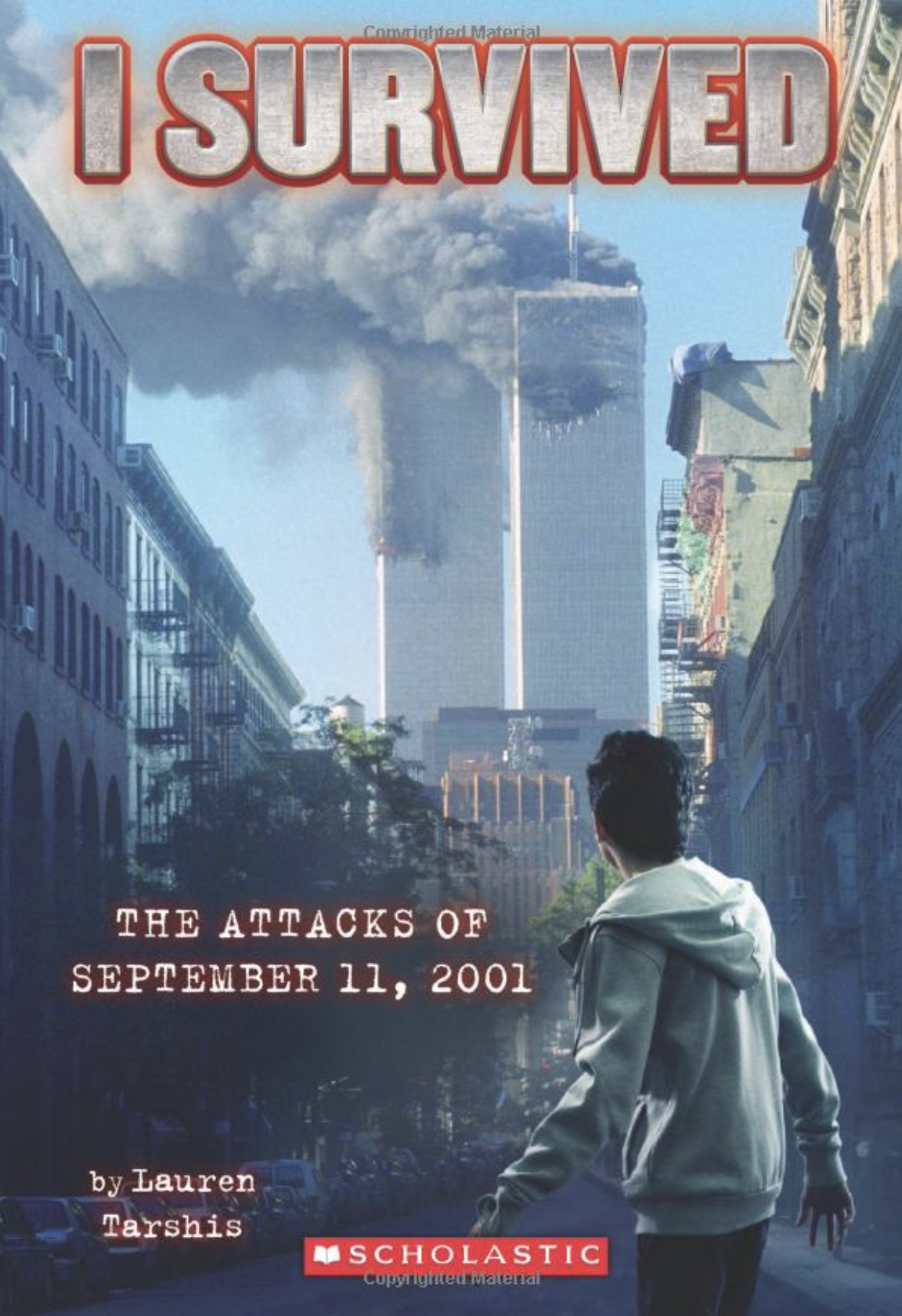 Lucas LOVES football but after multiple concussions, his parents refuse to let him play anymore.  Lucas sneaks into the city to see his Uncle Benny, a firefighter at the same station as his dad.  He is sure Uncle Benny will talk his parents into letting him play.  That is when the towers are attacked.  Lucas finds himself in the epicenter of the disaster.  Will Uncle Benny?  Will his dad?  Will Lucas survive?  As Lauren Tarshis does so well in all of her I Survived books, she tells an exciting story about real events in an age appropriate way that humanizes historical events. 
We currently have a poster display in our gallery, developed by the 9/11 Memorial and Museum, made possible by the National Endowment for the Humanities.  Perhaps it would be most meaningful to read one of these books with your child(ren) and then visit the display to see photographs taken that day at the attack sites.  We also have other excellent elementary and middle grade books about 9/11 on display in the children's area, as well as a display of adult materials near the check out desk. 
Talking with our children about tragic events is never easy.  Be an active listener with your child.  Validate their emotions, creating a safe environment for them to ask questions and express fears.  Maybe they are not ready yet, and that needs to be honored as well.  And don't be afraid to be honest yourself especially if you don't know how to answer their questions.  Finally, if this all seems overwhelming to you or your children, remember Mr. Rogers and his famous words of wisdom about confronting scary and/or tragic events:  https://www.youtube.com/watch?v=-LGHtc_D328 (Go to YouTube and type Mr. Rogers look for the helpers into the search bar.)
There is no one way to do this hard work, but your loving presence and authentic words of hope are the best things you can offer. 
---
Big Life Lessons can still be learned from Picture Books
There is a misconception among many adults that once a child learns to read, they no longer need to read Picture Books.  I am here to tell you this is not true!  Adults, you can read them and learn a thing or two, too.
Picture books have a way of staying with us. Everyone has at least one picture book from their childhood that they remember, whether it was the pictures, the story, the lesson, or the way it made you feel. In fact, so many college grads get Picture Books for gifts- from Dr. Suess to The Giving Tree…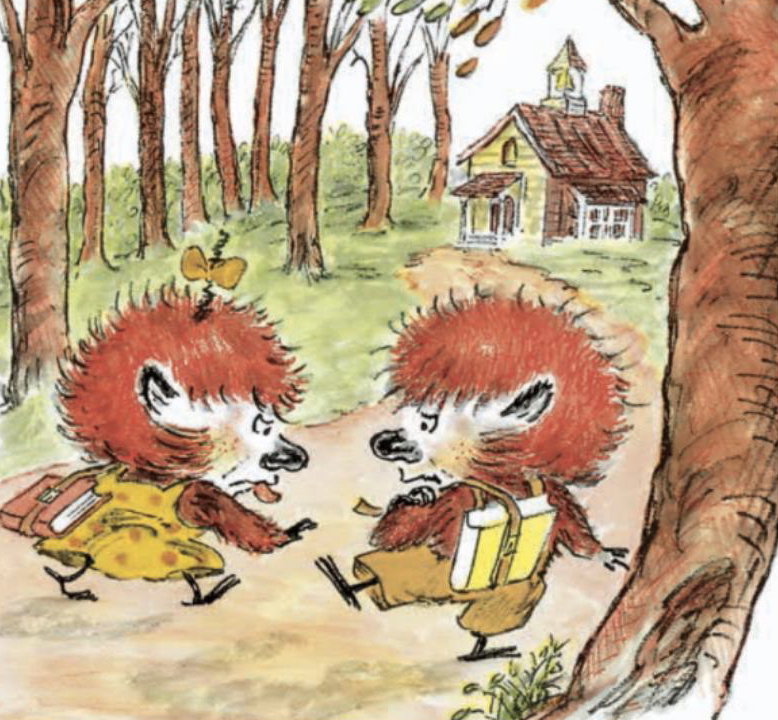 My favorite book is called The Little Brute Family by Rusell & Lillian Hoban *(© 1966). The Brutes are a family of hairy, mannerless, hopeless, joyless creatures until the baby Brute gets lost in a field of daisies, happens upon a 'good feeling', pockets the feeling, and brings it home to share with his family. They family is soon transformed by the good feeling, because a little good feeling can make a huge impact.  After reading this book, my lesson was learned, and I never let a bad feeling or a bad day, or an argument take over, and tried to seek out a good feeling to turn my frown upside down. Whenever I find myself getting too overwhelmed, I think of Baby Brute and that one Good Feeling.  It helps that the illustrations by Lillian Hoban are just too perfectly funny!
The picture book has power because it can take BIG life issues and distill them down into simple words and illustrations that even the youngest of children – and stubborn adult- can comprehend. 
As children grow, they can be filled with self-doubt, and we hear things such as 'I can't do it', 'I'm not smart enough',  or 'I'm too different- I'm not like them."  This is when we return to Picture Books. Read them out loud.  Read them again. Go to the library. Read 50 more.  Find comfort in simple messages that we forget as we get older and try to navigate a very un-picture-perfect world.  What lessons can you learn from picture books?  How about:
Owen & Mzee: two very different animals, of very different ages, can become best friends
I Promise: our own success begins with the promises we make to ourselves. We are important!
The Sandwich Swap: the smallest thing can pull us apart from our friends, but friendship is more powerful than differences in the end. Our differences make us special.
The Dot: the journey of self-discovery begins with leaving your mark and seeing where it takes you
They All Saw A Cat: celebrate how you see life, differently from others, because perspective is everything!
Parker Looks Up: we can become anything we dream of if we keep looking up and to our future. And good role models abound if we only look up!
The Magical Yet: You can't do it? Not Yet?  But you will!  Keep trying!  You got this!
Most Marshmallows: be true to yourself, even if you are REALLY different from everyone around you! Break away from the mold and be yourself!
RED: A Crayon's Story: be who you want to be, not what you are told you have to be; Ignore labels because you are unique!
What Do You Do With An Idea?: you nurture it and watch it grow, because are ideas are magic and can change your life!
*The Little Brute Family: is now only available in Easy-Reader format; Find it at ER-Blue Hoba
---

Teach Your Children to be Kind…
I saw a Facebook post the other day and it said: 
Parents: teach your children to be kind to other children; Some of these children are going home to a lot of unkindness.
 And I thought, yes, that is true.  We forget so often—caught up as we are in our own families, emotions, struggles and finances…and the desire to return to normalcy after Covid-19. Some families don't get to return to normal. Some families faced tragedy. Therefore, we must remember to teach and model kindness as our children start this new school year. This may be your child's first time back to school in 18 months. What have they forgotten? What will be awaiting them? How are their social skills? Their social vocabulary?
Some of the children in your child's classroom may have lost loved ones to COVID, or have front-line parents, so they live with their grandparents or other relatives now. Some children may not have a parent anymore that can come to parent-teacher night because they are working a second job at night. They may not have a ride to the party on the weekend. Or may have to bring a sibling along because they can't afford a babysitter for little brother or are a single parent now. Some children have parents who lost their jobs completely or have compromised health, so their children didn't get the bike or the birthday party they expected. They didn't get a new backpack, either, and are re-using last year's crayons, sneakers, and clothes. If they ask to borrow a pencil, give it to them -if you can spare it. Some children did not get to go to camp, or to the pool, or on vacation, because these things cost money their family doesn't have --now that they are paying hospital bills or caring for their elderly family members, or lost their jobs.
What they did on their summer vacation?   ….they survived! And yes, some children rely on those free school lunches to remain fed during the school year AND during summertime. And some children who never had to rely on them….they do now.  Be kind.
So teach your children to be kind this school year.  It starts with you, their adults, encouraging them. It starts with you MODELING kindness to others in the check-out line, at the doctor, and at school pick-up or bus line. It starts with adults sharing kind words: I Missed you, friend; we have a lot in common; I like the way you say or do something…. You're funny! You're kind.
Tell your children:  Don't focus on material things or what others wear or have this year- focus on the person. Their talent. Their humor.  Focus on happiness.  Focus on "How are You?" and being a friend. Put the quiet kid on your team today.  Give compliments.  Kindness starts at home…. Kindness is contagious.  Kindness should "go viral" as we all heal from months of change and trauma. Kindness.  Let it spread.
Book recommendations:
Kindness : a treasury of Buddhist wisdom for children and parents (2010) By Conover, Sarah  Juv Non-Fiction - J294.3_Cono
Being kind (2002) By Amos, Janine   Juv Non-Fiction - J177.7 Amos
The kindness quilt (2006) By Wallace, Nancy Elizabeth    Picture Books - E Wall
Kindness rules! (2019) By Moyle, Eunice   Board Books - EB M
---
The Soaring Does Not Stop – Get Ready for the Paralympics 2021!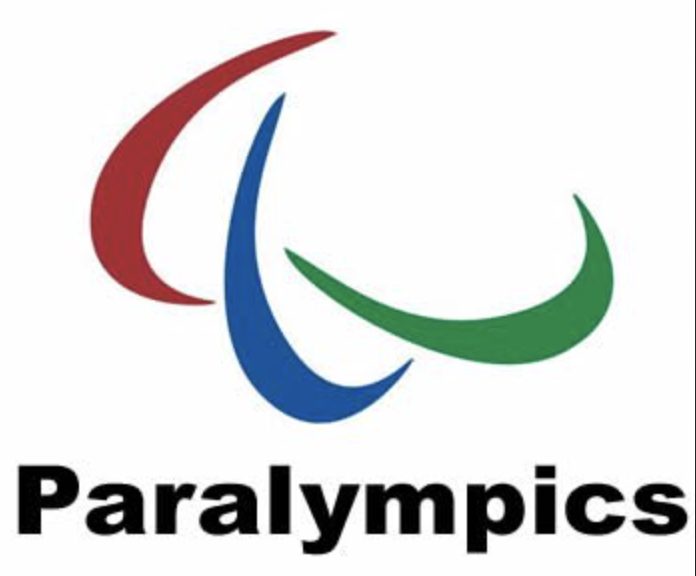 Do you love watching the Olympics?  I do!!  I especially love hearing the stories of the athletes as I watch them compete.  I have been known to cry a little and whoop and holler as I marvel at what these athletes can do.  But new to me (but not to others) is the competition that follows the Olympics: the Paralympics.  Paralympics give athletes with the same skill level as Olympic athletes, but who also have disabilities, an opportunity to compete on a world stage. 
How did the Paralympics get started?  I am glad you asked because that is an interesting story.   These games are the creation of Ludwig Guttman, who I had not heard of until I read the book A Sporting Chance: How Ludwig Guttmann Created the Paralympic Games. Guttman was a Jewish doctor who escaped Germany as the Nazis were rising to power.  He and his family were given refuge in England, but he was not allowed to practice medicine at first. Instead, he spent his time researching the nervous system.  Finally, he was given the job of caring for war wounded men with spinal cord injuries.  Kept in a full body cast, most died quickly from infections.  But Guttmann wanted to try something different.  He stopped putting casts on bodies, had the nursing staff move the patients frequently, and got them out of bed and active as quickly as possible.  And, guess what?  These patients not only stopped dying.  They began to thrive!  
One day, as a group of patients, all in wheelchairs, were enjoying the sunshine out in the hospital courtyard, they began knocking a disk around with walking canes.  Within minutes, the men were in a heated competition.  Guttmann witnessed this and he realized how good physical, competitive activity could be for the health and mental well-being of the men he was caring for.  It was not long until these competitions grew, incorporating a growing number of sports, as well as both male and female athletes, with more and more participants.  Between 1948 and 1952, the games grew from 16 athletes from 2 hospitals in Great Britain to 130 athletes, with participants coming from other parts of Europe, and by 1957, athletes from 6 continents participated.  In 1960, the first official Paralympic Games were held in Rome!
This was a super quick overview, so if you want to learn more about the Paralympic Games, here are some things you can do.  Read the memoir by Paralympic Gold Medalist, Jessica Tatiana Long called Unsinkable: From Russian Orphan to Paralympic Swimming World Champion (JBLong). Read this great book about Ludwig Guttman:  A Sporting Chance: How Ludwig Guttman Created the Paralympic Games by Lori Alexander, illustrated by Allan Drummand (J796Alex).  Both of these books can be found in the Children's nonfiction section of our library. 
I plan to and I can't wait!!
---
Why WORDLESS picture books matter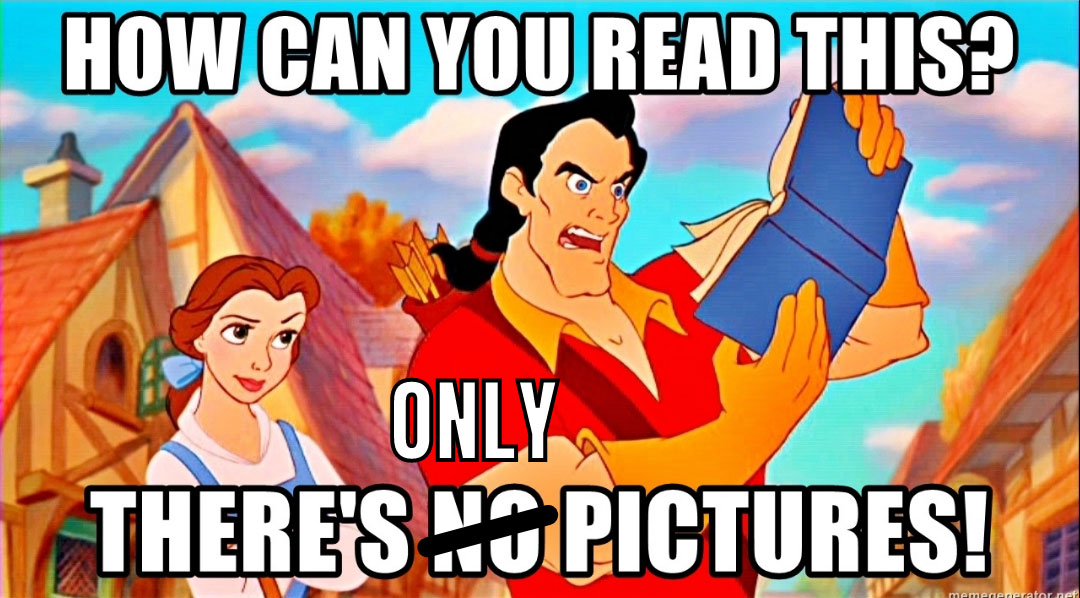 Wordless Picture Books for youngsters are just as important as books with words. Here's why: your child's emergent literacy skills are reinforced and they allow your child to practice lots of important skills. Some of these important literacy skills include: How books work; "reading" from left to right, front to back. Concepts of plot (what happens) and characters (who is the story about). Vocabulary! They get to choose their own words, and try out new words, and make sentences, and talk about stories, and ask questions…. about the book and its pictures. Inferring and predicting: these are NEW SKILLS for young children (that can be reinforced through STEM experiments like "if-then": if the ball is on top of a hill and I let go, it will roll down the hill) Comprehension and summarizing skills- if your child can narrate a story once or twice and they like it, chances are they will memorize it, change it up, make it personal, and re-tell it to family and friends- all BIG skills!
That's a lot of literacy happening in books that have no words!
But parents must be there at the start to encourage and help teach these skills. Don't be afraid. You don't have to be Mr. Rogers or Dr. Seuss to tell a good story! Chances are, you can use wordless picture books to make lots of wonderful stories with your child, a shared experience that you won't soon forget! Check out a wordless picture book today. We have a special box of selected new wordless picture books at the end of our XYZ shelves. Or check the catalog for "books without words". Or maybe grab a book from this: List of amazing Wordless (or One-word) Picture Books to try today.
-Rainstorm, by Barbara Lehman
-The Lion and the Mouse, by Jerry Pinkney
-Flotsam, by David Wiesner
-Float, by Daniel Miyares
-A Ball for Daisy, by Chris Raschka
-Flora and the Flamingo, by Molly Idle
-Journey, by Aaron Becker
-Flashlight, by Lizi Boyd
-The Snowman, by Raymond Briggs
-Wolf in the Snow, by Matthew Cordell
-Red Sled, by Lita Judge
-Truck, by Donald Crews
-Pancakes for Breakfast, by Tomie de Paola
-Goodnight Gorilla, by Peggy Rathmann
-Where's Walrus? by Stephen Savage
-Chalk, by Bill Thomson
---
Book Leveling:

 

Are you "On the Level?" Or does it really matter, after all?
Are you the parent of a child learning to read? Do you have a struggling reader?  A reluctant reader? Then chances are you have heard about book "reading levels" and have been given a target level, number level, or letter range for books for your child to be reading. With all the different leveling systems- from Scholastic to Fountas to AR to Lexile- how do you know if your child is reading at the appropriate level? 
First of all, you should know that Reading Levels are a tool for the teacher; reading levels are NOT 'labels' for your child.  Your child will probably read at three to five different reading levels in the first two-three years of school alone.  "Reading level" is a combination of word recognition, reading fluency, and eye/mouth coordination and reading confidence. These change constantly. Even daily!
Second, all children read at different levels, at different ages, and some read better in more conversational fiction stories, but some read better in graphic novel, where text is short or in bubbles. Some prefer non-fiction, and would read about dinosaurs for hours over reading one chapter of Charlotte's Web. Some kids like telling stories from pictures, where they can show off their vocabulary, better than reading.
This is GOOD.  This is NORMAL.  They are still reading, and enjoying books and words, after all!   
Third, and as a prior blog mentioned, building vocabulary by reading picture books, non-fiction and graphic novels will help your child become a better reader in future.  The key is, they will gravitate towards books they LIKE and ENJOY, and balk at reading books that seem boring, have too many words, have not enough pictures, or may seem challenging, even if they are not.
Parents: finding the sweet spot is your goal!   You, too, must be an active reader.
So, you have your teacher's suggested reading level in hand- now what?
The Scott County Public Library does NOT level all it's books.  Our search catalog does provide AR level/test points for most children's books which is helpful. But, we do separate out collections by age.  Searching the correct collection, we do have our room divided up to help parents find "just-right" books for any reader. We can also provide you a level-conversion-table to translate your level into AR if you desire.  Here is an example of our color labeling system:
Books for Tweens (ages 8-12y) have a purple spine label
Books in Juvenile Graphic Novel format have a blue spine label
Books in Juvenile Series (ages 5-10y) have an orange spine label
Our Easy-Reader collections for learning to read have spine labels that are:
Pink (level K-1);

 

Blue

(level 1-2);

 

and Gold (level 2-3)
Picture books are for ALL ages.
Juvenile Non-Fiction is for all ages.
The books are labeled based upon the text complexity, number of words per page, and number of rare words and content.  Sometimes our level differs from what the publisher uses. And sometimes our levels may differ from what you may agree is the correct level. Open the book and see what your reader thinks first, before dismissing a book.
Fourth, the best way to find a just-right book is to read a few pages of each book with your child and do the simple 5-finger test*. (Once you find a series or author you like, go from there to select further titles.)
*5-Finger Test: 
Have your child read to you the first few pages of the book, and put a finger up for every word that:
child does not know
child cannot pronounce, even after being told
child doesn't understand the words
When you have four fingers up, or five, that book is too difficult!

 

Skip it!
When you have just one finger or two, that book is pretty good for reading fluency! It might be too easy on repeat, though.
When you have three fingers up, that should be just right, not too easy, not too hard. Practice reading that book a few times, but add in easier books, wordless books, non-fiction and humorous books, too.

 
(Very scientific, I know!)
Repetition is good! Reading a chosen book once alone, and again with an adult can help.  And parents, don't forget to use different voices, funny sounds and accents where needed, and make reading fun.
And finally: don't panic!  Even if you are still reading picture books with your 7 year old- that is GREAT!  They are learning lots of great vocabulary (rare words) and storytelling basics (beginning-middle-end) as well as feeling nurtured by their adults.  These are very good things. Late reader? Early reader? Slow reader? Fast reader?  These are labels that all become irrelevant if you just consider that your child is still reading!  There is no 'right' age or 'right' reading level except the one that fits your child.  So while reading levels are great for a start, and for teachers to keep track of a classroom full of readers, remember that your child is not a level, they are a child reading at that level-- for now-- and there is plenty room to grow!   
Keep encouraging your reader, don't compare them.  Leave books where they can find them. Use books as rewards. Find books on topics your child enjoys. Read to them constantly. And don't worry about the level; they will "level up" on their own and with your positive, consistent support.
Happy Reading, and I hope you are now in the know, and on the level with leveling!  Need more support?  Ask a children's librarian for help finding just-right books today!
Resources:
Levels: a comparison chart for AR, Lexile, Guided Reading & DRA 
https://www.perma-bound.com/static/common-core/EC_Correlation_Lexile_Poster_12_NEW.pdf
https://fpblog.fountasandpinnell.com/a-level-is-a-teacher-s-tool-not-a-child-s-label
https://www.ala.org/aasl/advocacy/resources/statements/labeling
---
Reading for Feelings
June is recognized as Pride Month, and beginning June 15, we will also observe National Refugee Week. The experiences of the LGBTQ+ community as well as the struggles and suffering of refugees are considered by some to be inappropriate topics for children. So why even bring these topics up or address them in books for children? Let me share briefly with you why I think it is important.
One of the great purposes for reading fiction is to let us walk intimately in someone else's shoes – someone of a different race or ethnicity, someone of a different gender or sexual orientation, someone from a different country or just someone with a different life experience. Good fiction immerses us in someone else's perspective for the hours we spend inside the pages of that person's story.
For young people who are still learning about who they are and who they want to be, fiction is so formative! Reading a good novel allows them to see life a little more broadly, helping them to grow into adults with greater empathy and compassion, understanding that everyone experiences life differently. In a time of tense and deep divisions between groups of people – empathy, compassion and a deeper understanding: these are tools that will help our kids bridge these divisions as they grow into young adults. Need recommendations? Our staff is always ready to help!
---
It's Time for SUMMER READING! A brief suggestion for how to help your child make the most of their reading hours this summer.
Does your child only want to read: Comic books? The same series over and over and over? Goosebumps, Captain Underpants, or similarly silly stuff? And worst of all…books below their grade level or reading ability?
Well…maybe you should let them!!  It's summer and reading should be recreational, fun, an excellent way to pass long lazy days.  But, parents and caregivers – don't tell your kids, but this type of reading is also a very, very good way to strengthen their reading skills.  It may seem like a waste of time, but it is really like exercise.  They may have read Dogman 100 times.  Their reading level may be 2 grades above The Magic Tree House.  But, this type of reading, aside from being enjoyable and relaxing, also increases speed, agility and comprehension.  And it does all these good things while setting aside the notion that reading is work and reinforcing that reading is fun.
I know as parents you want your children to challenge themselves and to grow as readers.  But I encourage you to let your child choose what they want to read.  Giving them this freedom will help them grow into stronger, more proficient readers, making them better students, and happily, ultimately, into people who love to read.
As always, the staff here in the Youth Services Department is here to help.  We all read a lot of the books on our shelves and are happy to help your child as they are looking for something good to read.
Happy summer and happy reading!
---
" Rare words? They're in the books!"
Did you know? There is a new word "born" every 98 minutes! Think of the words and phrases we hear today: 'podcast' 'Bitcoin' 'makerspace' or 'social distancing'. Did your grandparents ever use those words? Did you know? …that YOU use approximately 20,000 words, routinely, throughout your lifetime….out of ALL the possible words there are to use in the English Language? It's true. It's really true! Just 20,000 words is the average person's life-long vocabulary. If you are not using work-specific jargon all the time (like "acceleration" if you are a mechanic, or "spreadsheet" if you are an accountant), then you are using the same few thousands of words each and every day. So how are our children going to learn about the vast numbers of OTHER words that are out there? Want to guess? No! Not by reading the dictionary- that's just boring!
Words—more importantly "Rare Words"- are found in picture books, non-fiction, and even graphic novels.
Children need to hear LOTS of words to become good readers, and if they have heard a word before, it's easier to sound out, spell, and remember. These repeated words become part of their vocabulary storehouse. That's why it's OKAY to let a child read their favorite books over and over and over again. They're building word confidence and fluency. When reading picture books to, or with, your child they may hear words such as troll, lighthouse, footbridge, avenger, alligator, kerchief, narwhal, potion, Jedi, cape, pangolin, meadow, twinkle, superpowers… How often in daily conversation do YOU say these words to other adults? To your children? The truth is, you don't. So without reading picture books (many of which use 10-12 rare words each!) and graphic novels and non-fiction books, your child will not be exposed to as much vocabulary as they could …and should. So grab some picture books, comic books, fairy tales and even those crazy world records books, and learn a few hundred new words with your children this week! You can do it! Leveled readers and old favorites are great for building reading fluency and confidence in children, but nothing beats bonding with your child over pictures books and some new rare words to spark good discussion.
Sources:
How many words does average person know?
Storytimeunderground.org
Watch these videos from Youth Services to make fun crafts