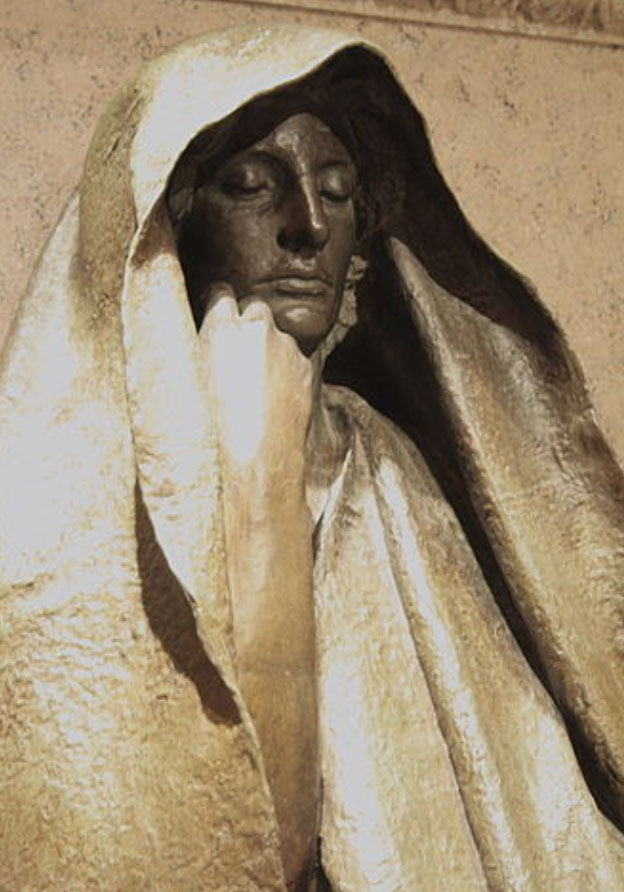 – By Sharon Roggenkamp
A new program on Cemetery Symbolism, set for Monday, October 8 at 6:30 p.m. features Johnna Waldon from Lexington Public Library. Walden, the president of the Kentucky Genealogy Society, considers genealogy a professional specialty and personal hobby. Listening to stories passed along to her by her grandmother, today she studies headstones and their inscriptions. Whether they appear on "big grand monuments or the small simple field stones" said Waldon, they reveal social, economic and historical context.
Two historical footnotes confirm they also inspire moments of shared experience in that setting, and the lives of writer Henry Adams and First Lady Eleanor Roosevelt intersected at a famous gravesite in Rock Creek Cemetery in Maryland.
Called the "Adams Memorial", it was sculpted by Augustus Gaudens (1848-1907), in 1891. Gaudens is most famous for his bronze monument depicting Union Lieutenant Robert Gould Shaw, a privileged son of white, wealthy abolitionists, and the soldiers of the unit he led, one of the first African American regiments in the Civil War, who died together in battle.
Henry Adams commissioned him to create a monument to his wife, Marian, said to be the inspiration for his novels, Daisy Miller and The Portrait of a Lady. A lively, vivacious and popular hostess and photographer, she committed suicide in 1885, after battling depression following the death of her father.
The monument is a stark, powerfully moving life-size statue of a woman shrouded in the graceful folds of a dark black granite cloak, her eyes closed. Soon it attracted ordinary visitors and prominent Americans, including Mark Twain.
In 1918, Eleanor Roosevelt discovered a packet of love letters exchanged by her husband Franklin and her social secretary, Lucy Mercer. Devastated, she offered him his freedom, but a bargain was struck between them, at the urging of his mother, Sara, and for the sake of their children. Deeply troubled and grieving, Eleanor drove herself out to the cemetery to visit the Adams memorial, and reflect on its meaning. It is not surprising she later explained she found it comforting because it depicted someone who "transcended pain and hurt to achieve serenity."
A library program begins as a simple entry on a calendar, followed by a phone call, e-mail or conversation with the person who will present the program. Yet the unique thing about a library, is how these conversations branch off in new directions, as in the story of the "mysterious memorial" to Marian Adams.   Best of all, as Ms. Waldon shares her knowledge and experience, the visitors who give up their time to listen and participate will share theirs, just one more example of the way libraries enrich communities.